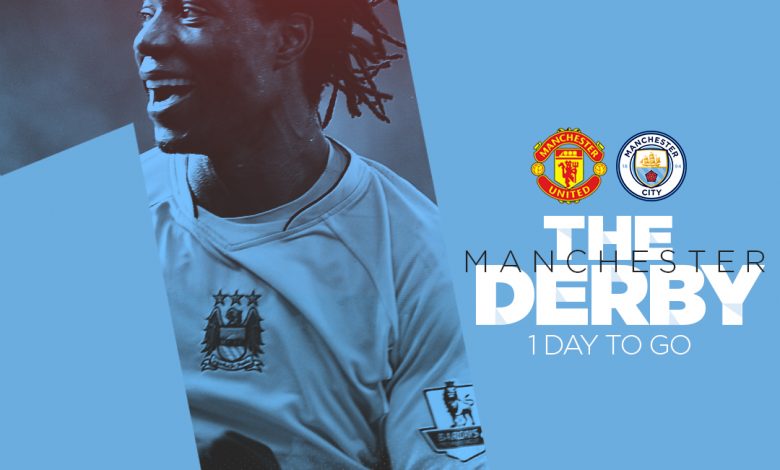 The match fans around Manchester have been waiting for happens this weekend as Manchester United hosts Manchester City from Old Trafford.
Not only is there animosity and pride on the line when these teams meet but there's a lengthy history with plenty at stake when they play.
From their opening meeting in 1881 to City's dramatic win on the final day of competition in 2011-12 to win the Premier League, there have been many memorable moments.
The Denis Law game is one for the ages in 1973-74.
The former United player's goal for City aided in the club's relegation that season.
There's the Ryan Giggs goes in the FA Cup in 99.
Then the match in the 2012-13 season when Rio Ferdinand was hit by a coin thrown by a fan.
Whatever moment you want to pick the bottom line is City and United are bitter rivals who've produced many captivating moments for English football fans.
Make or Break
 It's not the first time Ole Gunnar Solskjaer's job has been thought to be at stake.
Once again many are saying a loss at Old Trafford Saturday could spell the end for the Norwegian.
Current football pundit Paul Merson is the latest to suggest the United boss could be on his way out if his club can't win against their biggest rivals.
The latest rumours come after the Reds crashed out of the Champions League in mid-week losing 3-2 to RB Leipzig.
The last time Solskjaer's job was reportedly in jeopardy was the match in early November when his side came back to beat Everton 3-1 at Goodison Park.
Current Form
 City is riding a lot of momentum into Old Trafford after finishing their Champions' League group stage with 16 points and conceding just once.
Things are looking up for Pep Guardiola's side in the Premier League as well.
The Blues have won two in a row and are back near the top of the table in 7th place with 18 points.
United's done it the hard way coming back to win in three of its last four EPL fixtures.
Say what you want of how they've done it, they're riding a four-match league winning streak into Old Trafford.
Solskjaer's team is just above City in the standings in 6th position with 19 points.
Lineup News
 For City the only confirmed absence is Sergio Aguero.
Despite scoring in the team's Champions League match on Wednesday Pep Guardiola's already said he won't play this weekend.
"He played 25 minutes, scored a goal- so it's step by step," Guardiola said after their win against Marseille.
That means Wayne Rooney's record for most derby goals at 11 will remain intact regardless of Saturday's result.
Aguero is the highest goalscorer of any active player for each side in the derby with nine.
Eric Garcia and Ilkay Gundogan took knocks in the match versus Marseille.
Gundogan is healthy and available but Garcia is still at least another week away.
Edinson Cavani and Anthony Martial missed the club's mid-week match.
Solskjaer says Martial will "definitely be involved" while Cavani will be reassessed after training.
Fred is also available after missing that match with Leipzig through suspension.
Phil Jones remains out through injury but Luke Shaw returned in mid-week.
Eric Bailly meanwhile is unlikely to feature with an injury.
Tight Defensively
 The much talked about City defense has earned their money's worth of late.
They've got five straight clean sheets in all competitions.
It makes sense when you look into the stats deeper and discover City's faced the least amount of shots of any top-flight squad (78) and the fewest on target as well (28).
United meanwhile has struggled in that department lately conceding 10 times in their last five matches in the Premier League and Champions League.
They've only kept one clean sheet in the Premier League all-season way back in game number five, a 0-0 draw with Chelsea.
Influencers
 Each side boasts an incredible game-changer who can make the difference in a tight match.
For City, that player is Kevin De Bruyne.
The club's first-ever PFA Player of the Year has picked up right where he left off last season with six assists and two goals despite missing one match.
The stats tell us the Belgian is pivotal to City's success.
When in the lineup last season Guardiola's win record was at about 70%, but when not in the lineup that fell to 37.5%.
De Bruyne has been involved in almost half of the teams' goals in the league with eight in the club's 17 so far.
The number 17 is a workhorse with an average of over 50 passes completed per game.
Last season he tied Thierry Henry for the Premier League record for most assists in a single season with 20.
On the opposite side, Bruno Fernandes is easily the best player United's acquired during Solskjaer's tenure as manager.
Since signing with the Reds on January 29 for five-and-a-half-years he's been a major impact player.
In a matter of five months, the Portuguese international's already won back to back player of the month and goal of the month awards, the first to ever win both concurrently.
He won the Sir Matt Busby Player of the Year award in September with eight goals and seven assists.
Now in his first full season with the club, he leads the team with seven Premier League goals already and four assists.
He's got 11 goal involvements this season which is 58% of the teams' goals in league play.
Ever since joining the Premier League, he's even with De Bruyne in terms of assists with 11 in that time span.
He's got seven goals from open play.
All that makes for what should be a very intriguing and critical battle in the middle of the park.
Scoring First
 When scoring first the Blues have shown they are virtually unbeatable.
That's something they've done a lot this season only conceding the opening goal three times.
Scoring first for them usually means they come away with three points.
The only times they haven't in any competition was in a 5-2 loss to Leicester City and a 1-1 draw with Leeds.
When they don't score the opening goal it's another story.
They conceded the opening goal at Tottenham and lost 2-0, and conceded first versus Liverpool in a 1-1 draw.
Man United have proven to be masters of coming back.
They couldn't do it in mid-week falling 3-2 to Leipzig after conceding three.
In the Premier League though they've thrived off that, conceding first in three of their last four and winning all of them.
They've won five matches altogether this season when they conceded first.
Head to Head
 Last season United got the better of City with 2-1 and 2-0 wins respectively.
In April 2019 Pep Guardiola became the first visiting manager to win three straight matches at Old Trafford.
In the last 10 Premier League matches at United's home ground, City's won six, drawn once and United's won three.
Man City's won seven EPL matches at Old Trafford more than any other visiting side.
Since the start of the Premier League, United's won 11 contests versus City on home soil.
City's won seven and there've been five draws.
All-time United has the edge with 76 wins to City's 54 while there've been 52 draws.
Manager's War
 Very few clubs can boast a strong record against Pep Guardiola.
Ole Gunnar Solskjaer is one of them.
In fact, the Norwegian has the highest win rate against the Spaniard for managers who've faced him at least four times.
In five meetings against Guardiola's Solskjaer's won three.
On the Road Again
 As good as City's been at Old Trafford in recent memory they've struggled on the road in 2020.
Guardiola's side's lost five away fixtures in the EPL in this calendar year.
The only other time they lost more in a calendar year was in 2015.
 Match Info
 Saturday's match from Old Trafford is the 183rd Manchester derby.
The kickoff is at 5:30 pm. (JSL)