Stockport
Exciting New Healthcare Clinic Opens its Doors at Stockport Exchange
The dynamic and thriving hub of Stockport Exchange has just welcomed a significant addition to its landscape - the arrival of CHEC (Community Health and Eyecare) at its new state-of-the-art treatment centre located within the impressive 2 Stockport Exchange building.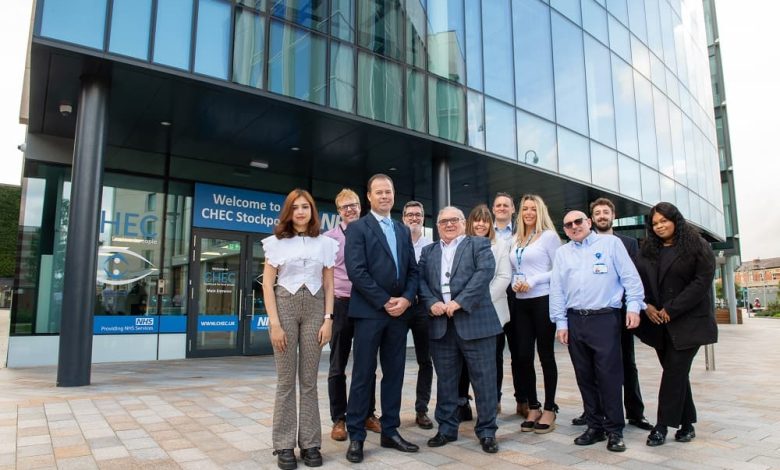 Nestled adjacent to the highly acclaimed 1 Stockport Exchange, this striking six-storey structure encompasses a staggering 61,500 square feet. It's a noteworthy chapter in the ongoing development of Stockport Exchange, a masterfully conceived project envisioned by Stockport Council and nationwide placemaker Muse. Upon completion, the larger Stockport Exchange development will encompass up to 375,000 square feet of office space and 28,000 square feet dedicated to commercial retail and leisure offerings.
The edifice itself is already graced by the presence of notable occupants, including BASF, law firm ONP, and industrious enterprise Industrials REIT. Now, as CHEC makes its entry, the healthcare landscape is set to be revolutionized.
CHEC's arrival signifies a monumental stride forward in the provision of community-based ophthalmology services across the UK. This establishment is renowned for its expertise in addressing conditions such as Glaucoma and Cataracts. Furthermore, in a strategic expansion, CHEC commenced diagnostic endoscopy services in 2022. This state-of-the-art treatment centre not only pioneers in Ophthalmology but also houses cutting-edge Endoscopy services.
As part of the larger £145 million, eight-phase Stockport Exchange development, this momentous initiative is a collaborative effort between Stockport Council and Muse, the visionary peacemakers. The grand tapestry of Stockport's regeneration is woven into the Town Centre West masterplan, led by Stockport Mayoral Development Corporation (MDC), working in tandem with public and private partners.
Set across the broader expanse of the 130-acre Town Centre West precinct, a flourishing transformation is underway. A symphony of over 4,000 new homes, revolutionary transport enhancements, infrastructure upgrades, Grade A office spaces, and an array of leisure facilities and amenities are poised to grace the town centre.
Councillor Colin MacAlister, the Cabinet Member for Economy, Regeneration, and Housing, alongside representatives from Muse and Stockport Council Officers, embarked on an enlightening tour of this modern medical marvel. With a network spanning 17 branches nationwide, CHEC's innovative vision was unveiled, providing insight into the patient journey and detailing the treatments and surgeries that will soon grace this facility.
As Stockport Council and Muse inch towards the completion of Phase 4, a remarkable 64,000 square feet of superior office space is in the works, accompanied by a 399-space multi-storey car park designed with a keen focus on sustainability. Solar panels and 24 EV charging points are poised to contribute to energy requirements while exemplifying environmental consciousness.
The momentum of this transformative endeavour remains steadfast, with Phase 5 on the horizon, set to introduce an additional 65,000 square feet of cutting-edge office space. Simultaneously, the Exchange Masterplan is being finessed to intricately map out the roadmap for the upcoming phases, from 5 to 8.
Guided by the expertise of joint agents Cushman & Wakefield and CBRE, the Stockport Exchange charts an exciting trajectory towards a future that seamlessly amalgamates innovation, wellness, and urban sophistication.