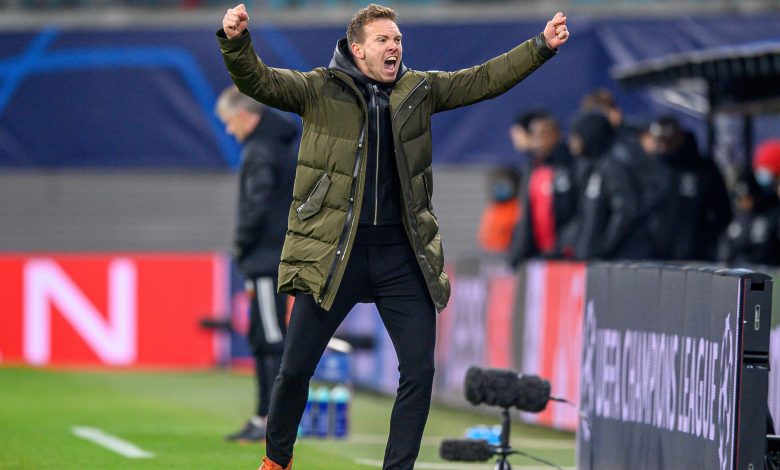 Manchester United's Champions League campaign came to a crashing end Tuesday in a 3-2 loss to RB Leipzig.
Game Story
 The start of the match couldn't have been any worse for the Reds.
Just two minutes in and they were already a goal behind.
A lovely ball from Leipzig's skipper Marcel Sabitzer went in behind the United defence for Angelino.
The former Manchester City full-back's shot found the far corner.
The Spanish defender nearly made it 2-0 five minutes later.
Wide-open down the left in acres of space he got a nice shot on target that was saved by David de Gea.
On 13 minutes Angelino turned provider helping Leipzig double their advantage.
He found space again down the wing, delivering a nice back-post cross that was volleyed brilliantly by Amadou Haidara into the far corner past de Gea.
It should've been three-nil four minutes later as once again it was Angelino who this time found Emil Forsberg.
The Swede had time to control the ball and tee up a shot that went inches wide.
In the second half United pressed to get back into the match.
French substitute Paul Pogba fed Fernandes who laid it off for Donny van de Beek.
The Dutchmen fed it back to Fernandes who fired a nice dipping shot that was saved by Gulacsi.
Fernandes was inches away from putting United on the board in the 68th minute.
His free-kick got over the wall beating Gulacsi but it smashed against the bar and out.
A minute later and Leipzig got their third goal.
A nice ball into the United area was not dealt with and Justin Kluivert chipped it over de Gea and into the net.
That goal would prove vital later on.
United got a consolation goal shortly after.
Konate took down Mason Greenwood in the box in the referee's opinion giving the Reds a penalty with 12 minutes left.
Bruno Fernandes sent the keeper the wrong way to give United hope.
United got to within one in the 82nd minute.
Pogba headed van de Beek's corner towards goal before it deflected off a Leipzig defender and in.
The comeback was almost complete right at the end.
In the 94th minute, Pogba's low cross was deflected by Nordi Mukiele but an alert Gulacsi saved it from being an own-goal.
Too little too late
 Manchester United followed some very familiar storylines Tuesday but with very different results.
It's the fourth straight game they gave up the opening goal.
This time however it was simply too much to overcome.
What went wrong?
 After looking so impressive in their first two matches, United's Champions League campaign seemed to sputter at the halfway point.
Maybe it was overconfidence or too much complacency but they seemed to really take their foot off the gas.
It started with an embarrassing defeat at Istanbul on Matchday three.
Last week needing only a point PSG was too much for them to handle.
Tonight, it came down to a slow start out of the gate that ultimately was too much to recover from.
The Streaks continue
 With the win, RB Leipzig's now won eight straight matches at Red Bull Arena in all competitions.
As good as United's been away from home they've had a rough go of it in Germany lately.
Tuesday's defeat is the third straight for the Reds against teams in the Bundesliga.
The last time they won in Germany was against Bayer Leverkusen (5-0) in the Champions' League group stage in 2013-14.
What it all means?
 The defeat means United is relegated to the Europa League after finishing third in the group.
Leipzig's quest for a first European title will go on though it's unclear where they'll finish in their group.
The match between PSG and Istanbul Basaksehir didn't finish.
Its alleged racial slur was uttered by the fourth official in that game causing both sides to leave the field.
It's not known what they'll do about the match.
PSG and Leipzig though are through to the last 16.
Back to the Europa League
 United's journey in Europe is not over just yet as they will play in the Europa League's last 32.
Here's a list of their potential opponents
  Roma
  Slavia Prague
Bayer Leverkusen
Benfica
Granada
PSV Eindhoven
Braga
Lille
AC Milan
Villarreal
Antwerp
Dinamo Zagreb
Hoffenheim
Red Star Belgrade
Krasnodar*
Club Brugge
Dynamo Kiev
The Europa League draw happens on December 14.
United's matches will take place on February 18 and 25 next year.
Managers Thoughts
 After the match United boss, Ole Gunnar Solskjaer said their first-half tonight is what cost them.
"Great spirit and comeback but we started too late. You can't give a team a 3-0 lead.
"I thought we were unlucky towards the end. The character and the effort was there.
"We weren't good enough. In a difficult group, we started well but the big turning point was the defeat to Istanbul. That's where we lost points that we should have had.
"We knew we had to defend balls into the box and we just didn't clear them.
"You can't feel sorry for yourself. We have to focus on Saturday."
Next Up
United's attention is now on the Manchester derby against City on Saturday from Old Trafford.
The kickoff for that one is at 5:30 pm. (JSL)