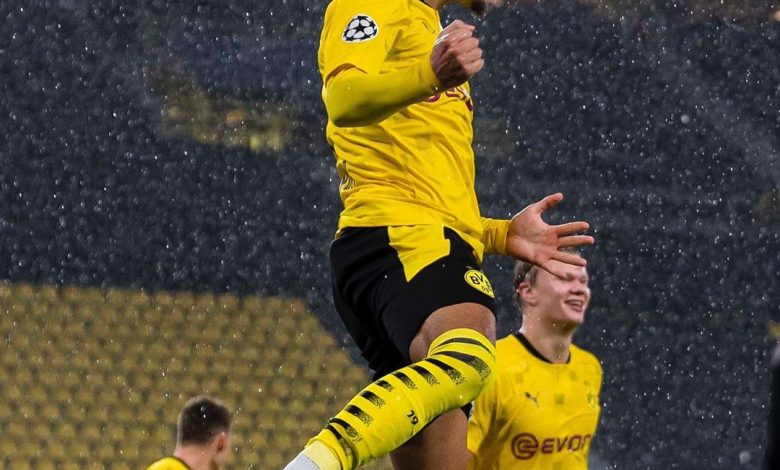 Landing their man
 After months of speculation Manchester United have finally gotten their wish.
The club and Borussia Dortmund have agreed in principle on a deal that would see the young English striker come to Old Trafford whenever the Three Lions conclude their Euro.
It's a move we all thought would happen last summer but unfortunately, the Dortmund front office held their ground and the asking price of over £100 million was too rich for United's blood.
His value seemed to diminish as this season wore on however, making it more economically feasible for the Reds to bring the 21-year-old back to Manchester.
Sancho played two years in the youth system at Manchester City in between 2015 and 2017.
What changed?
 A lot transpired in 2020/21 to make Sancho a viable option for the Red Devils, making this move possible.
In the 2019/20 campaign, Sancho led the German side in goals and assists with 17 and 16 respectively.
In the club season which recently concluded the youngster had some injury issues.
Sancho scored eight goals in 26 league appearances and led the team in assists with 11.
With his numbers diminishing his value dropped and Man United appear to have ceased on the opportunity.
In addition to all of that his contract with Die Schwarzgelben was set to expire in 2023.
The club did not want to risk him entering the final year of his deal.
That could have earned him more leverage and more compensation.
Where he fits in?
 Sancho definitely adds an attacking element for Ole Gunnar Solskjaer, but where he slots in is anybody's guess.
Like Sancho, a number a prolific Man United strikers struggled in the 2020/21 campaign.
Marcus Rashford notched 10 goals in league play in this campaign after netting 17 in the previous one.
Anthony Martial had 17 in 2019-20 but could only score four Premier League goals this past season.
Mason Greenwood only scored seven times after notching 10 in 2019/20.
All three are still under contract with the team which begs the question, who will see the bench or be forced out?
With the financial losses the club suffered it's hard to imagine that they would want to release any of their current strikers out of their deals.
Anthony Martial is under contract until 2024, Rashford's deal expires in 2023 and Greenwood is here until 2025.
The club does not want to have to pay out those massive contracts of any of those players.
Sancho does add some versatility, so Solskjaer might want to put him in an attacking midfielder role, on the wing, given his speed.
Rashford seems likely to maintain a centralized role in attack.
If he's healthy they might go with Martial alongside him.
Given their ages we are likely to see veteran Edinson Cavani and youngster Mason Greenwood start a lot of matches on the bench.
With the demand of the Champions League, FA Cup, Carabao Cup and the domestic season, those players will get some playing time just perhaps not as much in the big games.
Details on the deal
 According to sources the deal for Sancho will be worth £72.9 million with no add-ons.
Reports indicate that Man City will receive 15% of the profits made by Dortmund on this transfer.
That means they'll collect somewhere in the ballpark of £9.7 million.
His time in Germany
 In a short period of time, Sancho made a big name for himself in the Bundesliga.
The Englishman scored 50 goals in 137 games.
He was named to the Bundesliga team of the year in 2019 and 2020. (JSL).