Football
Manchester City
Man City reportedly interested in signing Real Madrid veteran
Citizens rumoured to be in contention for Sergio Ramos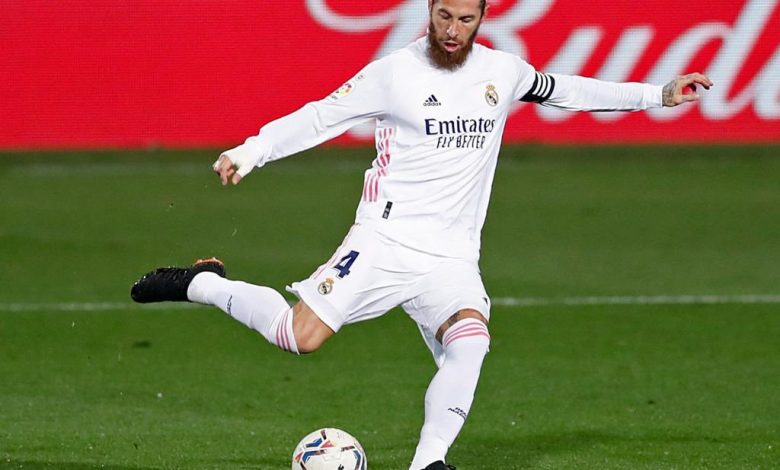 In the Hunt
We're hearing reports that Manchester City could be interested in upgrading their defence this summer.
According to the Daily Mail, the Sky Blues are among the favourites to sign veteran fullback Sergio Ramos in the current transfer window.
The Spaniard's contract with Real Madrid expires at the end of this month.
There are reportedly some big-name clubs, including Man City wanting to bring the 35-year-old into their squad.
Among the potential suitors for Ramos are also Manchester United, and Juventus.
Why Man City?
Ramos certainly brings a lot of championship experience to all those potential teams, all of whom will want to win trophies each season.
It's hard to picture a scenario where Ramos would regularly feature with City however.
Given that the Citizens just came off a season where they conceded a mere 32 goals in 38 Premier League games, it would seem Pep Guardiola is more than pleased with their current defensive corps.
If Ramos does come to City, he would likely be more of an insurance policy.
Given the season Ruben Dias just had, winning Premier League Player of the Season, plus his partnership with John Stones, would another veteran at the back help that much more?
Right now, Kyle Walker is their traditional right-back, and while he didn't have the towering presence of Dias, he had himself a solid campaign.
Ramos, though has a little more offensive spark than Walker and could add an extra dimension to City on the counter.
Ramos would bring a proven, established player at the back, which could come in handy for a team like City, who will be seeking several trophies in the next campaign.
Pep Guardiola will have to rotate his side again as City will be playing two games a week through the early stages of next season.
Ramos would be able to step into those situations with City quite easily one would think.
The Concerns
There's a lot to like about Sergio Ramos in defence.
At the same time there are lots of question marks surrounding him.

He's coming off an injury-plagued campaign in Madrid.
He played just 15 games in La Liga and scored two goals.
At 35, that has to be a concern, how healthy he can be.
Also, his current salary is around £338,000 per week.
With City's financials being monitored so closely, you wonder how much they are willing to pay him.
His upside
Would he be willing to take on a limited role and not be a regular for Man City?
He could serve as a mentor to the defence who have won some trophies but not nearly in the same range as Ramos.
The Madrid defender has won at every level.
He's won two Euros, a World Cup and four Champions League titles; he's a proven winner.
His experience and wisdom could prove invaluable to a side who are desperate for European glory after falling 1-0 to Chelsea in the Champions League final.
 

What it comes down to
Ultimately if Ramos is to come to the Etihad, he will probably have to bend on a few terms.
He'll likely have to take a pay cut and accept a limited role than what he's been used to.
If he's willing to do that, there could be a home for him with Pep Guardiola and the Sky Blues.
Man City's defence was arguably the best in Europe over this past campaign, and it doesn't need fixing.
Should they want him, it's likely only for experience and perhaps insight into what it takes to win in Europe.
I believe he could help, but there are other teams out there who could use him more.
Man United's backline was shaky against some weak sides in England.
Ultimately they only finished where they did because of the offensive spark of players like Bruno Fernandes.
Juventus didn't win Serie A for the first time in a decade.

There is even a good reason for Real Madrid to retain him after a season.
They came up short in La Liga and lost out in the Champions League semis which for a decorated club like that, many would consider a failure.

Ramos will have a big-name club to play for next season; I don't believe it would be Man City. (JSL).