Ashton-under-Lyne
Ashton's Friday Feast and Fun!
Starting this September, the inaugural Friday of each month will witness the rise of a captivating early evening pop-up arts and food extravaganza in Ashton town centre.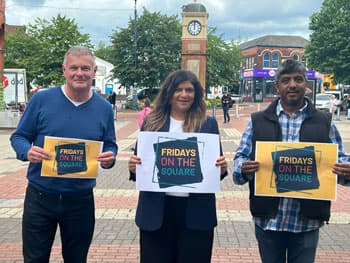 'The Square comes Alive on Fridays,' a delightful initiative by Tameside Council, awaits you to unwind, kick back, and enjoy delightful moments with your loved ones.
Made possible by the UK Government's UK Shared Prosperity Fund (UKSPF) for Communities and Place, four trial events shall grace the first Friday of each month from 4 pm to 8 pm, spanning from September to December.
These festivities aim to beckon all age groups, embracing the joy of togetherness, where fantastic food, refreshing drinks, artistic activities, and soulful music await to invigorate the town centre with a strong sense of vibrancy and community spirit.
With a diverse array of street food traders and delightful family entertainment, families can delight in joining the fun during their way home or after school, savoring creative and enjoyable activities while relishing a scrumptious early evening meal in a warm and welcoming ambiance.
Moreover, adults can relish the company of friends or colleagues with a social after-work drink or meal, adding a touch of vibrancy and community spirit to Ashton town centre.
Fridays on the Square is fully funded by the UK Government through the UK Shared Prosperity Fund for Communities and Place, empowering the Ashton Creative Improvement District to elevate your Fridays to unforgettable heights!