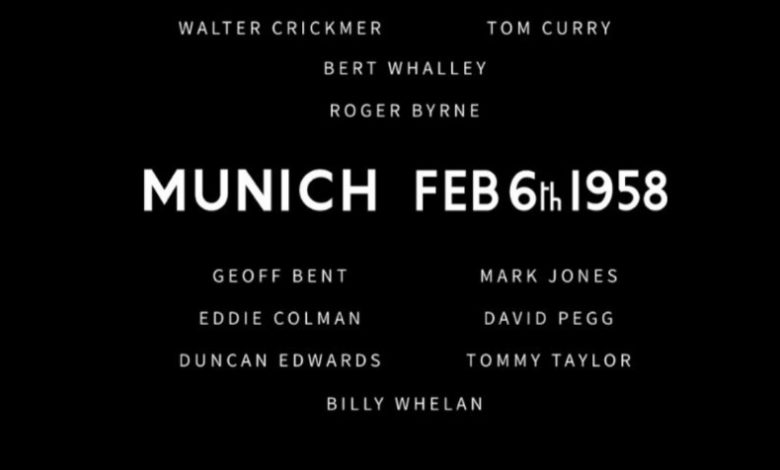 A season of promise
It's the 63rd anniversary of the Munich air disaster a day that will live in infamy.
Eight Manchester United players died on this day and a season that seemed destined for glory got derailed.
Here's a look at the Red Devils team in 1957-58 and what could have been.
Charity Shield
Fresh of winning the Charity Shield a season ago the "Busby Babes began their 1957-58 campaign on a high note.
On October 22, 1957, a hat-trick by striker Tommy Taylor and some insurance from John Berry helped the Red Devils to a 4-0 win over Aston Villa.
The club's fifth FA Cup looked to be just the beginning of a glorious season.
First Division
Fresh off a First Division title the previous season the "Busby Babes" looked poised for a repeat win in 1957-58.
The Reds had an excellent mix of youth and experience heading into the season as they aimed to be just the third club in English football to win three successive league titles.
This team had everything you need to win a lot of trophies.
In goal, Harry Gregg was a reliable shot-stopper with a commanding presence.
Defensively they had strength and versatility with Roger Byrne and Bill Foulkes.
Upfront there was scoring and creativity with the likes of Bobby Charlton, Bill Whelan, John Berry, and Tommy Taylor.
The "Busby Babes" depth made it so their manager could afford to rest his big names for the crucial matches.
Twenty-eight games into the 1957-58 campaign the Reds had 15 wins, six draws and seven defeats putting them just six points behind Wolves in the league standings.
Tommy Taylor and Bill Whelan had 28 goals between them up to that point in the season.
With 14 games remaining United looked ready to make a move.
Instead, the dream of a third successive title collapsed following the Munich air disaster on February 6 1958.
In United's remaining 14 league games following the loss of Bill Whelan and Tommy Taylor among others, the team won just one game.
John Berry survived the crash but never played again following the tragedy.
Jimmy Murphy replaced Busby for those matches as United's inspirational manager recovered from his injuries and the psychological damage suffered from the crash.
The Reds would finish the season in ninth place 21 points behind the eventual champions Wolverhampton.
European Cup
Heading into their second straight European Cup appearance, the "Busby Babes" had some unfinished business.
Their 1956-57 European Cup campaign ended in the semi-finals when Real Madrid beat them 5-3 on aggregate eventually winning their second straight title.
In the 1957-58 competition, United was hoping to get their hands on the famous trophy.
They looked strong throughout the competition beating Irish side Shamrock Rovers 9-2 over two legs.
United followed that up with a comfortable 4-0 aggregate win against Czech side Dukla Prague.
In the quarter-finals, they overcame a robust Red Star Belgrade side thanks in large part to Bobby Charlton.
The United striker had three goals including two in the all-important return leg in Belgrade.
 United advanced 5-4 on aggregate.
In the semi-finals, they faced AC Milan.
 Over three months after the Munich tragedy United won the first-leg 2-1 at Old Trafford with a goal by Dennis Viollet and a late penalty from Ernie Taylor.
Ultimately the lack of depth proved too much for the Red Devils in the second leg as they lost 4-0 at the San Siro and Milan advanced 5-2 on aggregate.

FA Cup
Perhaps the most remarkable story of perseverance came in the FA Cup that season.
After a comfortable 3-1 win over Workington to kick off the campaign, Bobby Charlton scored a pair of goals in a fourth-round win over Ipswich Town.
United faced Sheffield Wednesday in the next round of the FA Cup less than two weeks after the Munich air crash.
Despite missing eight players and their inspirational manager, the Reds beat the odds and delighted the Old Trafford fans with a 3-0 win.
On March 1 they drew 1-1 with West Bromwich Albion forcing a replay.
A Colin Webster strike four days later sent United into the semi-finals.
Bobby Charlton scored another two goals in the semi-finals against Fulham, but it wasn't enough as both sides played to a 2-2 draw forcing a replay on March 22.
An Alexander Dawson hat-trick sent United into the final where they'd face their Greater Manchester rivals Bolton Wanderers.
Unfortunately, the cinderella story didn't have a happy ending as Bolton won 2-0 before a crowd of 100,000 at Wembley Stadium.
Legacy
Fans will always remember the Sir Alex Ferguson team of 1998-99 as the only side to win a treble-winning the Premier League, FA Cup and Champions League.
Those who were alive during the 1957-58 season will always wonder what could have been.
The Munich air disaster decimated a United side that seemed ready for some significant triumphs.
While they came away empty-handed that season what was to follow is the stuff of legends.
Five times since that season Man United has won a double in one full season.
They've won the European Cup (Champions League) three times and the FA Cup ten more times since the Munich tragedy.
United has a record 20 top-flight trophies and is tied for most Charity Shield wins with 21.
A tragic season became a rallying cry that's stood the test of time 63 years later.
Forever in the hearts and minds of United fans, it's a season Man United will never forget. (JSL)