Football
Manchester United
United look to overpower Foxes in FA Cup
Reds seeking a berth in the semi-finals for a second consecutive season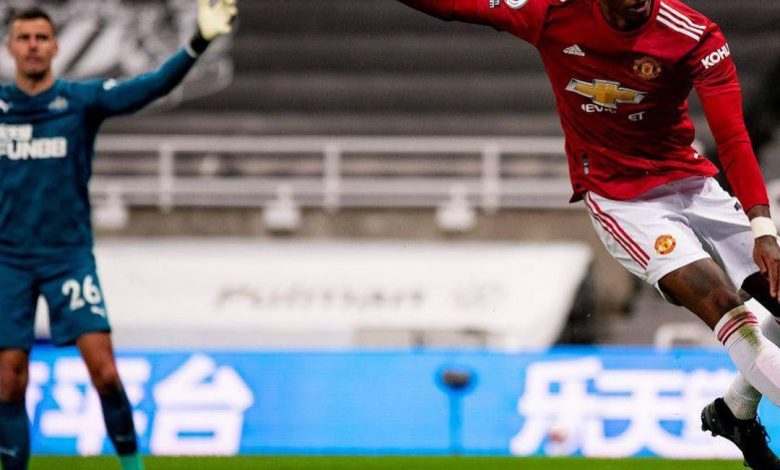 A berth in the FA Cup semi-finals is on the line Sunday as Manchester United travel to King Power Stadium to face Leicester City.
It's a stage Ole Gunnar Solskjaer's men tend to fare well in having made four appearances in the semis since last season.
The Foxes haven't fared well in the last eight of this competition, losing in each of their previous five appearances at this stage.
Lineup News
The Reds could be missing several attacking options for this weekend's contest.
Marcus Rashford left at half-time of Thursday's Europa League win over AC Milan with an injury.
Edinson Cavani and Anthony Martial didn't make the San Siro trip and could miss another game.
All three strikers will be assessed before Sunday.
Paul Pogba returned from injury and was the hero in their mid-week Europa League clash, and he'll be pushing to start this weekend.
Donny van de Beek and David de Gea were unused substitutes earlier this week, and it's unknown if either of them will start this weekend.
Eric Bailly, Juan Mata, and Phil Jones remain sidelined with injuries.
Richardo Pereira is out for Leicester after suffering a hamstring injury in their 5-0 win against Sheffield United.
Road to the quarters
Man United has had to earn every match in this competition this season, beating Watford 1-0, squeaking by Liverpool 3-2, and blanking West Ham 1-0 in extra-time.
Scott McTominay was the hero in the Reds first and last win of this current FA Cup campaign.
It's been a much smoother road to get to the last eight for Brendan Rodgers' side.
It started with a 4-0 win over Stoke City, followed by a 3-1 win against Brentford before a late strike from Kelechi Iheanacho helped them see off Brighton 1-0.
Taming the Foxes
These sides don't have a lot of familiarity playing each other in this competition, but the Reds have always come out on top when they do.
United won their only two previous meetings versus Leicester in the FA Cup, winning a fifth-round tie 2-1 in 1976 and also capturing the final in 1963, 3-1.

Leicester City's established themselves as an elite Premier League side since shocking everyone by winning the crown in 2015-16, but they haven't shown they can beat Man United in recent memory.
The Reds have only lost to the Foxes once in their last 25 encounters in all competitions.
These teams met once this season at King Power Stadium on Boxing Day in a match that ended in a 2-2 draw.
Seeking the record
Making the final four of this competition is familiar territory for United, having reached this stage 30 times in their history.
A win Sunday would equal Arsenal's record for most semi-final appearances in this competition.
Home Cooking
Brendan Rodgers' side has fared well on their home turf in this competition.

The Foxes have won six of their last eight FA Cup matches at King Power Stadium.

The downside is those two defeats came at this stage in the competition, including last seasons against Chelsea.
The other downside is that Man United is as good away from home in the Premier League as they are in the FA Cup.
The Red Devils have won 12 of their last 15 FA Cup matches away from Old Trafford.
Cooling off
While Leicester City's won two consecutive matches, their star striker hasn't contributed to the scoring in quite some time.
Jamie Vardy is scoreless in his last seven matches in all competitions but still leads the team with 12 goals in this campaign and seven assists.
Out of the Blue

It's taken nearly three-quarters of the season, but it seems Man United's defence finally has their act together.
The Reds have six clean sheets in their last seven fixtures in all competitions.
Sharing the Wealth
With Jamie Vardy struggling the Foxes have shown they have various attacking options, particularly in this competition.
Nine different players have found the back of the net for the Foxes in this season's FA Cup.

Each of the teams last eight goals have come from a different player.
Managers Words
Heading into Sunday's match United manager, Ole Gunnar Solskjaer says he's been very impressed with his team's work ethic.
"It's not like we've had any gimmes in the draws. Every game has been one where you have to dig deep to win. This is another one, Leicester away. Of course, we drew in the league against them, and we know we have to defend well against them. They've got [Jamie] Vardy and [Kelechi] Iheanacho, with the form they're showing, and they've got quality in other players, the passes of [Youri] Tielemans, the runs of [Ayoze] Perez. So we know we've got a game on our hands."
Match Info
Sunday's match from King Power Stadium takes place at 5 pm. (JSL).