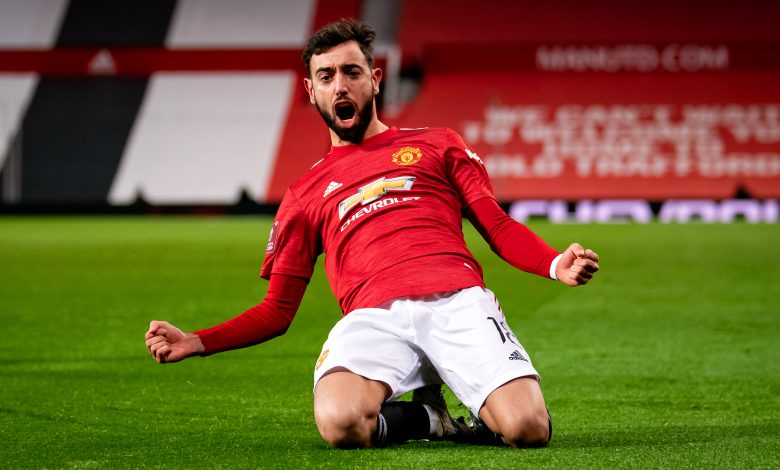 Onward and upward
 Manchester United's journey to Wembley will continue after a thrilling finish saw them edge out Liverpool 3-2.
Goals from Mason Greenwood, Marcus Rashford, and Bruno Fernandes canceled out a pair by Mohamed Salah who opened the scoring for the Merseysiders.
Match Story
 From the start, this game had the feel of an elimination game as both teams pressed hard to find an opening.
The Reds of Liverpool drew first blood in the 18th minute when Firmino played Salah in all alone against Dean Henderson.
The Egyptian coolly chipped United's keeper for Liverpool's first goal in their last three competitive matches.
As if on cue this goal sparked Man United who are no stranger to falling behind.
In the 26th minute, they drew level when Marcus Rashford found his countryman Mason Greenwood down the right.
Greenwood did well to chest it down and fire a brilliant shot across goal and into the far bottom corner beyond the reach of Alisson.
United came close at the end of the half as a Pogba free-kick sailed just wide.
He came close in the 46th minute after a nice build-up from Greenwood and Rashford but again Pogba's shot went wide.
United went ahead early in the second half when Rhys Williams whiffed on his attempted clearance as the ball went through to Rashford who found the corner as Alisson got his hand to it but not enough.
A United mistake 10 minutes later got Liverpool back on level terms.
Edinson Cavani with a needless giveaway sent the Reds on the counter.
The ball got to Salah eventually who easily fired home his second from the edge of the six-yard box.
Dean Henderson did well to save Alexander-Arnold just past the hour mark from a tight angle and then stopped Salah all alone in the 67th minute.
United took the lead for good in the 78th minute.
Bruno Fernandes lifted a United free-kick just over Thiago on the edge of the wall and inside the far post as Alisson couldn't get there in time.
Cavani came close to adding a fourth but his header on 89 minutes glanced off the post.
Liverpool had one last opportunity to equalise in the 93rd minute but Salah's volley went wide of the near post.
Man of the Match
 Marcus Rashford's play helped bring United back from a deficit situation once again.
United's striker had a brilliant game setting up Greenwood's equaliser, scoring early in the second half, and setting up Paul Pogba on a few occasions as well.
It's a shame he couldn't be out there to finish the game after suffering a knee problem.
Anthony Martial took his place in the 86th minute.
During his time on the field, he was clinical both in front of goal and as a provider.
One goal and one assist from two shots, not a bad night for Rashford.
In a slump
 Liverpool's struggles continue with another defeat, their third straight match without a win in all competitions.
They've only got one win in all competitions in their last seven fixtures.
They're now the first reigning EPL champions to exit this competition so early since Manchester City got knocked out of the fourth round in 2014-15.
 Having their number
 Man United seem to know exactly how to play Liverpool in this competition and at Old Trafford.
This is the 10th time the Red Devils have eliminated the Reds from the FA Cup proper.
Liverpool's won just one of their last 15 matches in all competitions at Old Trafford.
As bad as United were at home to start the season, they're a different team in the FA Cup and against Liverpool.
United have now won each of their last eight home games in the FA Cup.
That's more like it
 After a dull 0-0 draw between these sides a week ago this game was much more in line with what we'd come to expect.
Both sides were lively in attack without the tension felt from their last Premier League encounter.
Each team fired six shots on target and the stars like Salah, Rashford, and Fernandes came up big.
It was everything fans look for when two bitter rivals who are also near the top of the table face off.
Busting loose
 After going cold without a goal and assist for three games it's fitting that Bruno Fernandes made the difference.
The Portuguese showed his quality when entering for Donny van de Beek with just over 20 minutes to play.
He had 12 passes, won two of three duels but most importantly got the goal his side needed.
As he's done almost all the time with United Fernandes produced a moment of magic when they needed it most.
Managers Thoughts
 Following the match United boss Ole Gunnar Solskjaer said his side did enough to win this contest.
"We really played some good stuff in periods. It was some good goals we scored. We have to defend well against them of course, and I think we managed to react well. Towards the end, there's always some moments there but we kept them away, "says Solskjaer."
Liverpool's Jurgen Klopp says despite the loss there are some positives his team can take away from this game.
"It's not what we wanted so it's always frustrating. We started the game well, and then we made decisive mistakes" says Klopp.
"In the end, they scored three and we scored two but we can take positives out of this game. We know exactly what we need to work on, but we have to take steps. We made big steps tonight, which for the moment is OK."
Next Up
United's win means they advance to the fifth round of the FA Cup to battle West Ham.
That match goes from Old Trafford on Wednesday, February 10.
Solskjaer's side will look to pad their lead atop the Premier League standings when they host Sheffield United next Wednesday.
The kickoff from Old Trafford is at 8:15 pm. (JSL).