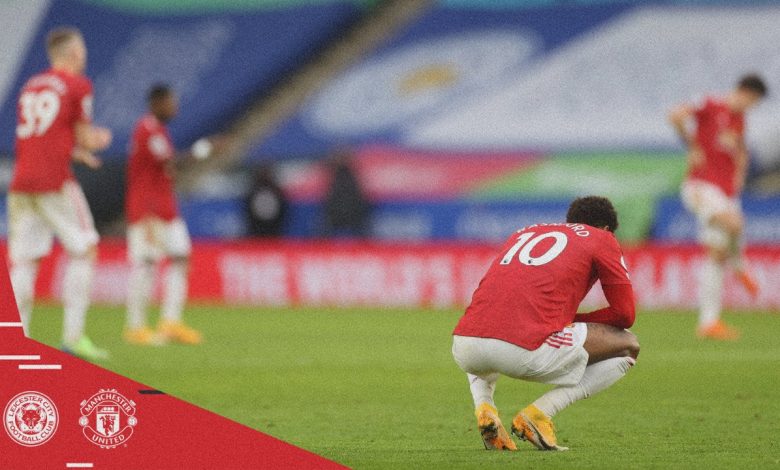 Their own Fault
 Manchester United will rue a golden opportunity to move into second place in the Premier League following their 2-2- draw with Leicester City.
It appeared the Reds would come away with all three points when Bruno Fernandes put the visitors in front with his goal in the 79th minute.
An 11th straight road win however wasn't to be as five minutes from the end Axel Tuanzebe deflected a Jamie Vardy shot past David de Gea.
Blow by Blow
 Looking for their 22nd victory on Boxing Day the Reds came out swinging.
Just two minutes into the game and they should have been ahead.
A perfect ball floated in from the left by Bruno Fernandes found Marcus Rashford who uncharacteristically nudged his header over the bar.
United's striker made no mistake in the 23rd minute.
Off a throw-in Daniel James did well to square it to Fernandes who put Rashford in all alone versus Kasper Schmeichel.
Rashford's one-touch found the bottom-right corner easily beating the Danish keeper.
The Foxes who'd had much of the ball to that point were rewarded with an equaliser eight minutes later.
The usually reliable Fernandes got caught napping in midfield as Leicester put together a nice counter-attack.
Harvey Barnes took the ball from the edge of the area and with a couple of steps smashed home a brilliant low strike past de Gea.
Just past the hour mark, the Reds thought they'd regained the lead.
Fernandes found striker Anthony Martial clean in on goal as the Frenchman fired it home but the flag was up for offside.
In the 79th minutes, United substitute Edinson Cavani set up his team's second goal of the game.
The Uruguayan drifted a neat throughball in the box for Fernandes who was 1 v 1 with Schmeichel.
The Portuguese hit his shot against the ground but out of Schmeichel's for his eighth goal of the season.
The Foxes fought back in the 85th minute to earn a point.
Substitute Ayoze Perez with some nice work out wide squared a low pass into the six-yard box for Jamie Vardy.
The team's top scorer got a weak shot away that deflected off Tuanzebe and past de Gea for the equaliser.
Man of the Match
Maybe not his most impressive game but there's no doubt Bruno Fernandes made a huge impact once again.
United's clear-cut opportunities were the result of great work from number 18.
His cross two minutes into the match should have been finished off by Rashford.
His throughball set up the opener and his goal in the 79th minute should've been enough to earn his side three points.
Fernandes' fingerprints were all over this match for better and for worse.
His giveaway on the edge of United's box resulted in the Barnes equaliser.
In less than a year at Old Trafford, one thing that's abundantly clear is Fernandes has an uncanny ability to make things happen for his side.
Since his Premier League debut, he's been involved in over half his teams' goals (31/60).
Providing a Spark
 Another signing that's had an impact for United is Edinson Cavani.
Fresh off his game winner that sent United through to the semi-finals of the Carabao Cup El Matador's been involved in five goals as a substitute in the Premier League this season.
That's two more than any other player.
Landing some blows
 With today's result, United's scored at least two or more goals in 11 straight top-flight road matches.
The last time they did that was in 1959 when they had at least two in 13 straight road games.
Leicester City has conceded 191 top-flight goals against Man United following today's match.
The only team they've given up more goals against is Arsenal with 206.
Early and Often
 Marcus Rashford's 23rd-minute goal put him at 50 career Premier League strikes.
At the age of 23 years and 56 days, he's the third-youngest Man United player to reach that milestone after Wayne Rooney and Cristiano Ronaldo.
Still Rolling
 United's streak of 10 consecutive road wins may have ended but they still have some impressive stats to boast.
One in particular is the fact they're now unbeaten in 14 straight away fixtures in the Premier League.
That's their longest streak since January 2011 when they had a run of 16 in a row.
The Managers assessments
 United manager Ole Gunnar Solskjaer said the team was disappointed they let victory slip away.
"The boys are flat in the dressing room, of course, because we did create enough chances in the game to score more goals. I thought we defended well but then they had that one moment at the end. Great movement by Vardy and then he got lucky when it hit Axel and deflected. You cannot switch off against quality players."
Leicester City's Brendan Rodgers said he was pleased with how well his team fought despite trailing twice.
"I thought it was the very least we deserved. I thought it was a very good game, two attacking teams. We were unfortunate to go behind but got an equaliser that we deserved. I thought throughout the game we showed real quality and that we could compete at the level against a team that have won every game away from home."
What it means
 The draw drops Leicester down to third as Everton beat Sheffield United
while United remains a point behind Leicester in fourth.
Who's next?
Solskjaer's side has a few days rest before their next fixture on Tuesday against Wolves.
The kickoff from Old Trafford is at 8 pm. (JSL).