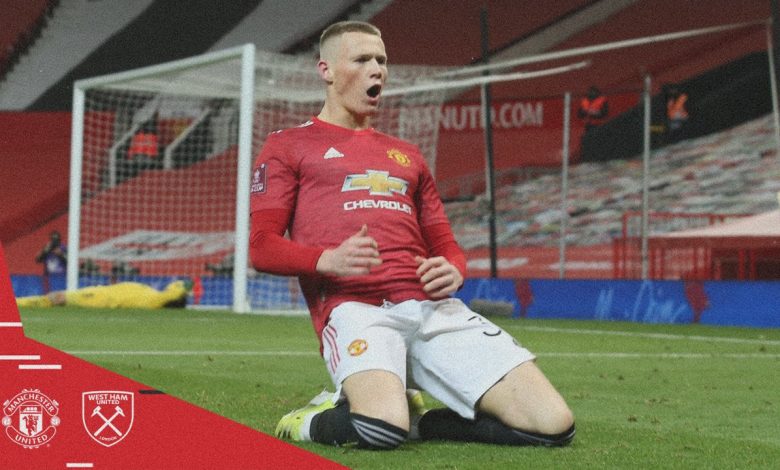 Uninspiring
Manchester United is moving on to the last eight of the FA Cup after disposing of West Ham 1-0 in extra-time.
Substitute Scott McTominay got the breakthrough for his side in the 97th minute in a very stagnant and uninspiring performance.
Both sides lacked urgency seeming unconcerned or unaware that a spot in the quarter-finals was on the line.
Chances were few and far between for both sides for much of this match.
Anthony Martial had an excellent chance after being put in on goal, but Lukasz Fabianski did well to cut the angle and make the save.
A Victor Lindelof header, later on, was well covered by Fabianski with a little help from the post as the match remained scoreless.
Fabianski then thwarted Marcus Rashford in the 53rd minute after the United striker was alone but had no angle.
Not much happened for the rest of the match until the very end of normal time.
A West Ham corner saw Craig Dawson with a clear-cut chance, but he mis-hit his header, and the opportunity went awry.
Some late substitutions from Ole Gunnar Solskjaer paid off in extra time.
One of the subs, Luke Shaw, kick-started a counter-attack dispossessing a West Ham attack as United came forward in numbers.
A cross in the Hammers box was poorly dealt with as it spilt to Marcus Rashford.
United's striker laid it off to the onrushing Scott McTominay who slotted it into the bottom corner from about 15 yards out.
That was all United would need as David Moyes' side couldn't find an answer.
Man of the Match
It was difficult to choose a standout player in a match featuring two teams seemingly stuck in quicksand.
I'll go with the obvious choice and pick the goalscorer Scott McTominay.
His addition along with the entrances of Luke Shaw and Bruno Fernandes gave United a much-needed spark.
It was by no means a sublime performance by any of those substitutes, but those players have so much quality that all it takes is one moment to turn the tide.
That's what happened when McTominay punished the Hammers for failing to clear the danger in the 97th minute.
The Scottish midfielder has added some scoring to his already well-rounded game this season.
He's got six goals in his last 11 games though this one came a lot later than usual for him.

His seven goals in all competitions this season is the most he's scored in all his seasons combined.
Sweet 16
United's win is their 16th straight at Old Trafford against West Ham.
They continue their dominance at home in the FA having won nine in a row in this competition.
They've now won four straight FA Cup encounters against the Hammers.
Meanwhile, the Hammers have now lost nine straight FA cup ties away from home against Premier League opponents.
Chipping in
Man United's Marcus Rashford continues to play his part in his team's victories.
Tonight, was his ninth assist this season in all competitions which is his best single-season tally.
At the age of 23 years and 101 days, he's now the fourth-youngest Reds player in history to play 250 games at United.
Only Norman Whiteside, George Best and Ryan Giggs did it faster.
His teammate Anthony Martial also played in his 250th game for the club.
It's only the second time in team history that two United players have reached that milestone in the same game.
Managers Words
Following the match, United manager Ole Gunnar Solskjaer said his side showed a lot of resiliency tonight.
"It was a cold one, but the lads worked hard and deserved the win. Another clean sheet and we bounced back from the kick in the face of conceding the late goal against Everton."
Next Up
Man United look to make up some ground in the Premier League Sunday when they face West Bromwich Albion.
The kickoff from The Hawthorns is at 2 pm.
Thursday before the Chelsea-Barnsley game is when United will find out their quarter-final opponents in the FA Cup.
Their next FA Cup tie will take place the weekend of March 20. (JSL)