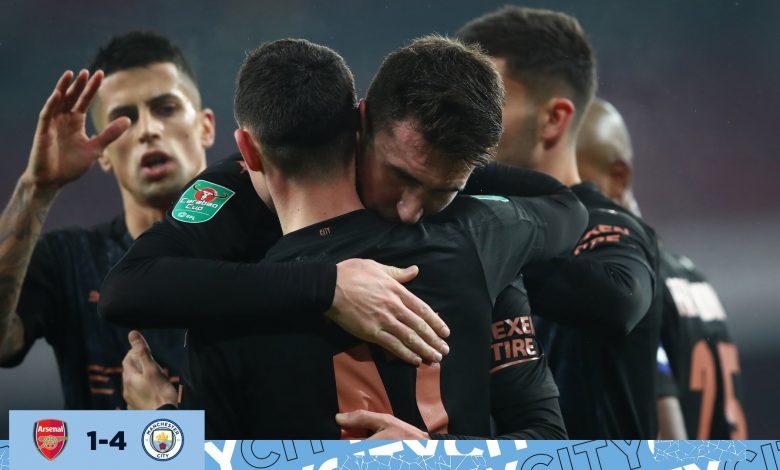 Easing through
 Manchester City is through to the semi-finals of the Carabao Cup after beating Arsenal 4-1 on Tuesday.
With seven changes to the side from their win at Southampton Pep Guardiola's team looked focused and determined all game long.
Highlights
 Things couldn't have started any better for Man City as two of Guardiola's changes made an immediate impact.
Just three minutes in and they were already a goal in front.
Oleksandr Zinchenko put a nice cross into the box for Gabriel Jesus who headed home his first goal in this competition.
City continued to press as Riyad Mahrez had a nice effort blocked and Aymeric Laporte went inches away from making it two-nil.
Seemingly out of nowhere the Gunners found an equaliser just past the half-hour mark.
City's defensive clearance was picked up by Gabriel Martinelli.
The Brazilian winger took it to the byline sending a nice cross towards Alexandre Lacazette.
The Frenchman nodded it home with authority to put Arsenal on the board.
In the second half, City continued plugging away and got some good fortune in the 54th minute.
An awful gaffe from Arsenal keeper Runar Alex Runarsson who badly mishandled the Mahrez free-kick putting City back on top.
City caught a bit of a break when Phil Foden chipped Runarsson to make it 3-1 five minutes later.
VAR wasn't in use for this game which is a good thing for City as Foden was clearly offside on the play.
The goal stood and City went ahead 3-1.
Foden got an assist in the 73rd minute.
His cross off a short corner was headed home by Aymeric Laporte as City cruised into the semis.
Paying Dividends
 Pep Guardiola definitely made the right tactical changes for this match.
All four of City's goal scorers Tuesday were omitted from the starting lineup last Saturday but they all proved their worth in this one.
Foden notched his second goal of this competition while Mahrez, Jesus, and Laporte all got their first.
Man of the Match
 City rested Kevin De Bruyne giving Riyad Mahrez a chance to shine and he didn't disappoint.
The Algerian international was a threat all night.
He won some dangerous free-kicks, scored a lucky goal, and was a huge presence in the City midfield.
Fantastic Four
 Tuesday's win puts the Blues in the Carabao Cup Semi-Finals for a fourth straight season.
They're the first team in over 50 years to beat Arsenal four straight times away from home in all competitions.
The last team to do that to the Gunners was their London rivals Chelsea who did it six times between 1960 and 65.
The four goals Mikel Arteta's side gave up is also the most the Gunners have conceded in a home League Cup game since November 1998.
Chelsea once again laid the smackdown on the Gunners that time beating them 5-0.
What the bosses said
 City's Pep Guardiola said he was happy with how the team came out in the second half.
"Both teams need to score goals, we score four. We changed the set-up, they score a good goal, after the second half we had more fluidity. The second goal helped, the third maybe offside, so that makes a difference. After 3-1, it is a completely different game," says Guardiola.
Arsenal manager Mikel Arteta says things just haven't been going their way lately.
"It's a hard one to take, considering how the game went. This level of opponent, when you give the goals away it makes the game impossible. A lot of strange things are happening in every game and that makes things really difficult," says Arteta.
Cup Therapy
 We all know it's not the trophy teams care too much about but this tournament seems to bring out the best from Man City.
Since losing out to their rivals Manchester United in 2016 the Blues have won 18 straight League Cup ties.
It's no secret City hasn't lived up to their lofty expectations in the Premier League so far sitting in eighth place.
However, if City can win this tournament again this season it'll put them in some exclusive company.
A fourth straight title would not only tie Liverpool for most consecutive victories but it would also put them level with the reigning EPL champs for most Carabao Cups with eight.
The Cup might not be the one fans want but it's the one saving grace from a team that's been mostly underwhelming the past couple of seasons.
Who's next?
 City joins Brentford in the final four and will wait to see who they'll face next following tomorrow's quarterfinal games.
The semi-final draw takes place tomorrow when we know the identity of all four teams.
City's next match is at Etihad Stadium Saturday at 8 pm against the team Brentford upset in the League Cup, Newcastle. (JSL).