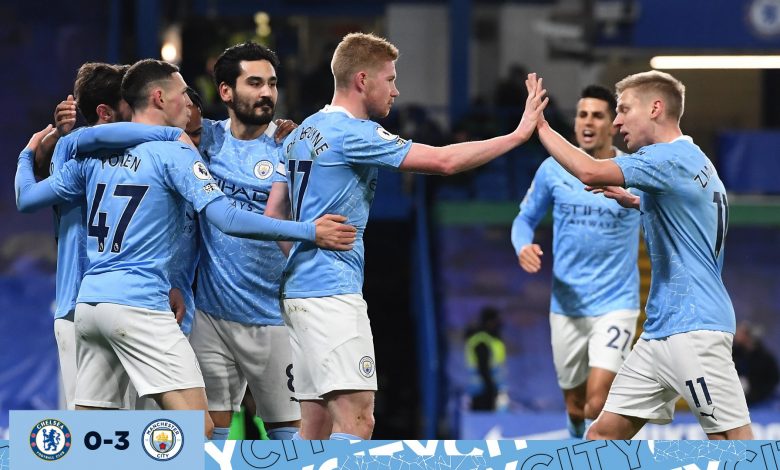 Singing the Blues
 Manchester City made a big statement Sunday with a 3-1 win at Chelsea.
A match that rarely looked in doubt for the visitors saw City compound onto what's been a rough stretch for Frank Lampard's side in the Premier League.
Chelsea has now lost four of its last six matches in the league; that's more losses than they had in their 23 previous matches in the top-flight.
For  Pep Guardiola's side meanwhile, they stretch their unbeaten run in the league to eight with today's win.
Early Onslaught
 It took some time but when City got their footing there was no stopping them on this day.
City found the breakthrough in the 18th minute.
Oleksandr Zinchenko did well to find Phil Foden who rolled a nice ball towards Ilkay Gundogan.
The German midfielder turned quickly and fired a nice low shot beyond the outstretched Edouard Mendy.
City didn't let up and found a second three minutes later.
Kevin De Bruyne did well to find Foden in between two Chelsea defenders.
Foden's one-time shot fooled Mendy who was beaten at his near post.
De Bruyne then essentially put the game out of reach in the 34th minute.
Raheem Sterling caught the Chelsea defence napping and fired a close-range shot against the post.
The Belgian was there to poke home the rebound to make it three-nil.
The Cityzens were on cruise control from there as backup keeper Zack Steffen was rarely troubled in the City goal.
Chelsea got a consolation goal in the 91st minute when winger Callum Hudson-Odoi steered in a low cross from Kai Havertz to make the score a little more respectable.
Man of the Match
 One man who's really stepped up his game for City is Ilkay Gundogan.
With Sergio Aguero easing back into the lineup the German midfielder has picked up the slack with three goals in his last four Premier League matches.
His goal today got the ball rolling in what was a tentative start for both teams.
He drove City forward leading the attack alongside De Bruyne through much of the match with clever passing and quality finishing once again.
Defensive Wall
 Zack Steffen couldn't have asked for much more from his backline in his Premier League debut.
Take away his mental lapse when he picked up a back pass four minutes into the match and it was as easy a debut as the American could've wanted.
Conceding only two shots on goal the likes of Ruben Dias and John Stones are proving to be a tough wall to break down.
Since a 2-0 defeat at Tottenham City have only conceded two goals in the league in their last seven matches.
Hidden Gem
If Chelsea could turn back time I'm sure they would go back to January 18, 2014.
That's the day the Blues let Kevin De Bruyne slip away for a mere £18 million, peanuts when you look at the Blues budget.
Chelsea's loss has become City's gain as the Belgian's been invaluable to his side's success and was a difference-maker once again today.
De Bruyne's won six of his nine Premier League meetings against his old club.
His goal today makes him the first player for City to score in three straight league games versus Chelsea since Carlos Tevez.
If they knew then what we all know now the Belgian might still be at Chelsea and helping them gun for a third title in four seasons.
But Chelsea's loss has definitely become City's gain.
Unlucky 13
One of Chelsea's biggest summer signings has failed to live up to expectations lately.
The Blues activated a release clause of nearly £50 million just to sign Timo Werner from RB Leipzig.
After today's match, the German's now gone 13 matches without a goal.
At £14 million a season he's the second-highest-paid player on the team.
With just four goals and four assists, it's easy to see he's not yet delivered the production the club's been seeking from him.
Giving it away
 Chelsea continues to struggle against Man City's attack.
A side that's scored just 21 this season before today's game continues to feast off Chelsea.
City now has goals in their last 13 Premier League fixtures versus the Blues.
Meanwhile, Chelsea continues to struggle out of the starting blocks.
Today's match is the second time in this domestic campaign that they've conceded three first-half goals.
They've only done that twice before (1996/97 and 2011/12).
Managers Thoughts
 After the match manager, Pep Guardiola says the team is starting to finally play to their capabilities.
"We're a team who have to play in one certain rhythm. We have to play 1,000 passes and in the right moment attack. This is how we won our titles previously. We've missed this a little bit this tempo and today we got it," says Guardiola.
Chelsea boss Frank Lampard says City's opening goal really knocked the stuffing out of his side.
"For 10 minutes, we were good. I'm not claiming that but it's just the reality of the game. We conceded two really poor goals and I felt it knocked us. I felt we didn't react as well as I wanted. There were serious lessons in the first half but we showed good character in the second but the game was done," says Lampard.
What it all means
Today's victory moves Pep Guardiola's team into fifth place in the standings just four points out of first with a game in hand.
That may change tomorrow when Liverpool battles Southampton.
Chelsea fall to eighth place with the defeat.
Next Match
City's attention shifts to the Carabao Cup as they look to beat Manchester United in the semi-finals for a second straight season.
The kickoff from Old Trafford on Wednesday is at 7:45 pm. (JSL).