Football
Manchester City
City clinch first place in Champions League Group
Blues held to goalless draw with FC Porto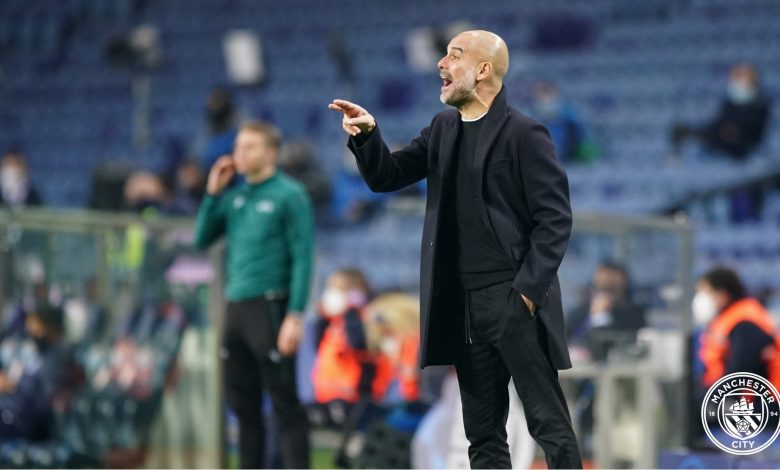 Scoreless
 For the first time, this season in any competition Manchester City played to a 0-0 draw on Tuesday at FC Porto.
It's the first time City's had a match end that way in the group stage of any Champions League campaign.
Game Recap
With both teams virtually assured their passage to the next stage even before this game it was a fairly predictable training session at times.
In the 22nd minute, a nice counter-attack by the Blues as Phil Foden made a nice run down the left-hand side placing a nice cross into the box for Ferran Torres.
The Spaniard took a touch before firing it on goal.
Augustin Marchesin though did well to rush off his line and touch it away.
The flag was up anyway for offside and it wouldn't have counted either way.
City came close to opening the scoring in the 37th minute.
Raheem Sterling cut into the box from the left to fire a great shot on goal.
It beat Marchesin but Zaidu Sanusi was there for Porto to clear it off the line.
Things livened up a little in the second half with City again very much the aggressors.
On 58 minutes from around the halfway line, Foden found Sterling running through the middle.
City's leading scorer strolled in one on one with Marchesin who saved the low shot while Torres slipped trying to pick up the rebound.
Another great chance for the Blues came to nothing in the 71st minute.
Again, it's Sterling running onto a near-post cross hitting his shot across goal.
Marchesin got a piece of it but it's kept in by Ruben Dias who finds Torres but his overhead kick was saved by Marchesin.
Five minutes after that some great work by Bernardo Silva to keep the ball in play as he cut into the box.
A nice low shot by the Portuguese international was saved.
Some more brilliance by Marchesin in the 80th minute.
Foden swings a corner into the area where Rodri was able to head the ball back across the box for Eric Garcia unmarked in the six-yard box.
Marchesin though was there again.
Moments later City thought they'd taken the lead.
Silva with a nice cross into the box for Gabriel Jesus whose header was saved by Marchesin but straight to Jesus who put in the rebound.
However, a check on VAR ruled out the goal because Rodri was offside when played through by Joao Cancelo.
Nothing doing for the remaining few minutes as both sides play to the draw.
Man of the Match
 The reason this match ended goalless had a lot to do with the play of Augustin Marchesin.
The Argentine keeper had perhaps the match of his life against a Blues side that had 68% possession firing six of their 18 shots on target.
Marchesin was alert all game long, bravely coming off his line with great reads preventing many great goal-scoring opportunities for City.
Stats
 Porto continues to struggle against English sides in the Champions League.
The Portuguese champions are winless in their last six Champions League matches against teams from England.
Tuesday's draw put an end to Porto's run of 14 straight Champions League home games without a draw.
City's now got four straight clean sheets in the Champions League, that's more than they've had in their last two Champions League campaigns (4).
A goalless draw is very unfamiliar for Pep Guardiola
It hasn't happened for any side he's coached since February 2015.
On that day Shakhtar Donetsk drew his Bayern Munich squad 0-0.
City's 18 shots are the most they've had in a Champions League match without scoring.
What it all means
 The draw guarantees Pep Guardiola's men will finish first in Group C with one match remaining currently sitting at 13 points.
Porto meanwhile will progress to the knockout stage as well after Marseille defeated Olympiakos 2-1 in the other group match.
Sergio Conceicao's side has 10 points, seven more than the Greeks and French.
Marseille and Olympiakos will be fighting for third place and a spot in the Europa League on the final day of group action.
Manager's Words
 Despite not scoring City Boss Pep Guardiola said he's proud of what the team's achieved so far.
"Incredible congratulations to the team for this group stage… We played incredibly well. We didn't concede one corner or one shot on target in Europe away against Porto, who alongside Benfica, are the best team in Portugal with an incredibly physical team."
His counterpart Sergio Conceicao says his side deserves to move on in the competition.
"We achieved qualification with an impressive series of games on our part.
"It is our 16th time in the round of 16, more than double that of all other Portuguese teams. We carry the name of Portugal in Europe very high."
Next Up
 For City, they host Fulham from Etihad stadium coming up this Saturday at 3 pm.
Their final group C match in the Champions League is next Wednesday at home to Marseille at 8 pm. (JSL)