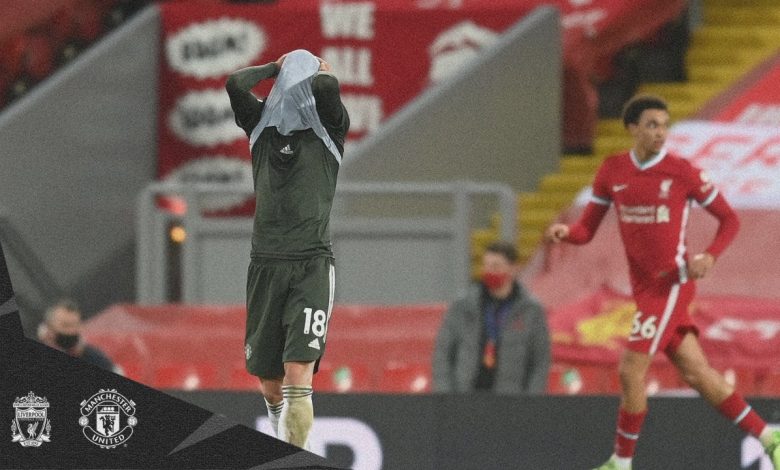 Honours Even
 Manchester United remained in first-place in the Premier League standings after playing Liverpool to a 0-0 draw on Sunday.
A match billed as the two best sides in England at the moment saw very little in terms of chances.
Playing it cagey
 For much of the 90 minutes, we saw a cagey affair between two sides unwilling to take risks.
Jurgen Klopp's 200th Premier League game will definitely not go down as his most memorable.
In the first-half Liverpool appeared to be the hungrier side.
The first clear-cut opportunity came in the 17th minute when Robert Firmino was picked out nicely by Sadio Mane but he mishit his strike and it went wide.
Bruno Fernandes had a free-kick opportunity for United in the 34th minute.
The Portuguese bent his effort over the wall as it sailed inches wide.
The second half saw a much more evenly played match with both sides finding space to attack but failing to find that killer pass or finish.
Edinson Cavani's entrance just over an hour into the contest seemed to spark United for a little while.
Soon after his entrance Bruno Fernandes had some space opened up for a shot 25-yards out that was handled by Alisson.
Fernandes had a great chance on 75 minutes when Luke Shaw found him free inside the Liverpool box.
The Portuguese fired a snap-shot from point-blank that Alisson was able to keep out.
In the 78th minute, Thiago did well to get around United's Fred before launching a right-footed strike that de Gea beamed away.
The last chance came United's way in the 83rd minute when Aaron Wan-Bissaka cut a low ball to Paul Pogba inside the box.
The Frenchman took a good first touch before firing a powerful effort straight at Alisson.
Man of the Match
 Liverpool may have carried the play through most of the 90 minutes but if not for Alisson the Red Devils could very well have come away with three points.
The Brazilian keeper was alert and on his game when needed.
He did well to stop Bruno Fernandes from close range late in the match before stoning Pogba as well.
His positioning and sharpness helped Liverpool earn a point.
 As Expected?
 Given the individual talent on display and where these teams are in the standings, it's easy to see why a 0-0 scoreline would be a disappointment for fans.
On the other hand, that could also be the reason we saw such a tight match defensively.
These teams recognized how dangerous their opponents were, they're aware of the standings so they did what should've been expected, they took no chances.
With these teams so close in the standings Liverpool didn't want to lose ground while United wasn't about to risk losing their slim lead.
It's playing to not lose something these sides executed almost perfectly today.
There's still more than half the season to play and another matchup between these sides to come.
It also shouldn't come as a big shock given these teams' recent history against each other.
Both teams have played to a nil-nil score three times in the last five seasons.
Goal Shy
 Liverpool's not had very strong showings since the new year.
The defending Premier League champions are winless in the league in 2021 (a loss and 1 draw) having now gone three fixtures without a goal.
They're the third defending champions to go goalless for three games in the league after Leicester City in 2016/17 (six games) and Arsenal in 1998/99 (three games).
It's Liverpool's longest dry spell since going three games without a league goal in 2005.
Streaks intact
The draw extends Man United's unbeaten run away from home to 16 Premier League matches.
It's their second-longest unbeaten road run after going 17 games without losing until September 1999.
Liverpool maintains its impressive unbeaten streak at Anfield.
The defending champions are now unbeaten at home in their last 68 Premier League matches earning 178 out of a possible 204 points.
United's defence seems to be improving.
They've now gone three consecutive matches in all competitions with conceding.
They're the first team to shut out Liverpool on their home soil since Man City did it in October 2018.
All glitz without glamour
 With so many high-profile players on display, the stars were disappointing.
Mohammed Salah barely even got a half-chance while Fernandes and Pogba didn't get much until late in the match.
Credit both teams defensively for the tight marking so neither side could explode through space.
Salah's now gone goalless in four Premier League matches, his longest drought of the season.
Take away the nice free-kick and Fernandes was perhaps the most ineffective we've seen him with the Red Devils.
He never really found a rhythm nor could he find that killer pass to stretch Liverpool's backline.
Rashford was equally disappointing and could never quite find his stride, literally.
United's striker got called offside five times, that's more than any Premier League player this season.
Managers Thoughts
 After the match United manager, Ole Gunnar Solskjaer says his side didn't do enough to earn three points.
"We didn't deserve the three points because we didn't play well enough. We didn't impose ourselves on the game, especially first half. We grew in the game and thought it was there to win in the second half and created two massive chances," says Solskjaer.
Liverpool's Jurgen Klopp says given his side's struggles of late he's happy with this result.
"If we won 1-0 I'd think it was completely fine. You can't deny Manchester United chances for 90 minutes. You never could. They're in a good moment. With all the things said before the game – they're flying and we're struggling – my boys did a good game," says Klopp.
Next Up
 United looks to remain unbeaten this year in the Premier League when they travel to Fulham on Wednesday.
The game from Craven Cottage gets underway at 8:15 pm.
These teams will face each other again next Saturday in the fourth round of the FA Cup.
The kickoff from Old Trafford is at 5 pm. (JSL).