Football
Manchester City
Man City look to settle a score with Leicester
Sky Blues aim to move a little closer to the Premier League title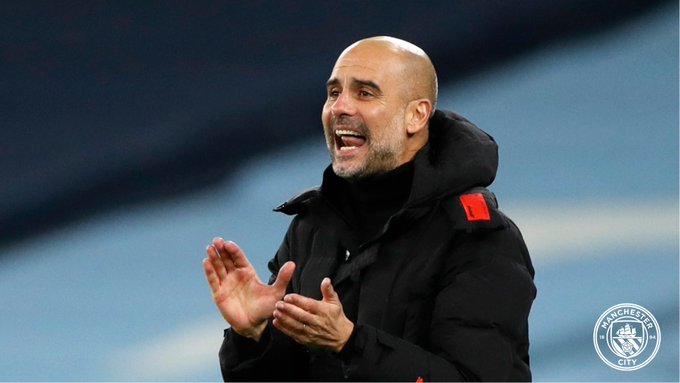 Settling the Score
Manchester City will be looking to exact a little revenge this weekend when they travel to King Power Stadium to face Leicester City on Saturday.

The Sky Blues need only five more wins to claim their third Premier League title in the past four campaigns.
In their first encounter this season, the Foxes crushed City 5-2 in the second game for Pep Guardiola's side.
Brendan Rodgers knows his team needs three points on Saturday if they want to have any hope of making up the 15-point gap currently separating them and City in the table.
Lineup News
Earlier this week, we found out that record goalscorer Sergio Aguero will be leaving at the end of this season.
With so much still to play for, though, it's unlikely we see him starting this weekend, but he may very well get some action as a substitute.
Centre-back Nathan Ake is healthy, but given how well the defence has done without him, he may have to sit on the bench once again.
Striker Raheem Sterling will hope to get back into the lineup after sitting out of his team's last two Premier League matches.
The Foxes will be without James Justin and Harvey Barnes because of injuries, while Wes Morgan, Ricardo Pereira and Cengiz Under are all questionable.
Midfielder James Maddison could make his return to the Leicester lineup; he's been out since late February with a hip injury.
Schooling the master
Winning against Pep Guardiola is challenging enough, but if Leicester can beat him for a second time this season, it would put them into unchartered territory.
The Foxes scored five times the first time out against City; no side has ever scored six league goals against a team managed by Pep Guardiola in a single season.
Leicester could also become just the fourth team to complete a league double against a Pep Guardiola managed team.
In a Slump
One player stuck in neutral of late is Leicester striker Jamie Vardy.
Last season's Premier League Golden Boot winner is without a goal in his previous eight matches.
Despite that he still leads the team in league goals with 12.
Vardy has had a lot of success finding the back of the net against Man City, however, with four goals in his last three games against the Sky Blues.
The last time these teams faced each other in late September, Vardy scored a hat-trick inside one hour.
Speaking of slumps, Raheem Sterling has not scored a Premier League goal since February 21, when he notched the lone goal in a 1-0 win against Arsenal.
Heating Up
While Jaimie Vardy has struggled, a new star has emerged in the Leicester ranks, and his name is Kelechi Iheanacho.
The former City striker has flourished since moving to the East Midlands in August of 2017.
The Nigerian has seven goals for Leicester in his last four competitive matches, including a pair of goals in their 3-1 victory over Man United in the FA Cup quarter-finals.
When we talk about players on a roll, there's a handful of Man City players we can single out.
Midfielder Kevin De Bruyne has four goals in his last four games in all competitions.
Playmaker Ilkay Gundogan has scored three goals in his previous four fixtures.
Both Gundogan and De Bruyne have scored the only goals in City's previous two victories in the FA Cup and Champions League.
Gabriel Jesus, meanwhile, has two goals in his last three games against Leicester City.
Both these teams are in pretty good form at the moment.
Leicester have won three in a row in all competitions and are unbeaten in their last two matches played at King Power Stadium.
City has won four straight games in all competitions after losing 2-0 to Man United.
Enjoying the Open Road
Manchester City has thrived away from home lately, playing some of their best football this season on the road.
Pep Guardiola's side has only lost once all season away from the Etihad.
That defeat came back in November when they fell 2-0 at Tottenham.
They've won their last 13 road matches in all competitions, having kept four consecutive clean sheets.
Double or Nothing
The Foxes dominated the Sky Blues in their first encounter this season, but it's been quite some time since they've defeated City twice in the same league campaign.
The last time Leicester pulled off a league double over the Citizens came in 1986-87 when they defeated them 2-1 and 4-0.
Managers Words
Ahead of this match, City manager Pep Guardiola says the Premier League race is far from being over.
"Leicester is a top-class team – they can beat us. The depth of their squad, I am impressed," said Guardiola.
"We will be closer to winning the title if we win, and then every game after that is a final. The team will feel that, and we are ready to try it.
"People say we are close. The champions are Liverpool. We are in the best position. But United and Leicester can win a lot of games.
Match Info
Saturday's match from King Power Stadium in Leicester kicks off at 5:30 pm. (JSL).