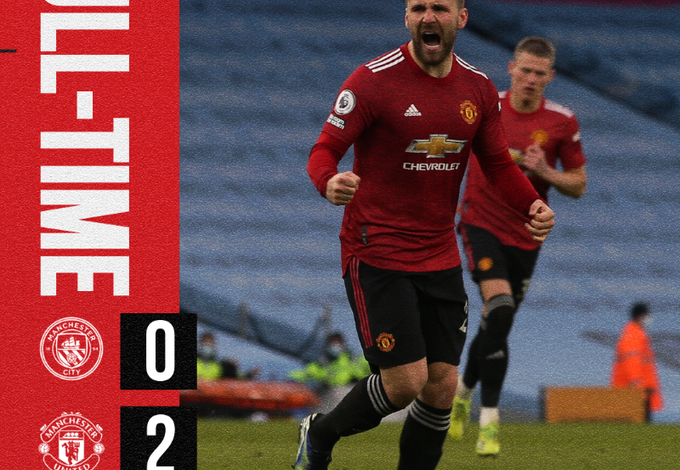 Nothing Gold can stay

.
For the first time in three months and 29 games, Manchester City has lost a competitive match.
Goals from Bruno Fernandes and Luke Shaw gave Manchester United a 2-0 win, the first side since Tottenham back on November 21 2020, to hand the Citizens a defeat.
The Sky Blues had an opportunity to set a new club record and Premier League record with the right result.
As it stands, City will need to be content to share the club record of 28 straight matches unbeaten in all competitions. They'll also have to accept being tied with Arsenal for the longest top-flight run without trailing at 19 games.
It's City's first defeat in 2021.
United meanwhile extended its unbeaten run on the road to 22 straight Premier League matches. They're six shy of the record held by Arsenal.
Game Story
In desperate need of three points heading into today's fixture, Ole Gunnar Solskjaer's side flew out of the gate.
Before Pep Guardiola's side could even blink, one streak was over.
About thirty seconds into the game and the Reds had themselves a penalty.
Anthony Martial got clipped from behind by Gabriel Jesus just inside the box.
Bruno Fernandes stepped up and fired his shot into the bottom-left corner. Ederson got a touch to it but couldn't keep it out.
With that one City run had ended, and the Reds began to grow in confidence.
Marcus Rashford did well to win possession in the final third on 17 minutes, firing a good low shot from 20 yards out that Ederson handled.
City was crying foul in the 23rd minute when Raheem Sterling went down under pressure from Fred. Referee Anthony Taylor said there was no foul, though, and the play continued.
The Sky Blues had a couple of great chances to equalise just before half-time.
Kevin De Bruyne had an excellent long-range effort in the 43rd minute that Dean Henderson tipped over the bar.
The Belgian set up Riyad Mahrez three minutes later with an excellent feed down the right flank. The Algerians low strike across goal was just beyond the reach of Jesus.
City was unlucky, not the draw level three minutes into the second half.
Gabriel Jesus found an advancing Rodri whose first-time effort looked labelled for the top-right corner thrashing against the bar and out.
It was a wakeup for Man United who doubled their advantage two minutes later.
A great run down the left from Luke Shaw, who offloaded a ball for Rashford.
Shaw then continued his run into the box, collecting an offloading ball from the United striker.
The left-back took one touch before placing a left-footed strike past Ederson into the bottom-right corner.
From there were some excellent back and forth chances from both sides.
Anthony Martial missed his diving header in the 58th minute while De Bruyne fired over the bar from a distance on the hour mark.
With 25 minutes to go, Phil Foden latched onto a cutback from De Bruyne but sliced his close-range effort wide.
De Bruyne placed a pinpoint cross to Sterling in the 85th minute, but his header went wide.
The Belgian whipped in another cross two minutes later towards Ilkay Gundogan, who headed it towards the back post but just beyond John Stones' reach to tap in.
In the end, it wasn't to be for City as the match ended with an excellent save from Dean Henderson off Riyad Mahrez in the 96th minute.
Man of the Match
He always seems to be at his best in these derbies and today was no exception for Anthony Martial.
The Frenchman who scored in this exact fixture in 2018-19 and 2019-20 was instrumental for the Reds this afternoon.
He got the ball rolling in less than a minute, earning United a penalty which Fernandes converted.
Martial had several good scoring opportunities and was strong on the ball from the opening kickoff until his substitution in the 88th minute.
United's number nine gave the rugged City defence all they could handle on this day.
Answering the critics
Bruno Fernandes made it clear he was sick and tired of all the critics suggesting he and his team couldn't perform against the big Premier League clubs.
Fernandes did his talking on the field today, scoring from the penalty spot and creating plenty of good opportunities.
Since his United debut last year, the Portuguese star has netted 12 times in 13 attempts from the penalty spot. He's got more penalty goals than any team besides Man United in the Premier League from February 2020 to the present.
After 101 seconds of play, his goal is the earliest one City has ever conceded in all their Premier League matches at the Etihad.
Man United also got its first win against the 'Big Six' with more goals today (2) than in all seven previous games combined (1).
Helping out
Marcus Rashford is showing he's not a one-trick pony.
The Reds striker assisted on his team's second goal today, his 10th assist this season in all competitions. It's the first time he's reached double digits in that department in a single season.
Taking the Lead
City's gotten used to leading games of late but winning games after leading at the half continues to a familiar trend for Man United.
The Reds are now unbeaten in their last 103 Premier League games when leading at half time (91 wins and 12 draws).
A Crack in the wall
Ole Gunnar Solskjaer's side found a way through Man City's seemingly impenetrable blue wall.
They'll savour this one as doing so doesn't happen often. 
In 17 games, this is the first time City has lost when John Stones and Ruben Dias make up the starting pair in central defence.
Before today City's opponents had scored only three times against City when those two are together.
The Reds didn't have much of the ball, just 33% but were still able to fire six shots on target, scoring twice.
Winning the Chess Match
Ole Gunnar Solskjaer's had his share of criticisms flung his way since becoming United manager, but he can now boast at least one feat no previous Reds manager could.
Solskjaer is the first manager in club history to win his first three away meetings in all competitions against Man City.
He's also the only manager with a winning record against Pep Guardiola amongst those who've faced the Spaniard more than three times.
Solskjaer's beaten Guardiola now four times in all competitions and lost three.
Managers Words
United manager Ole Gunnar Solskjaer says he's proud of how his team performed today.
"When you come away with a 2-0 win, another clean sheet, and a performance like this, we're delighted, of course. We knew it was a challenge; the first goal dictated a lot of what happened out there. We came in at half-time having played too much on the result that we were winning, but in the second half we got on the ball more and what a second goal, fantastic."
Man City's Pep Guardiola says his team lacked the quality needed in front of goal.
"It was a fantastic game. United make incredibly high pressing, and they are so fast on the counter. We played good. Unfortunately, we couldn't be clinical upfront, so we congratulate United.
"We will be the news because we lost. But the news is 21 victories in a row. There are still 30 points to play, and we have to start to win again. That's football. Sometimes it happens. We played much better than the game against West Ham which we won."
What it means
Man City are still comfortably in front in the EPL standings, but this victory is a significant confidence boost for the Reds.
With ten games remaining in this Premier League campaign, City is now 11 points clear of United in the table.
Next Up
City hopes to start another winning run on Wednesday when they host Southampton.
The kickoff from the Etihad is at 6 pm.
For United, their attention shifts to the Europa League as they host AC Milan in the first-leg of their round of 16 battle on Thursday.
That game gets underway at 5:55 pm from Old Trafford. (JSL).