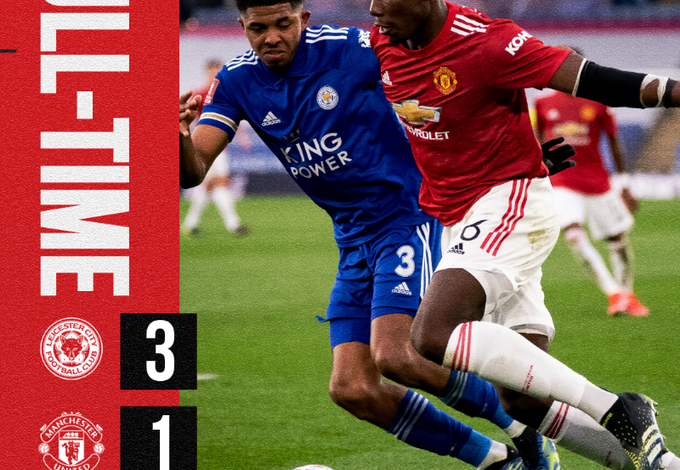 Manchester United is running out of chances to end their trophy drought this season.
The Reds fell 3-1 to Leicester City in the FA Cup quarter-finals Sunday in an incredibly lacklustre performance from Ole Gunnar Solskjaer's side.
A pair of goals from Kelechi Iheanacho and Youri Tielemans helped cancel out Mason Greenwood's equaliser as the Foxes advanced to their first semi-final in this competition since 1982.
Match Info
With a spot in the semi-finals on the line, the Foxes started brightly, putting United's defence on their heels early on.
Jamie Vardy put a ball forward to try and find Kelechi Iheanacho inside the six-yard box.
The cross was cut out but rebounded nicely to Leicester's leading goalscorer, who fired it too close to Dean Henderson, who covered it up.
Leicester's pressure paid off in the 24th minute.
Man United was far too cute in their end as Harry Maguire played it over to Fred, who put a lazy pass back to Henderson.
Iheanacho easily read the play and got to the ball before Henderson, and rounded the keeper to slot in the opening goal.
With the Foxes controlling the tempo, Man United found an opening on seemingly their first attack of the game.
In the 38th minute, some good work down the left wing from Paul Pogba, who got to the byline before pulling a ball back for Donny van de Beek.
The Dutchmen dummied it brilliantly for Mason Greenwood, who was right behind him and drilled his shot past Kasper Schmeichel.
The Reds entered the interval fortunate to be level.

Leicester regained the lead however in the 52nd minute.
Youri Tielemans with a lovely one-two with Iheanacho to get around Matic as the Belgian carried the ball towards the United box.
Inexplicably United left him in acres of space as he drilled a brilliant low shot beyond Dean Henderson's reach.
Jamie Vardy should have made it 3-1 minutes later. 
United got caught out at the back as Iheanacho skipped past Harry Maguire but Vardy drilled his shot inches wide.
Despite inserting Bruno Fernandes and Edinson Cavani just over an hour in, it did little to spark United on this day.
The Foxes put the game to bed in the 78th minute.
 Marc Albrighton's free-kick was delivered nicely toward the back post.
Iheanacho got away from Scott McTominay and headed home from a couple of yards away.
Bruno Fernandes came close in the 88th minute.
His free-kick from nearly 30 yards away got over the wall, but Schmeichel got across with a brilliant save.
That's as close as United would come as their trophy drought now rests exclusively on the Europa League.
Man of the Match
Kelechi Iheanacho is quickly making people forget the Foxes possess a former Premier League golden boot winner.
The Nigerian got the ball rolling with the opening goal, set up the game-winner and got the insurance marker.
It appears the Foxes have a new attacking threat who's stepped up while Jamie Vardy continues to struggle.
Iheanacho has seven goals in his last four matches in all competition, and he made all the difference today.
Coming to an end
This defeat not only ends United's hope for a first FA Cup since 2015-16, but it ends a lengthy unbeaten run away from Old Trafford.
It's the Reds first defeat away from home against an English side in their last 29 matches.
Old habits die hard
When it looked like the Reds defence was coming together, they laid an egg at a most inopportune moment.
Of all the days, the FA Cup's quarter-final was not the time Solskjaer wanted his defence to unravel.
Yes, Leicester is a talented squad with various attacking threats, but United practically gifted those goals on a silver platter.
The defence was downright awful today and made it far too easy for Brendan Rodgers' team.
After keeping six clean sheets in their last seven games, this was perhaps the worst defensive outing for United since their 6-1 defeat to Tottenham back in October.
Headscratcher
In an up and down season for Man United manager, Ole Gunnar Solskjaer made a puzzling lineup move.
Bruno Fernandes didn't get into the game until the 64th minute as a substitute.
With the pressure, Solskjaer is facing and the influence and impact the Portuguese can have, it makes you wonder.
United suffered as they lacked focus, their passing was off, and they looked unmotivated for much of this match.
By the time Fernandes entered the fray, the Foxes had already gotten into a rhythm while Fernandes needed time to get his feet wet.
Maybe there's more to the tactical change then we're aware of, but it seems Solskjaer got his tactics dead wrong.
Managers Words
Following the match, United manager Ole Gunnar Solskjaer tried to explain why his team looked so flat today.
 "Of course, we're disappointed because we're out. It was the sum of all the factors of all the games we've played and all the injuries. I don't want to make excuses, but try to find an explanation. We had a few players coming back who haven't trained for a while, and the others that had played a lot had lost a bit of zip. We conceded goals we don't normally concede, and it's difficult against a team like Leicester."
Next Up
Solskjaer has a week to contemplate what went wrong as the Reds are off next week with the international break.
Their next match will be Sunday, April 4, when they host Brighton from Old Trafford at 7:30 pm. (JSL).