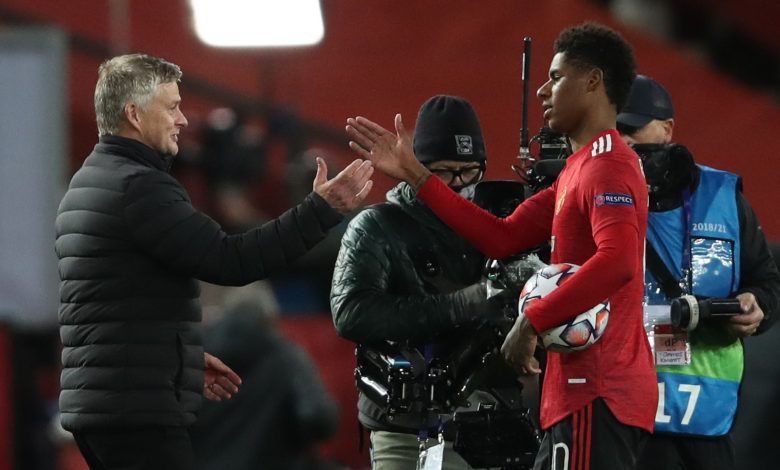 All on the line
 Manchester United have it all to play for Tuesday as they face RB Leipzig in their final group game of the Champions League.
Both teams are tied on points with nine heading into this game.
Team News
David de Gea missed Saturday's game against West Ham but the Spaniard should be fit for this one.
If he's not then Dean Henderson will play his second career Champions League match.
Luke Shaw and Phil Jones remain out through injury.
Fred won't be available as he's got two yellows from last week's loss to PSG.
Edinson Cavani and Anthony Martial took knocks over the weekend and it's unknown if they'll be at Ole Gunnar Solskjaer's disposal.
For the Red Bulls, centre-back Dayot Upamcano is suspended.
Benjamin Henrichs has a knee injury and is unlikely to feature.
Hee-Chan Hwang tested positive for COVID recently and probably won't be cleared to play.
Current Form
 United are fresh off a big 3-1 win over West Ham, their fourth straight Premier League victory.
Leipzig drew 3-3 in a thriller Sunday against last year's Bundesliga champions and the reigning Champions League winners Bayern Munich.
Julian Nagelsmann's side is unbeaten in its last three matches across all competitions.
Home Sweet Home
It's been quite some time since Leipzig have lost at Red Bull Arena.
The date was June 27, 2020, when Erling Haaland scored twice for Borussia Dortmund in a 2-0 win.
Solskjaer may want to ask the Norwegian for some secrets on how to beat the Red Bulls ahead of this match.
Haaland played two seasons under Solskjaer at Molde in Norway.
Leipzig has won all 7 matches they've played at Red Bull Arena since that loss to Dortmund.
They've scored 18 times at home in all competitions this season and conceded only four.
Comeback Kings
 Adversity comes with the territory of being a club like Manchester United but they've faced their fair share already this season.
Lately, they've handled adversity very well.
Three of the Reds' four straight wins in the Premier League have been from behind.
They've won five straight EPL road fixtures after trailing and have nine straight road victories in the Premier League.
They'll need to draw on that experience in order to get a result in Leipzig.
Scoring First
 If there's one weakness the Germans have it may be what Manchester United's been so good at lately, coming from behind.
Six times this season the Reds Bulls gave up the opening goal.
They've only won twice this season when conceding first (once in league play and once in the Champions League).
They're only three losses all season have come when they conceded the opening goal, two were 1-0 defeats.
Record against the Germans
 Another positive the Reds can take with them to the largest city in Saxony is how well they've fared against German opposition.
In 32 games against German sides, primarily in the Champions League the Reds have won 16 matches, drawn eight and lost eight.
They last time United lost to a German side came in the 2015/16 Champions' League group stage when VFL Wolfsburg beat them 3-2.
They've scored 65 times against German squads and conceded 36 goals.
Players to Watch
 The Germans are a very well-balanced squad and have a lot of scoring threats on defence.
Former Manchester City left-back Angelino leads the team in goals in their domestic campaign with four, plus he's got two in the Champions League.
Midfielder Christopher Nkunku has two goals in his last three games in all competitions.
Danish striker Yussef Poulsen has two goals in his last four matches domestically and in Europe.
United's Marcus Rashford has goals in back to back games in the EPL and in Europe for the Reds.
He's tied for the Champions League lead in goals with six.
Bruno Fernandes has three goals and an assist in the competition so far.
He leads the Reds with seven goals in the Premier League and has been involved in 36 goals in 38 EPL matches for the Reds since joining early last year.
Last time out
The last time these teams met was on matchday two where Marcus Rashford scored a hat-trick off the bench in a 5-0 win.
What has to happen?
 The task for United may seem daunting but perhaps the simplest way to put it is United need a result be it a win or a draw.
A draw favours United who've got a much better goal differential than the Germans (+6 for United, -2 for Leipzig).
More importantly, though they would still hold the advantage in terms of head-to-head if a draw were to occur on Tuesday.
Leipzig will likely need to make it eight straight wins at home if they want to advance.
A win guarantees they are in.
A draw leaves them hoping Istanbul can upset PSG in the other Group H match.
A United loss would almost certainly eliminate them from the competition unless Istanbul can upset last season's finalists.
If both those scenarios occur it comes down to goal difference in head-to-head matches to which PSG have the slight edge winning 3-1 over United while the Reds only beat them 2-1.
Match Info
 Tuesday's match kicks off at 8 pm from Red Bull Arena. (JSL)