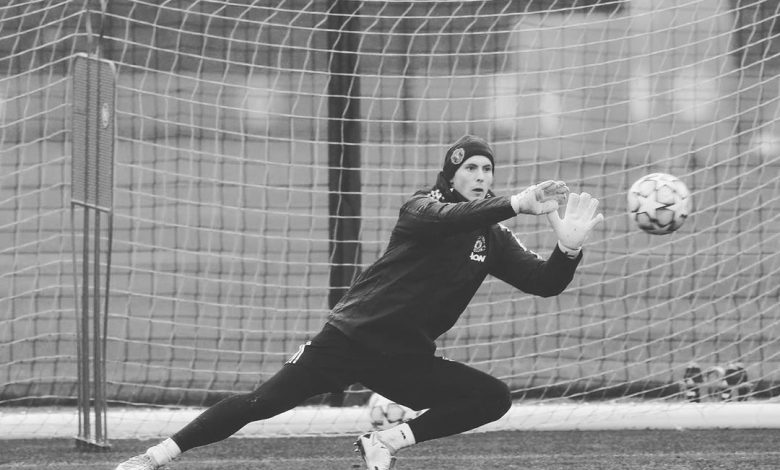 Dean Henderson will be returning to Man United for the foreseeable future after signing a new five-year contract.
The English keeper's deal means he will be with the club until June, 2025 at which point a 12-month option could be triggered.
Turning Heads
 The 23-year-old native of Whitehaven has impressed over the past two seasons on loan at Sheffield United.
Henderson was named the club's Player of the Year in the 2018/19 season with 20 clean sheets.
The youngster had been linked to the likes of Chelsea, Bayern Munich and Juventus.
England Manager Gareth Southgate has noticed his play and named him to the squad for next month's Nations League matches.
Competing to be Number One
 The return of Henderson to the Man United fold means current number one David De Gea will have some competition this upcoming season.
With the Reds set to return to the Champions League you'd expect Henderson will have many opportunities to start this season.
That along with a short summer break would indicate Henderson will get to start sooner rather than later.
Will this signing create a controversy in goal or spark some healthy competition between De Gea and Henderson?
"In a strong position"
 Ole Gunnar Solskjaer has dismissed any thoughts there will be a goalkeeping controversy next season.
"We are in a strong position within the goalkeeping department and that gives us the competition for places that we are looking for in the squad," said Solskjaer.
"Dean is a fantastic young keeper with the attitude and work-rate to keep improving every day.
While at Sheffield United Solskjaer did say he sees Henderson as the club's future number one keeper.
With him now committed to United the question is when will that moment come?
"I'll give everything"
 He may not have the experience of De Gea but Henderson is not short on confidence heading into this season.
"I'll be giving everything to improve every day so that I can play as many games as possible for this great club.
"Now I am looking forward to joining up with the England squad and then preparing for the season ahead," says Henderson.
What it means for the future
 The signing of Henderson likely spells the end of Sergio Romero's time as a backup for United.
It's possible we'll see him again in the Premier League though with Chelsea, Everton and Leeds United all showing interest.
De Gea meanwhile will now more than ever have to prove why he is the club's top earner at £375,000-a-week. (JSL)