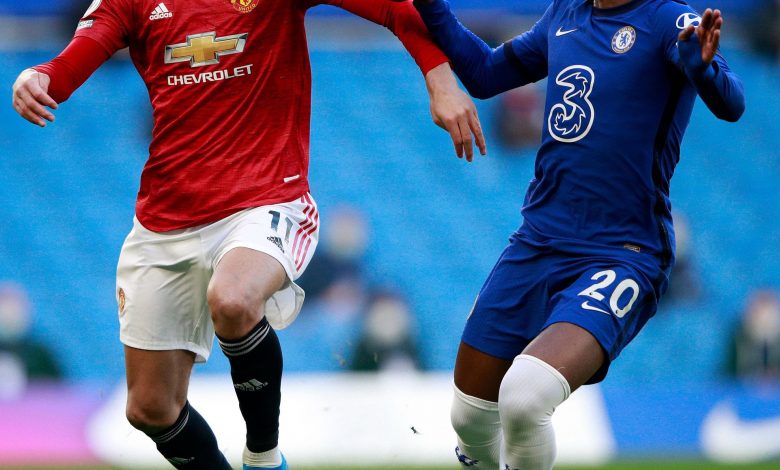 Goalless
Manchester United's hopes of a record 21st league title are fading fast after a 0-0 draw with Chelsea.
Quite literally, the Blues handled United in this one and may have gotten away with this point.
Referee Stuart Attwell was at the centre of controversy when he didn't award the Reds a penalty in the 14th minute from a Callum Hudson-Odoi handball.
In the end, it was a single point for both sides which does little to help either one move up in the league table.
Chelsea remains in fifth with 44 points while United are now 12 points back of Manchester City in second place.
Game Story
It was a quiet opening in London with not much happening in terms of chances for the first 10 minutes.
Marcus Rashford forced Edouard Mendy into a decent save on 14 minutes as play continued.
Shortly after that play was stopped after a VAR official asked the referee to review what transpired after that save.
The replay showed as the ball bounced in the Chelsea penalty area; it struck the hand of the Blues Callum Hudson-Odoi before he cleared it out.
Stuart Attwell looked at it on the pitchside monitor and shockingly did not grant the penalty to United's frustration, and the match continued.
David de Gea nearly gave one away in the 31st minute when his pass went straight to Olivier Giroud outside the box. The Frenchman's shot, however, sailed over.
The Frenchman misfired on an attempted diving header in the 35th minute.
United's keeper made up for the earlier gaffe with an excellent stop off Hakim Ziyech's first-time shot and smothered the James cross later on.
Just past the hour mark, it was the turn of Chelsea's keeper to play the hero.
A nice overlapping run from Luke Shaw as his cross got kept alive by Aaron Wan-Bissaka, who cut it back to Scott McTominay. From a distance, Mendy did well to stop the Scotsman's effort.
The Reds had one last chance to salvage three points in stoppage time, but Fred's long-range effort was handled by Mendy, and the rebound cleared.
Man of the Match
In a match that finished goalless, it's appropriate the best player was a defensive midfielder.
Today N'Golo Kante was that person with another exceptional performance.
The 2018 World Cup winner is small in stature but showed he can handle the best players the world has to offer once again.
We rarely heard from Bruno Fernandes in this one, and Kante is a big reason why taking away a lot of the space from the Portuguese midfielder.
Kante was vital with his challenges and helped cut down a lot of potential counter-attacks for the Reds.
Struggling with the 'Big Six'
If United fails to win the Premier League this season, they can look back at their performance against the 'Big Six' to indicate where things started to go wrong.
The Premier League's Big Six' teams include Man City, Liverpool, Tottenham, Arsenal, Chelsea and the Reds.
Against those opponents this season, United have five 0-0 draws, including two this season against Chelsea.
If you add their defeat to Arsenal earlier in the season, that's a loss of 13 points. At the moment that's the difference between them and the leader's Man City.

The streak continues
I doubt anyone at Man United is keeping track or really cares at this point, but today's result puts the team's unbeaten run on the road at 20 games.
Perhaps it would hold more weight if they weren't in a trophy slump while losing ground every week with their biggest rivals.
In any event, United's current road run is the joint-fifth-longest in English top-flight history.
They'll need another eight more to break Arsenal's record of 27.
Evening out?
Man United's had it's share of good fortune when it comes to penalties but today was quite the opposite.
Maybe Liverpool's Jurgen Klopp is getting in the referees' heads, but the Reds felt hard done by when they didn't get a penalty in this match.
Since 2015-16 the Reds have gotten over 40 penalties with 13 in all competitions in this current campaign.
 Some were clear and obvious, while others they were fortunate to get.
In this game, it seemed pretty clear Hudson-Odoi handled the ball inside the Blues box especially when you consider the rules behind awarding a spot-kick.
Hudson-Odoi's hand/arm is above his shoulders and extended vertically.
Man United fans have reason to be upset with the decision that didn't go their way today.
Perhaps the officials are looking to even the odds seeing how many breaks they've given United through the years?
Clean Slate
While a goalless draw wasn't what he'd hoped for, Thomas Tuchel continues to enjoy early success at Chelsea.
With today's clean sheet, the German boss is only the second manager in Premier League history to not concede in his first four home fixtures.
Brendan Rodgers was the first to do so when he was in charge of Swansea City.
That's perhaps the only good news for Chelsea or Man United about today's clean sheet.
The Blues have now failed to score against United in their last four league encounters despite firing 59 shots.
It's their longest goalless run against a single opponent since Bolton Wanderers kept them in check from 1958-1960.
This is also the first time since 1921-22 that these sides have played to two goalless draws in the league in one season.
Managers Words
Man United manager Ole Gunnar Solskjaer didn't mince words about the controversial handball following the match.
"100% [we should have had a penalty]. When you look at it on the video, it's taken two points away from us. I can't say [what the referee said to the players] because that's not going to be good for him. It's not right, is it? All these outside influences, even the VAR talk before the game here on Harry. That's cheeky when they put that on the website. That's influencing referees. There's loads of talk about us getting penalties when there is no doubt whatsoever. Today we should have had a penalty."
Next Up
Man United look to shake off this disappointment as they focus on another mid-week encounter in London.
They'll face Crystal Palace on Wednesday from Selhurst Park at 8:15 pm. (JSL).