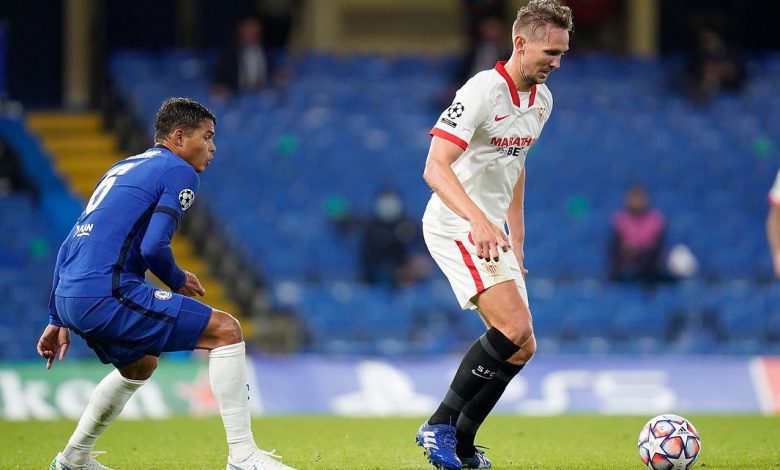 Game Story
 The Red's season is officially done after they were shocked 2-1 by Sevilla in Sunday's Europa League semi-final.
It means Manchester United will have to wait another year for a chance to win a trophy, something they haven't done since Ole Gunnar Solskjaer became manager.
United started strongly and took the lead through a Bruno Fernandes penalty in the 9th minute. The 22nd penalty awarded this season for the Reds.
However, Sevilla were not daunted by the moment and found an equalizer just 17 minutes later through a strike from former Liverpool man Suso.
As was the case in the previous round United carried the play but were thwarted numerous times by brilliant goalkeeping this time from Yassine Bounou.
A string of saves by the Moroccan keeper before half-time and to start the second half kept the score 1-1. His stellar play denied a great curling effort from Anthony Martial and powerful shots from Rashford and Fernandes.
With the game seemingly headed for extra-time it was substitute Luuk de Jong who found the winner in the 78th minute. The Dutch forward was on the end of a cross by Jesus Navas scoring his first European goal of the season from close range.
Lack of options?
 There's no doubt United have a formidable first team but tonight's performance put into question where the spark on the bench might come from. Solskjaer went primarily with his top players including starting de Gea in goal with Rashford, Martial and Greenwood the starting trio up front.
However, the manager waited until the 87th minute to make a substitution which may be a testament to the lack of confidence he's got with his bench. The entrance of Oghalo for Greenwood and Mata for Rashford did little to inspire the Reds to an equaliser.
Sevilla on the other hand seemed to find another gear when de Jong entered the game in the 56th minute and were able to take full advantage of the few chances they created.
1980s
 This is the first time since the 1980s that Manchester United will have gone three seasons without any trophies.
By the numbers
 Despite creating more quality scoring chances the stats indicate it was a very even game.
Sevilla had 53% possession to United's 47%, they completed 524 passes compared to Man U's 462, and had 86% accuracy while United had 84%.
Man U did register 20 shots to Sevilla's 9 though only 7 of the Reds shots were on target.
"We deserved to win"
After the match captain Harry Maguire felt his team were a little unlucky to not win.
"We know what it means to play for this club: getting to semi-finals isn't acceptable. We've got to take it further. But the improvement we've made is massive. We've dominated against a good Sevilla team. But there's areas we can improve and we need to get better. Losing isn't acceptable for this club."
He went on to say "tonight we turned up, we deserved to win the game, and maybe that little bit of experience cost us in the end. Even though we were on top and creating chances, we shouldn't concede that goal."
Transfer Message
 Rumors have been circulating for weeks about the Reds signing some marquee strikers to their lineup. Solskjaer addressed what they are planning to do now that it's officially their offseason, "we are working to improve what we have. We've had spells with injuries. We're always looking to improve the squad.
"It's not about a marquee signing, it's about quality. The right personality that fits into the group." Solskjaer said.
Next up
 For Sevilla it's on to the final against either Inter or Shakhtar Donetsk. The final will be played August 20 in Cologne.
For Manchester United it will be an interesting few weeks as they prepare for the EPL season which begins in September along with the Champions League which kicks off in October.
The transfer window to sign players will run until October 5. (JSL)