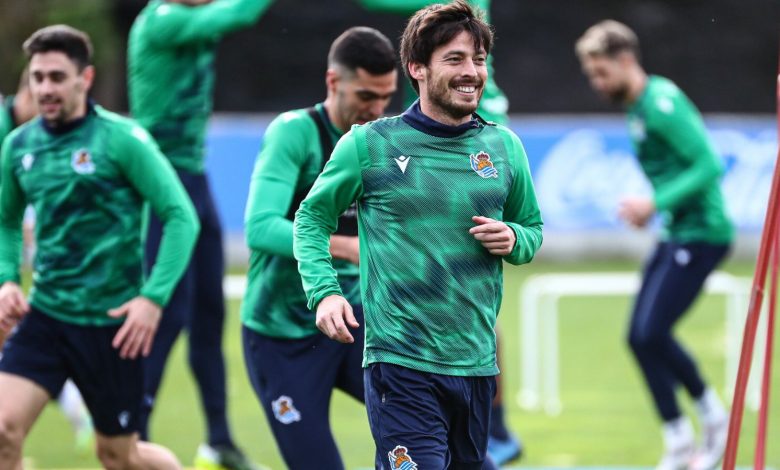 Manchester United take on Real Sociedad as the European season resumes later this month.
La Reales, which means the Royal in English squeaked into the second phase of the Europa League finishing second in the group stage.
By default, United are here finishing third in their Champions League group, relegating them to the Europa League.
Here's a closer look at Real Sociedad's history and what the Reds can expect from them.
Homegrown talent
The 2020-21 edition of La Reales consists of a lot of raw talent.
They are a very youthful side with most of their regulars between the ages of 21 and 25.
The first team currently has 16 academy graduates.
With so much youth you'd think this may be a rebuilding campaign for the club, but that's not been the case.
The youthfulness and excitement have allowed this team to compete against an unfair financial imbalance in La Liga.
While Barcelona and Real Madrid are spending millions, San Sebastian's team has focused on moving up through the academy ranks.
Barca and Real Madrid combined have a budget this year of 850 million Euros.
The budget of La Reales is peanuts to that coming in at 100 million Euros.
Where they sit
Heading into the Europa League draw in December Real Sociedad incredibly defied the odds sitting first in La Liga.
Predictably though that hasn't lasted as Imanol Alguacil's side has dropped into sixth.
They're well off the torrid pace of leaders Atletico Madrid, but they are still within range of a European place next season.
Alguacil's teams had its struggles in 2021 going winless in league play so far this year.
How they play
Like most Spanish sides Real Sociedad rely on pressing, positioning, and occupying space.
That formula is the reason why Spanish sides are often the teams to beat in Europe every season.
La Reale's defensive line plays very high up the field occupying forward space, but their age and energy make it relatively easy for them to come back and defend when they lose possession.
They're a very deceptive side to play against as each player can occupy different positions on the field in a match.
Their strikers are young and tend to drop back slightly at times, creating space and opportunities for the fullbacks out wide.
They're a side with a ton of speed and work ethic.
They're loyal to the Johan Cruyff ideology of zone marking while trying to win the ball back as fast and close to the goal as possible.
Players to Watch
La Reales are pretty solid at every position.
It starts at the back with Gorosabel, who is robust and compact.
His partnership with French centre-back Robin Le Normand could form a strong backline in the years to come with more experience under their belt.
In midfield, they excel with Mikel Merino, a treat to watch with his versatility and speed down the wing.
Top goal scorer Mikel Oyarzabal is a threat on the flank with eight goals so far and capable of really stretching the opposition's defence.
You can expect those two to be relied on heavily against a Man United's side that's struggled defensively this season.
They also have the valuable experience of David Silva who's not the powerhouse he once was at City but knows what it takes to win.
Portu can also provide a threat up front having notched five times in the domestic campaign.
Former Man United winger Adnan Januzaj will relish the opportunity to face his former side.
The Belgian has two goals and an assist and has fit in well with this team.
Weakness
The biggest weakness in Sociedad's game ironically is perhaps also their biggest strength.
While pressing can be highly effective, they tend to do it when it's not necessary.
That intensity can leave them vulnerable to the counter-attack.
When pressing so high up the pitch, especially in the central midfield, it leaves gaps in critical areas for the opposition.
Playing against two of the most dynamic midfielders in Europe in Paul Pogba and Bruno Fernandes will be an area of concern for Alguacil's team.
The defence tends to like to play the offside trap.
Sometimes though they have a mental lapse and forget where they are on the field and lose their marker.
You have to think a team as potent offensively as United's midfield could take advantage of this.
Europa League Form
Real Sociedad did not have an easy time getting out of a group that shouldn't have been too difficult.
La Reales beat out Dutch side AZ Alkmaar by one point in the league standings while Napoli topped the group and Croatia's HNK Rijeka came in fourth.
Sociedad scored five goals and conceded four in the opening round.

European History
As consistent as La Reales have been in Spain they've not had much success in Europe.
Their best-ever finish came in the 1982-83 European Cup when they lost in the semi-finals to Hamburg the eventual champions.
The best they've ever done in the Europa League is making the quarter-finals in 1988-89 when they fell to another German side Stuttgart.
They've played Man United only twice previously in the 2013 Champions' League group stage.
United won the first match 1-0 while the second finished in a 0-0 draw.
The first leg of this round of 32 tie goes on Thursday, February 18 at Anoeta in Spain.
The return leg will be at Old Trafford the following Thursday, February 25. (JSL).