Football
Manchester United
Six of one, half dozen of the other
Bruno Fernandes answers critics over his play against the 'Big Six'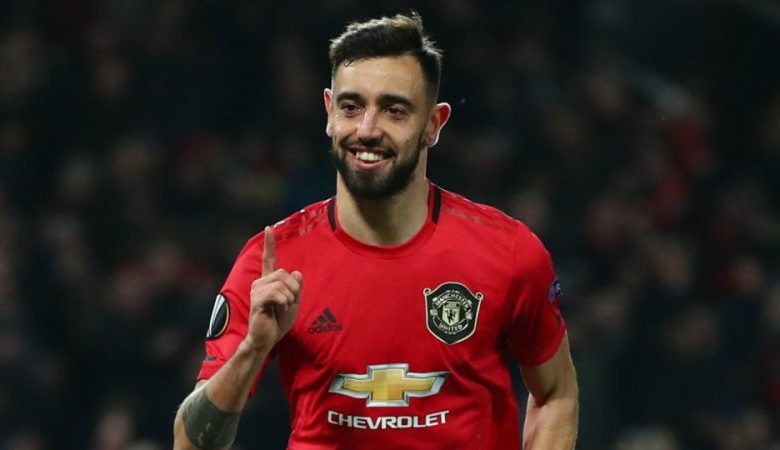 'Big Six' Theory
Bruno Fernandes and his Reds teammates have come under fire about their play against the Premier League's elite teams, better known as the 'Big Six'.
In seven EPL fixtures this season against Tottenham, Chelsea, Arsenal,  Manchester City, and Liverpool, the Reds have five draws and two defeats.
United has one goal in those games, a Bruno Fernandes penalty in their second fixture of the season that ended in a 6-1 defeat to Spurs.
Fernandes, who usually's always on the stats sheet, has been relatively invisible, just like his team against the 'Big Six.'
The theory is that the Reds and Fernandes can't handle the top teams.
Bruno's Rebuttal
The day before the big Manchester derby, Manchester United's prized possession is speaking his piece about that theory.
"I don't know what people mean by 'top six' because the teams are in top six in the table," he told Sky Sports per the Manchester Evening News.
"I score and assist against some of them. I score this season against Tottenham, but people say penalties don't count. So, the game against Tottenham doesn't finish 6-1 but 6-0.
"I know people expect Bruno to score or assist in every game because when I arrived, I was playing really well. And I want to do that – it's the most important thing.
"But as a player, I don't look for the big six or the rest of the league. I look for every game in the same way. And I think the league is not a sprint; it's a marathon. So, you don't have to score or win against the big six – you have to score and win against everyone.
"I see people talking about Bruno not doing so well against the 'big six'. People have said Bruno gives the ball away too many times when we lose a game.
Fernandes goes on to say he feels critics don't look at his game as a whole.
"I saw an interview from Luke (Shaw) saying, 'people now care more about stats than the performance'. And this is the truth. Because now they're expecting from me just goals and assists, and not performances.
"They don't care about the performance of Bruno, they don't care about ball recovery or how many chances I create because I can create ten chances, but if I don't score, people will say Bruno didn't play very well."
"But this is football. Football is in the moment. Some people have said I'm playing bad and that I have to do better. And I agree because we always can do better. But for me, it's OK. I can have that pressure on my back.
"I'm sure in some moments, I will score, I will assist, and I will perform. And that will help my teammates to win the game."
Resurrecting the Reds
Critics may question his play against the Premier League's elite, but there's no debating his presence with the Reds has transformed this once-dominant club.
In the past 14 months, Fernandes has 54 goal involvements (34 goals, 20 assists) in 62 appearances.
His arrival put the Reds back on track, moving them into a third-place finish last season and a Champions League berth.
He's won the Premier League's Player of the Month award four times since joining United. Premier League icons like Dennis Bergkamp, Thierry Henry and Cristiano Ronaldo won it the same amount of times over their entire careers.
Fernandes has turned the Reds into a contending team once again after years of mediocrity.
Now we will see how he handles adversity.
United face City tomorrow at the Etihad in the Manchester derby at 4:30 pm. (JSL).