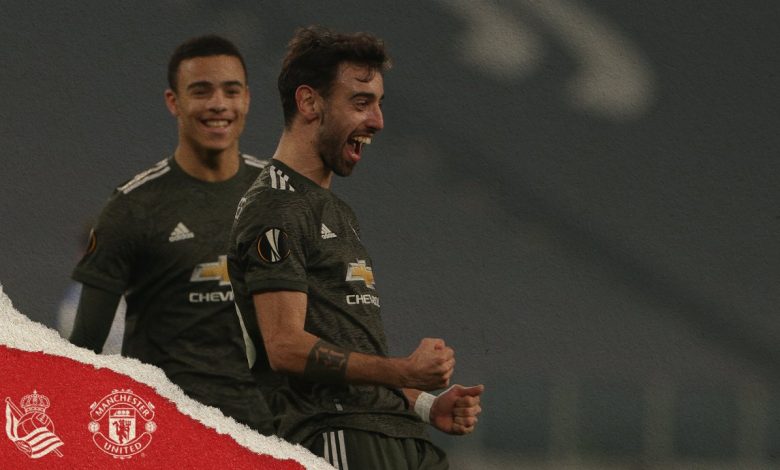 Schooled
Manchester United took a big step towards the next round of the Europa League after beating Real Sociedad 4-0 in Turin.
It was a sublime performance by Ole Gunnar Solskjaer's side, who are in the driver's seat to qualify for the last 16.
A pair of goals from Bruno Fernandes on either side of half-time put United in business, and the Reds refused to close up shop until the final whistle.
Marcus Rashford and Daniel James got insurance markers for United, who were the far superior side on the night.
For Real Sociedad, it was a huge learning lesson which shows the youngsters still have a long ways to go when it comes to competing with Europes's best.
Game Story
United dominated much of this match, but La Reales did well in the opening 10 minutes.
Alexander Isak had a chance to give the Spaniards the lead one minute in. 
A bad mistake by Eric Bailly sprang the Swedish striker on the counter-attack as he spotted Adnan Januzaj to his right. The former United player cut it onto his left foot and bent a shot towards to far top corner but wide of Dean Henderson's goal.
United had a couple of great chances on the quarter-hour mark.
Le Reales defence did well to regroup after Bruno Fernandes put Scott McTominay in through the right. The Scotsman slightly mishit his shot, and Alex Remiro was there to save it with his legs.
Remeiro's legs came to the rescue again three minutes later as he denied Marcus Rashford before Robin Le Normand cleared the Bruno Fernandes follow-up off the line.
Fernandes got United on the board in the 27th minute thanks to a lovely ball through from Marcus Rashford.
There seemed to be some confusion between Remiro and Le Normand. The defender ended up wiping out his keeper and leaving an open net for Fernandes to tap it in.
Rashford and Fernandes teamed up again in the 57th minute as the Englishman slipped a pass through to him on the edge of the area before taking it off James' toe and bending it into the bottom-right corner.
Rashford got in on the scoring seven minutes later.
Dean Henderson claimed a high cross and quickly found Fred, who slipped Marcus Rashford clean in on goal. This time Rashford made no mistake slipping it into the bottom corner for United's third.
United finished with a fourth in the 90th minute.
Eric Bailly did well to find Daniel James right as the Welshman calmly squeezed his shot through Remiro's legs.
Man of the Match
Bruno Fernandes loves to play in European competitions, and tonight was yet another incredible performance.
A pair of goals gives him at nine for United in Europe. The Portuguese was his old self with dangerous runs, strong passing and giving his opponents all they could handle.
Since his debut for the Reds in February of last year, only Romelu Lukaku has tallied more goals in Europe in that stretch.
Fernandes has more goal involvements in the Europa League than any player since he debuted in this competition in February 2018.
Road Warriors
Man United continues to excel away from home and are now unbeaten in their last nine fixtures across all competitions.
One aspect of their game that's improved away from Old Trafford of late has been their defending.
They had a few anxious moments early on tonight, but for the most part, the defence looked solid and rarely under fire after the first 15 minutes. 
Despite having 60% of the ball during the match, Sociedad rarely threatened. Henderson faced only two shots on target in the match.

United now has a clean sheet in four of their last six games on the road.
In good company
Marcus Rashford continues to impress in Europe.
After leading the Champions League in goals in the group stage, the Reds striker had another superb performance today. One goal on a night where Rashford could have probably gotten three or four.
Rashford's scored seven goals this season in European competition. Excluding qualifiers, it's the most goals by an Englishman for the Red Devils in a season since Sir Bobby Charlton got eight in the Fairs Cup in 1964-65.
English struggles
While Man United's emphatic win buried many bad memories for the Reds against Spanish opponents, the bad memories for Sociedad against English sides will continue.
La Reales remain winless against English competition in Europe with just one draw in five encounters.
United meanwhile end a 9-game winless streak against teams in La Liga.
To no avail
The scorelines may not be going the way they want, but no one can criticize Real Sociedad for not trying.
La Reales have only won one of their four home games in the Europa League this season, albeit in either empty stadiums or a neutral site.
They've attempted 49 more shots in those matches than their opponents (77 shots taken and 28 faced).
Imanol Alguacil is getting a lot of effort but his side is lacking that quality in front of goal.
Managers Words
After the match, United boss Ole Gunnar Solskjaer said he couldn't be happier with the team's performance.
"We scored some good goals, played some nice football against a good team. We deserved to win, maybe not 4-0, but on a night like this with the space we had, we can be a good team."
Next Up
Man United turn their attention to the Premier League as they look to close the gap between themselves and Manchester City.
They host Newcastle United Sunday from Old Trafford at 7 pm.
The second leg of this round of 32 match goes next Thursday at 8 pm from Old Trafford.
United have a four-goal cushion which means La Reales will need to score at least five without conceding to advance. (JSL).