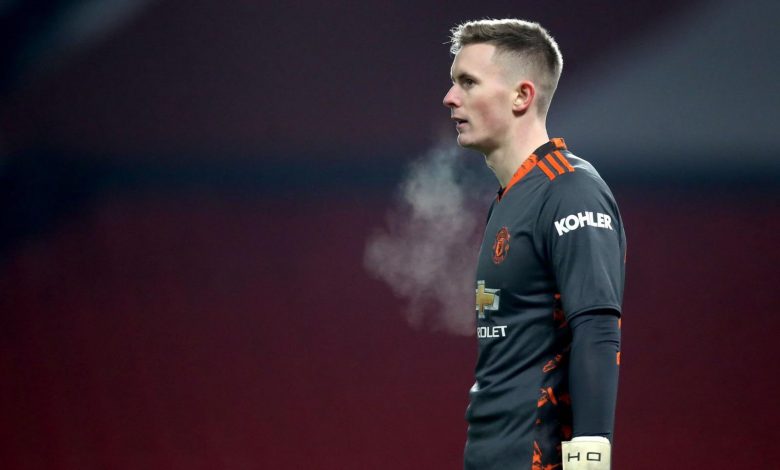 Boyhood nightmare
Dean Henderson's days with  Manchester United may be over sooner than he'd hoped.
Word has it the Reds keeper is becoming increasingly frustrated sitting on the bench since returning to Old Trafford last summer.
It's a tricky situation for the 23-year-old who grew up as a Man United fan from a very young age.
Henderson signed a five-year-contract with the Reds back in August in the hopes of getting a chance to be the starter.
Suffice it to say; things haven't worked out as planned so far for the youngster who earns around £120,000-a-week.
By the numbers
Henderson has certainly proven he deserves to be a number one keeper for a senior club.
The former Sheffield United loanee was twice named young player of the year for the Blades. He also helped England win the FIFA U-20 World Cup in 2017.
Since returning to Man United this season, he's put together some solid numbers in limited action.
Regardless of some of his opponents' quality, if you can help your team win elimination games, you deserve some credit.
That's what Henderson has done so far.
In 13 games in all competitions, he's kept seven clean sheets, made 32 saves and conceded nine times.
United's won eight matches with him in goal, lost two and drawn one.
Potential Suitors
If Henderson decides he wants to move on from Old Trafford, there are plenty of big-name clubs that'll want him.

The most logical destination would be Tottenham, with Frenchman Hugo Lloris entering his contract's final year. 
Jose Mourinho and Spurs haven't expressed any interest in re-signing the man who captained France to the World Cup in 2018.
Henderson's mammoth contract might be a problematic hoop for the Londoners to want to jump through, though.
An option may see Lloris re-unite with former manager Mauricio Pochettino at PSG, which could open the door for Henderson.
Another team that reportedly has Henderson on their radar is Borussia Dortmund. The German outfit has conceded 31 times in the Bundesliga so far.
Standing in the way
There's a lot that still needs to happen if Henderson wants to be a starting keeper, be it with United or elsewhere.
First off, there's Henderson's contract situation I mentioned.
He's still got four years left on his deal after this season, so it's unclear if there's a team out there who want to make that kind of commitment to him.

All signs indicate he wants to remain at Old Trafford but not as a backup.
That makes it a complicated situation for manager Ole Gunnar Solskjaer because of the deal in place with David de Gea.
The Spaniard still has two years remaining on his current deal, which earns him £350,000-a-week. There's also a 12-month option after that.
There's the possibility United could loan Henderson once again.
That's the most feasible option for the club but perhaps not for Henderson.
David de Gea has shown he has the stamina for a long season, even at 30.
You'd think that one way or another, though, Henderson wants to find a permanent home.
Since joining the Reds senior side in 2015, Henderson's had four loan spells with four different clubs.
At some point, you have to think he wants to settle down somewhere.
Henderson's options at present are simple, win.
He'll have plenty of opportunity in the FA Cup and perhaps even in the Europa League to change his bosses mind.
If he can help the Reds win a trophy, that could entice Solskjaer to make him number one. (JSL).