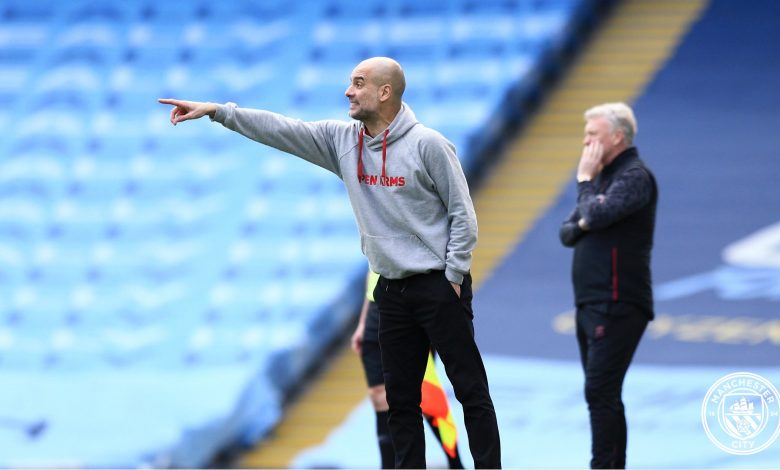 Perfect Vision
Manchester City's Premier League title vision remains perfect this year as they beat West Ham 2-1 for their 20th consecutive win in all competitions.
Today, the defence provided the offence needed as Ruben Dias and John Stones found the back of the net to keep their 100% record intact.
Game Story
Two teams with plenty to play for came out relatively stagnant and disjointed for the first half-hour.
There seemed to be a lot of tension as City had some uncharacteristic misplaced passes playing at a much slower pace than we're used to from the Sky Blues.
Sergio Aguero's addition into the starting 11 didn't seem to create much of an offensive spark early on.
Then as if on cue, Man City scored, and the game turned.
A brilliant pinpoint cross from Kevin De Bruyne in the 30th minute from the right flank was placed perfectly to Ruben Dias at the back post. 
The Portuguese powered his header past Darren Randolph for his first goal for Man City.
 West Ham was unlucky not to equalise nine minutes later.
With some excellent work down the right flank, loanee Jesse Lingard fired a nice low ball into the middle towards Pablo Fornals.
The Spaniard mishit his shot, but the ball skipped to the dangerous Michail Antonio, who took a touch before unleashing a half-volley which struck the outside of the post.
Ederson did well to stop an excellent effort from Lingard a minute later.
The combination of Lingard and Antonio put the Hammer level just before the half.
Vladimir Coufal pressed forward down the right, cutting it inside to Lingard. Lingard's shot towards goal was poked home by Antonio from two yards away.
City took control in the second half with much more fluid movement and a lot of passing awaiting the perfect opening.
That opening came in the 68th minute when Riyad Mahrez was probing down the right in the Hammers box and found of all people John Stones.
City's centre-back smashed a first-time shot into the back of the net from six yards out.
The Hammers had a chance to equalise late into injury time.
Lingard placed a perfect ball for Issa Diop, but the Frenchman glanced a free header wide.
Man of the Match
Ruben Dias is making a strong case to be the Premier League's Player of the Season as he had another sublime performance today.
Reliable and compact in defence, his goal in the 30th minute helped kick start his side after a rough opening.
West Ham was a more formidable challenge than most Premier League sides, and Dias passed this test with flying colours. The Hammers had only three shots on goal and 36% of the ball.
Landmark Win
City's victory today means you can add some more milestones to the impressive coaching resume of Pep Guardiola.
The City boss collected his 500th career victory in his managerial career and 200th with the Sky Blues.
Remarkably the Spaniard's achieved 200 wins for City in just 273 games in charge. 
That's the fewest games any manager in the English top-flight has needed to reach the 200-win plateau.
Lending a helping hand
Pep Guardiola wasn't the only one achieving some milestones Saturday.
Midfielder Kevin De Bruyne continues to stake his claim as arguably the best playmaker the Premier League has ever seen.
The Belgian's assist on City's opening goal puts him in the Premier League's top ten in terms of all-time assists.
He's now got 77, just three back of David Beckham.
Beating the mark set by Man United's Ryan Giggs will take some doing as the Welshman had 162 all-time.

Crack in the wall
Trying to score against Man City on their home turf has been like trying to run through a brick wall.
Today West Ham was able to find a crack, the first side to do so in a long time.
Michail Antonio's 43rd-minute goal marked the first Premier League goal City's conceded at the Etihad in 587 minutes of play. 
The last player to score against City before today was one of their own when Ruben Dias scored an own goal in a 1-1 draw with West Brom on 15 December 2020.
Partners in Crime
John Stones and Ruben Dias continue to form an elite partnership that appears nearly impossible to penetrate.
The pair now have five goals between them, with Stones notching four, including three game-winners.
They've been difference makers all season long and remain unbeaten when they start together in central defence.
In the 16 games, they've started in all competitions, they've conceded just three goals.
The Curse of the Etihad
West Ham's woes in Manchester continued Saturday.
The Hammers have failed to win in any of their last 11 trips to the Eithad in Premier League play.
In that span, they've now conceded 30 goals and netted only seven.
Padding the lead
Manchester City continues to increase its lead atop the Premier League table as they're starting to run away with the title.
That's good news for Guardiola, who can afford to rotate his side between the Premier League and cup ties as they seek a quadruple triumph this season.
Today's win puts them 13 points clear of Manchester United and Leicester City for the time being.
David Moyes, meanwhile, will hope his former side can do his current side a favour when Man United battle Chelsea tomorrow.
A win for United will keep the Hammers in fourth which guarantees them a spot in the Champions League.
Managers Words
City boss Pep Guardiola says the teams winning run is a testament to their mental strength.
"In this period, in this era, with this situation, to be able to do 20, maybe it is one of the greatest achievements we have done in our careers, for sure.
"That doesn't mean a title win, of course, but this period in time, the toughest period in England, the wintertime, [to have] no one week of rest for three or four months, every three days a game, with the Covid situation, injury situations. To be on this kind of run – winning, winning, winning – means mental strength."
Next Up
City search for consecutive win number 21 on Tuesday at home to Wolves.
A win or draw would equal a club record for their longest unbeaten run at 28 games.
The kickoff from the Etihad is at 8 pm. (JSL).