Football
Manchester United
Man United the perceived front runners to sign Sergio Ramos
Veteran defender expected to join this summer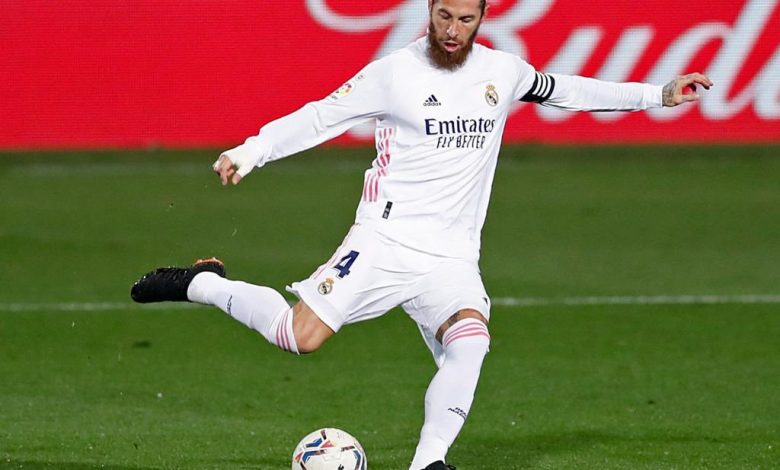 Hot pursuit
It looks like Manchester United is in the driver's seat to sign a prominent centre-back with a wealth of experience.
 Sergio Ramos appears to be on his way out at the Bernabeu, a place he's called home since 2005.
His current deal at Real Madrid expires this summer, and the 34-year-old is reportedly offended "Los Galacticos" aren't making enough of an effort to renew his contract.
According to the Mirror, the Red Devils is a top choice for the veteran with 22 major trophies at Real.
Forget Paris
PSG is reportedly not very high on Ramos' list of potential destinations.
The French champions are fighting to keep star forward Kylian Mbappe alongside lucrative offers coming in from Real Madrid.
That could open the door for the Red Devils.
Money doesn't talk
Money doesn't appear to be the big selling point for Ramos when it comes to choosing where to play.
If he doesn't sign by July, he officially becomes a free agent and will be available on a free transfer.
He can talk to other clubs outside of Spain right now to secure a pre-contract agreement.
His agent and brother Rene Ramos is said to be looking at England.
The Ramos' have reportedly turned down lucrative contracts for Sergio to play in Asia.
Addressing a need
Sergio Ramos could address a number of defensive issues Man United are facing.
The most notable is experience something that's in short supply at the moment for United.

The average age of United's back four is just over 25 years at the moment.
The Reds defence concede a lot of grade-A chances even against the weakest of opponents leaving David de Gea and Dean Henderson to have to clean up their mess.
Just past the midway point of the season, United's conceded 27 goals in the Premier League.
Last season they gave up 36, and they still have 17 league games to go in this current campaign.
Standing at 1.84m Ramos is vital in the air.
Right now the Reds are basically relying solely on captain Harry Maguire in that department.
No one else on the current team is particularly strong in that area.
Maguire is solid defensively in the air but doesn't have the attacking prowess of Ramos.
Ramos is big, powerful and has scored his share of goals moving forward.
The 2010 world cup winner has 100 goals for Real Madrid in all competitions.
His presence would relieve a lot of pressure off the shoulders of Man United's skipper.
As mentioned, the rock-solid defender knows what it takes to win.
That's something the team's been missing for a few years now.
That winning culture fans have grown to love at Old Trafford has been missing for a long time.
Ramos instantly brings credibility and a winning mentality having won virtually every major trophy there is to win both for club and country.
The addition of Ramos could be the shot in the arm Ole Gunnar Solskjaer's men need to get their hands on a trophy for the first time since 2017. (JSL).