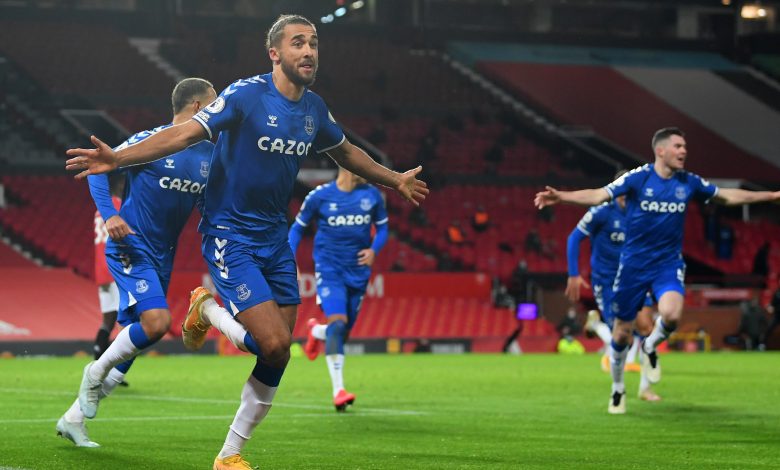 Squandered opportunity
 Manchester United lost more ground in the Premier League race Saturday drawing Everton 3-3.
It was a game the Reds let slip away right at the end as Dominic Calvert-Lewin got the equaliser on the final kick of the match in the 95th minute.
It's another missed opportunity for Ole Gunnar Solskjaer's side who squandered a 2-0 half-time lead to drop two critical points.
Game Story 
On the Munich air tragedy anniversary, it was the end of the game that left Man United heartbroken.
Edinson Cavani got United off and running in the 24th minute heading the opening goal from close range after a lovely cross from Marcus Rashford.
United doubled their advantage through Bruno Fernandes near the end of the first half.
The Portuguese star had tons of space, and from 20 yards out cleverly chipped Robin Olsen pulling a page out of Eric Cantona's playbook.
Whatever Carlo Ancelotti told the Toffees in his half-time talk worked as Everton came out flying in the second half.
They cut the deficit in half on 49 minutes.
David de Gea parried the Dominic Calvert-Lewin cross straight to Abdoulaye Doucoure who easily tapped in the rebound.
Three minutes later remarkably, the Toffees were level.
Doucoure became the provider this time fetching a loose ball in the United area and picking out James Rodriguez who placed a perfect left-footed drive in the bottom corner.
United thought they'd gotten the match-winner 20 minutes from the end.
Luke Shaw curled in a brilliant free-kick to Scott McTominay whose flick found the corner from about 12 yards out.
However, Everton had one last comeback in them, and they saved it for the very end.
Michael Keane flicked on a free-kick from Lucas Digne just inside United's half of the field into Dominic Calvert-Lewin's path.
Incredibly Everton's top scorer was left alone to poke it past de Gea and earn Everton the draw in the 95th minute.
Man of the Match
There's something about Everton that seems to bring out the best in Edinson Cavani.
"El Matador" scored his third goal in his last three matches against the Toffees and was unfortunate that's all he got.

Cavani did everything to put the game out of reach in the second half.

He set up Luke Shaw for a one-timer that Olsen saved.
Then he sent Rashford in all alone, but Olsen was there once again.
The 33-year-old should have been given an assist on the McTominay goal as it was his towering threat that drew a couple of Everton players towards him, creating space for the Scotsman to head in United's third.
The Uruguayan now has six goals in 16 Premier League appearances.
Turnabout is fair play
In Man United's two previous victories over Everton, they won with some late heroics and from behind.
The first meeting of the season saw United fightback from a 1-0 deficit to win 3-1.
In the Carabao Cup quarter-finals, United scored late in the 88th minute winning 2-0 to advance to the semis.
On this night at Old Trafford, the shoe was on the other foot.
This time, Everton fought back from an early deficit and earned a point right at the end.
Everton's conceded two or more goals against Man United in three straight games.
The Toffees scored multiple goals against the Reds though for the first time in quite some time.
Before Saturday's game, the Toffees had scored one goal or fewer in 13 straight games against the Reds in all competitions.
Letting it slip away
It's a rare sight to see Man United squander a half-time lead and not come away with three points.
Saturday's draw is only the fourth time in Premier League history that the Red Devils have failed to win when leading by two goals at the half.
It's only the second time they've squandered a 2-0 half-time lead at Old Trafford.
Making the most of their opportunities
Man United was relatively stable defensively, but it wasn't enough to stop a clinical Everton side in front of goal.
 Carlo Ancelotti's team had just three shots on target scoring each time.
United was pretty good when they found the target scoring on three of their five attempts on goal.
Home Concession
Conceding at Old Trafford has become a significant problem this season for the Reds.
After Saturday's match, United's conceded 18 goals in 12 Premier League matches all season.
That's one more than they gave up all of last season at home.
Injury concern 
Man United fans will be on pins and needles wondering how serious Paul Pogba's injury is.
The Frenchman left in the 39th minute with an apparent thigh injury.
Afterwards United boss Ole Gunnar Solskjaer gave on update his condition.
" It looks like a muscle injury, thigh, so we've just got to check him tomorrow and have a scan and get him treatment. Hopefully, he'll recover quickly. " 
Managers Words
After the match United manager, Ole Gunnar Solskjaer said he felt his side deserved a better result.
"We deserved to win the game but that is football for you, you have to take your chances and cannot concede with every shot," said Solskjaer.
"After 2-2, we played really well then the last kick of the ball kicks us in the teeth and we go home disappointed," he says.
The draw puts United two points behind Manchester City in the standings having played two more games than their arch-rivals.
Next Up
The Reds will try and shake this one off as they prepare to face West Ham in the FA Cup's fifth round.
The kickoff from Old Trafford is Tuesday at 7:30 pm.

Their next Premier League match goes next Sunday against West Brom at 2 pm from The Hawthorns. (JSL).