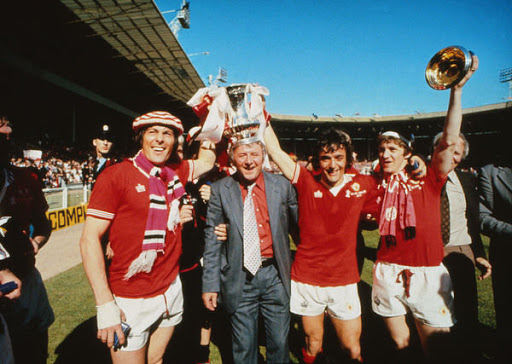 It's a somber end to the year for Manchester United with the news one of its former managers has died.
Tommy Docherty spent five years at Old Trafford, helping the club break out of mediocrity in the 1970s.
The man from Glasgow made more than 400 appearances as a player for Celtic, Preston North End, Arsenal, and Chelsea.
Man United fans will remember him as the manager who helped them gain promotion in 1973/74.
Docherty took over from Frank O'Farrell in December 1972 and stayed with the team until 1977.
The Scotsman helped build an exciting side that quickly became a force in England's First Division.
United finished third in the League table in 1975/76, losing in the FA Cup Final that same season 1-0 to Southampton.
In his final year as manager, he helped lead them to the FA Cup title with a 2-1 win against Liverpool.
Docherty managed thirteen clubs from 1961-1988 including the Scottish national team.
He was a member of Scotland's World Cup squads in 1954 and 58.
Docherty won six trophies as a manager, twice capturing the English Second Division crown, along with an FA Cup.
He was inducted into the Scottish Football Hall of Fame in 2013.
A spokesperson for his family said: "Tommy passed away peacefully surrounded by his family at home.
"He was a much-loved husband, father, and papa and will be terribly missed. We ask that our privacy be respected at this time. There will no further comment."
Docherty died after a long illness at 92. (JSL).