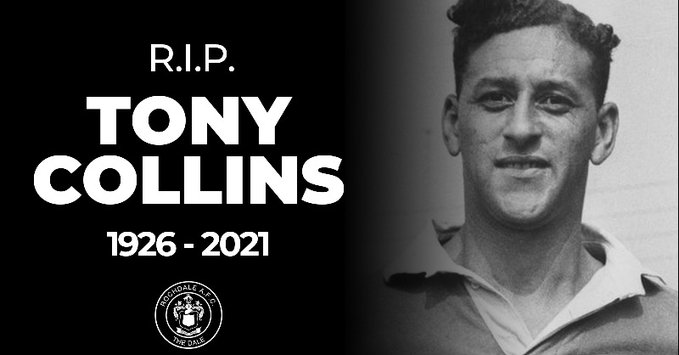 Trailblazer
The English Football League (EFL) is mourning the loss of a beloved trendsetter.
Tony Collins was the first black manager in the Football League spending seven years at Rochdale AFC from 1960-67.
The man from Kensington played for 14 years for Sheffield Wednesday, York City, Norwich City, Torquay City, Watford and Crystal Palace before finishing his playing days at Rochdale.
Collins appeared in 333 Football League matches scoring 47 goals.
During his time with The Dale Collins led the team to the League Cup Final in his second season.
They went on to lose  4-0 on aggregate to Norwich City.
To this day it's the club's only appearance in a major final.
It's also one of only two League Cup final appearances by a fourth-tier team.
Rochdale was in the old division four- now known as League Two during Collins' time in charge.
After resigning as manager in 1967, he briefly served as caretaker for Bristol City.
"An Inspiration"
After leaving Rochdale Collins spent much of his time as a scout for a variety of different clubs.
He became a chief scout for Leeds United under legendary manager Don Revie.
Collins later became scout of the England national team when Revie got appointed as manager.

During that time Colling was known as "Football's superspy" for his detailed dossiers on opponents.
Collins served in a similar capacity for Manchester United from 1982-1988.
During his time at Old Trafford, he helped the Reds find future stars like Paul McGrath and Lee Sharp.
Former United boss Sir Alex Ferguson sent his "deepest condolences" following news of his death, adding: "His family should be very proud of all he achieved."
League Managers Association (LMA) chairman Howard Wilkinson said: "Tony was a true pioneer of the sport." 
He continued: "He was known throughout the game for his ability to recognise and nurture talent, a skill which enabled him to have a huge impact on the lives of others."
Until Keith Alexander became manager of Lincoln City in 1993 Collins was the only black manager to serve in league football.
Collins leaves behind a son and daughter.
He was 94. (JSL).