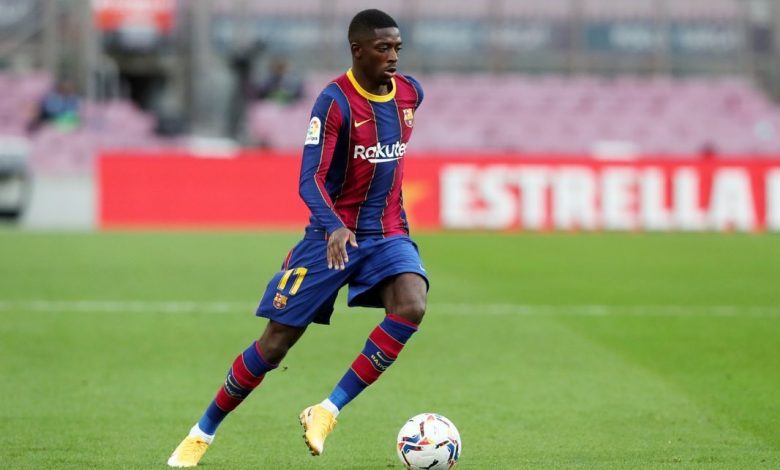 Add another striker to the list of potential transfer targets for Manchester United. Ousmane Dembele is the latest name to be floating around United.
French Connection
 The French winger makes a lot of sense given United has been actively pursuing someone to bolster an already impressive attack. Dembele flanking on the wing with his fellow compatriot Anthony Martial might prove to be a risk worth taking.
Calculated Risk
 Since moving to Barcelona in 2017 from Dortmund Demebele has been underwhelming to say the least. In 51 appearances he's got only 12 goals for the Spanish giants. The Frenchman has been plagued by injuries since arriving at the Nou Camp and only appeared in 9 games this past season. With that he's still young and has shown flashes of brilliance when healthy.
Informal Talks
 It's being reported that Man United and Barcelona have had "informal talks" according to ESPN's James Olly. It's anybody's guess whether or not the Reds have given up on signing Jadon Sancho and might move on to more attainable targets.
Bargain
 The addition on Antoine Griezmann to compliment Luis Suarez and Lionel Messi has made Dembele expendable. Moreover, talks of a season long loan with an option to buy Dembele are reportedly on the table. When he transferred to Barcelona, the Spaniards paid a hefty £97 million to get him. With the little he's played that price is likely to go down significantly.
"A Phenomenon"
Despite a rocky road at Barça Dembele has earned high praise. He's often been compared to former Nou Camp great Ronaldinho and even his former captain praised his for having game changing qualities. When speaking of Dembele the great Lionel Messi even said "On the pitch he's a phenomenon. It's up to him where he ends up, he could be one of the best".
Time for a change?
It's clear Dembele needs a change to rejuvenate what has been a tough stretch for him of late. The fast-paced style of the English Premier League may be exactly what the 23-year-old needs to utilize his blazing speed. The big question is with the season's that Martial, Greenwood, and Rashford had how much will Dembele get to play? Will he be content potentially spending more time on the bench? (JSL)