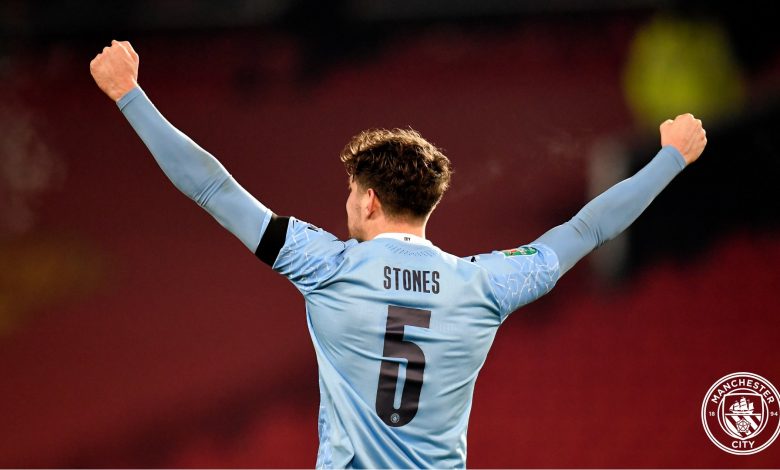 Penultimate defeat
Manchester United's wait for a first trophy in over three seasons will be a little longer.
Second-half goals from John Stones and Fernandinho helped Manchester City to a 2-0 over the Reds who advance to their fourth straight Carabao Cup Final.
A lively encounter saw City beat United at this stage for a second consecutive season with a chance now to make history this spring.
For Man United meanwhile it's their fourth straight defeat in the semi-finals of a competition.
That's more like it
 After the dull 0-0 draw between these teams in December, this match had a lot more of the fireworks we've come to expect from Manchester Derby's.
Within the first 25 minutes, three goals had been scored between the sides but all disallowed for offside.
The stakes were indeed a lot higher and it showed as both teams seemed very keen to attack throughout this match.
Better Late than Never
 In a matchup of two of the Premier League's hottest teams, the goals came from perhaps the most unlikely sources.
A dangerous City free-kick by Phil Foden on 50 minutes came through to Stones as the ball seemed to just hit him and bobble over the line past Dean Henderson.
Fernandinho got an insurance goal for City in the 83rd minute to seal the victory.
It's been quite some time since either player has found the back of the net.
For Stones it's the first goal he's scored for City since a Champions League encounter with Napoli in 2017.
1162 days have passed between then and now before Stones found the net again.
The last time Fernandinho scored for City was in October 2017 against Burnley.
At 35 he's the oldest player to score in the League Cup for City since Frank Lampard (36) did it in 2014.
Four Seasons
 Four may be an unlucky number for Man United right now but for City, that's the magic number that can put them in the history books.
One more win and Pep Guardiola's side will draw even with Liverpool for most consecutive Carabao Cup titles with four.
A win over Tottenham in the final would also tie City and Liverpool for most titles in this competition with eight.
Gem Stones
 They say defence wins championships and for City today it was their backline that made the difference.
John Stones for me was the Man of the Match for a vaunted City defence that's not flashy but gets the job done.
Besides Marcus Rashford's offside goal Stones was a wall for a City side still without starting keeper Ederson due to COVID.
His partnership with Ruben Dias is proving to be invaluable.
Both men handled a dangerous United attack that's scored eight goals in three matches in this competition before tonight.
Spreading the love
 They aren't exactly blowing away the competition with goals but Man City is getting contributions from all sides.
After tonight's match, 16 different players have now scored for City in all competitions this season.
Managers Thoughts
Following the match City boss, Pep Guardiola says he's incredibly proud of what his teams achieved in this competition.
"I know the Carabao Cup is not the Champions League but four times in a row to reach the final I'm so impressed."
"We didn't score one goal in the set pieces this season lately we were close. Today two corners we score two goals," says Guardiola.
Despite his sides, great play in the Premier League United manager Ole Gunnar Solskjaer says the better team won today.
"We played against a very good Man City team, definitely. They played well. And when they play well, you have to play very well to beat them, that's just the reality of where we're at. We're just lacking that little bit," says Solskjaer.
Next Up
 Man City will next host Birmingham in the third round of the FA Cup on Sunday at 1:30 pm.
The Carabao Cup Final goes on April 25 from Wembley Stadium when City face Tottenham.
Man United take on Watford Saturday at Old Trafford in their FA Cup tie at 8 pm on Sunday. (JSL).