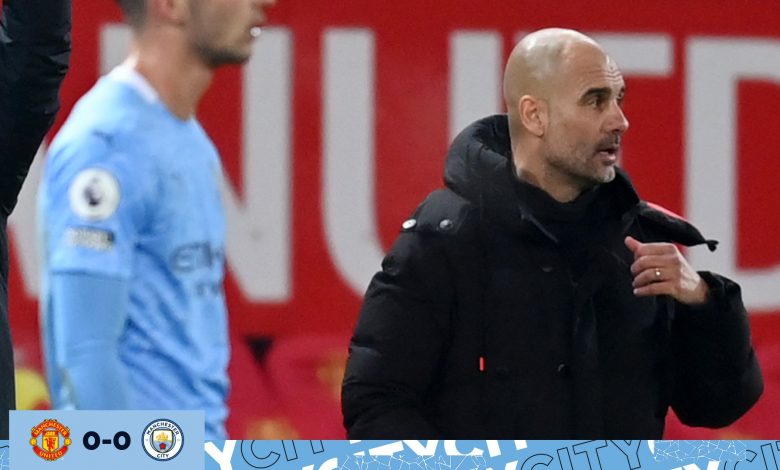 A forgettable match on Saturday at Old Trafford saw Manchester United draw 0-0 with its biggest rivals Manchester City.
 The much anticipated Manchester Derby seemed to lack the intensity and passion we're used to seeing.
The stadium wasn't the only thing muted with the presence of empty fans Saturday.
Players on both sides didn't appear too ambitious to grab three points.
Game Story
 The home side started brightly with a chance in the 11th minute.
Luke Shaw's corner was flicked on by Victor Lindelof to the far post towards Scott McTominay.
The Scotsman stretched out to get there but couldn't direct it on target.
In the 25th minute, City had a chance to draw first blood.
Gabriel Jesus latched onto a pass into the box from Riyad Mahrez.
The Brazilian striker took a wild swing at the ball but fired his shot well over the bar.
The first clear-cut chance came for City 10 minutes later.
Jesus scampered down the left finding Kevin De Bruyne as the Belgian moved the ball straight to Mahrez in the penalty area.
Mahrez's effort though was well saved by David de Gea and De Bruyne missed the target on the rebound.
In the second-half United thought they'd earned yet another penalty.
A nice cross in the box by Bruno Fernandes in the 49th minute found Marcus Rashford.
The 23-year-old took a touch and was about to get a shot away before he got taken down by Kyle Walker.
A VAR check however found Rashford to be fractionally offside so there was no penalty given.
In the 68th minute Jesus and De Bruyne combined again.
Jesus found the Belgian with a nice aerial pass in the box.
United defence did well to block Debruyne's effort.
The final chance of the game came United's way in the 88th minute.
Anthony Martial fired a pass through the middle to Fernandes.
United's midfielder turned on the edge of the area and swiveled a weak shot straight into the arms of Ederson.
Man of the Match
 Hard to choose in a contest that lacked so much energy and enthusiasm but John Stones had a solid outing for the visitors.
City's defender looked confident and very assured against a United side that can be explosive on the counter.
He gained possession 10 times in the game, completing 84 of his 87 passes with one block and two of three duels won.
All in all, another a strong match for Stones who seems to have earned his way back into Guardiola's good graces.
Letdown
 When you look at the drama and highlights these sides have produced in recent memory it's easy to say tonight's match was a letdown for fans watching at home.
Both teams seemed eager to lay back, more concerned about not making a mistake than attacking.
Both teams met four times last season with 10 goals scored across all those competitive matches.
Maybe the absence of fans took away the usual intensity but, in any event, it was not the most captivating match these sides have ever produced.
Streaks
 It won't go down as the most memorable derby match but both teams maintain some impressive unbeaten runs.
City is now unbeaten in their last six matches across all competitions.
United's not lost in its last five Premier League fixtures.
United is now unbeaten in its last three matches across all competitions against City.
Inhospitable
United continues to struggle at Old Trafford.
In the Premier League, United's now got just one win at home and a mere four points in six games.
If you add the team's three Champions League matches they've only got three wins and a draw in nine matches at home.
Zeroes
 The common theme statistically following this match was zero.
Zero as in the amount of goals City's scored in its last two Premier League road matches, the first time since January 2017.
This is only the fifth goalless draw between both sides in 47 EPL encounters, three have come in the last 11 matchups.
It's the third league game that United have failed to score a goal at home.
Manchester City's now conceded zero goals in their last six matches in all competitions.
United's now kept three consecutive clean sheets against their cross-town rivals in all competitions.
That's the first time they've achieved that since they went four matches without conceding in 1995.
City striker Raheem Sterling continues to struggle against the Reds.
The team's second-leading goal scorer (3 goals) has never scored against Man United in 17 Premier League games against them.
No English player has scored in the Manchester derby since James Milner in 2013.
What it means
 The draw keeps Man United ahead of City in the standings with 20 points to City's 19.
United for the moment are in 7th spot in the table, City is in 8th.
Managers Thoughts
 City boss Pep Guardiola says his side lacked urgency in this match.
"I don't know the feeling at home, but here we know we can show more intensity but when you attack they can punish you on the counter.
"We have to build from here. Without spectators, it looks like it lacks intensity but from the touchline, I see the players fight.
"It's a good point. I would like to win, but okay, it's Old Trafford we cannot forget.
"They are so fast upfront. It's Manchester United. Most parts of the game we were good. We lacked a little bit chances to score, but we were good."
United's Ole Gunnar Solskjaer saw the match a little differently than most of us.
"In my time against Manchester City, that's the best performance we have had. Not the best result but the best performance," Solskjaer told Sky Sports.
"It's two good teams. Tactically we knew they were going to give us some problems but defensively we were excellent. I'm delighted with the defensive shape. With the ball, we didn't create as much as we wanted to."
Next Up
United looks to extend its Premier League winning run away from home to 10 when they face Sheffield United on Thursday.
The kickoff from Bramall Lane is at 8 pm.
City has only a few days to rest before hosting West Bromwich Albion on Tuesday at 8 pm. (JSL).