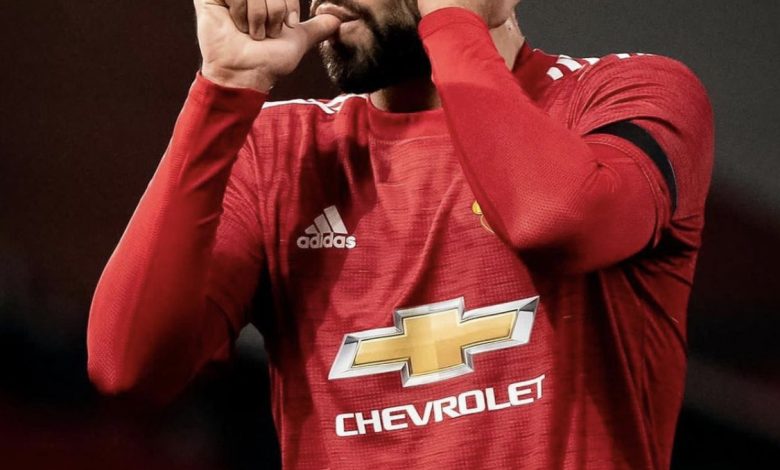 Happy Anniversary
 Saturday officially marks one year for Bruno Fernandes at Old Trafford, a year that's been incredibly memorable, to say the least.
After several dismal campaigns following the retirement of Sir Alex Ferguson, fans had been looking for a game-changing player that could take them back to the top.
It remains to be seen if Fernandes can help them win some silverware but you can't deny the impact he's had.
The Portuguese midfielder who transferred from Sporting Lisbon has hit the ground running in Manchester.
Making an Impact
 In only a year's work, Fernandes is showing he's worth every penny of his £46.6m fees.
In all competitions, the 26-year-old has 28 goals and 17 assists in just 52 appearances.
He's shown he can handle the pressure of big moments with numerous game-winning goals netting 15 times from the penalty spot.
Fernandes is usually involved in the United build-up having created 136 scoring chances in all competitions this past year.
He was the top goalscorer in last season's Europa League helping the Reds to the semi-finals.
It came as no surprise at the end of last season that he won the Sir Matt Busby Award for United player of the season.
More than his individual accomplishments though Fernandes has undoubtedly improved the rest of his team with his play.
Before signing with United the team was averaging 1.4 points a game in the first half of 2019/20.
Since joining the team that average is up to 2.14 points a game.
The talisman has more goal involvements in the last year than any other player in all competitions in the Premier League.
The Next Cantona?
 His play is drawing comparisons to a former United great Eric Cantona.
Former United midfielder Paul Ince recently talked about the parallels he sees between the two.
"[Cantona] came in and knitted us all together," said Ince. "He was that missing piece in the jigsaw. The goals he created, he made everyone raise their game.
"I think that is what Fernandes has done."
The numbers between the two are eerily similar.
In his first two-plus seasons with United Cantona scored 27 times in all competitions and averaged 98 minutes per goal or assist.
Heading into this month Fernandes got a goal or assist every 76 minutes and had 19 goals in 30 appearances.
Invaluable
Fernandes' value to the team is perhaps best exemplified when he enters a game.
Last week United was in a dogfight with Liverpool in the FA Cup before Fernandes entered the fray.
His free-kick made the difference allowing United to continue their quest for the FA Cup.
United's recent 13-match unbeaten run may have ended a lot sooner if not for Fernandes.
Let's not forget his side trailed West Ham back in early December before his presence turned the tide.
He set-up all three goals in the second half and the Reds have been cruising ever since.
More to do

Fernandes has without a doubt exceeded expectations at Old Trafford but there's still plenty to do.
He's helped turn United into trophy contenders which means winning some silverware is next on the agenda.
United's yet to do that since winning the Europa League in 2016/17 and something fans are desperate to see.
The next job for Fernandes is to catapult this team beyond the semi-finals of a competition and win some trophies.
Regardless of the team around you, the bottom line is great players can win trophies for their team.
His countryman Cristiano Ronaldo did it, so did Cantona.
Now it's his time to restore some glory in this famous club. (JSL).