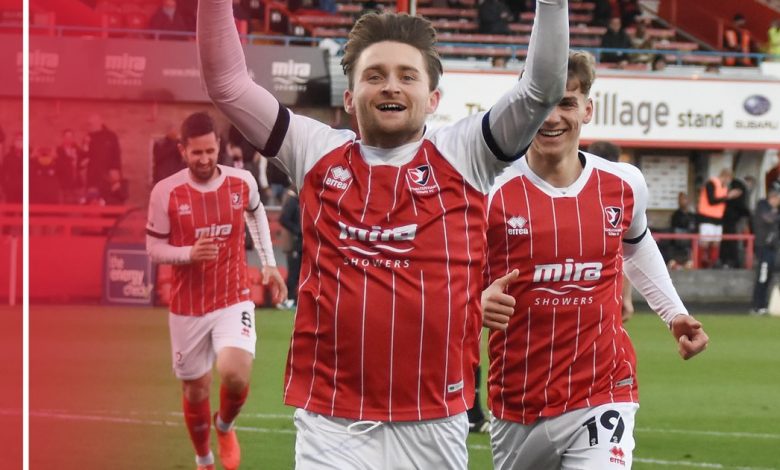 Creating a buzz
Manchester City's upcoming FA Cup tie is creating a lot of excitement in the small town of Cheltenham.
Their local club Cheltenham Town FC will play perhaps the biggest game in the club's history when they host Man City on January 23.
The team's chairman Andy Wilcox describes the feeling of playing such a high-profile club.
"They've undoubtedly been the best club in this country over the past few years and just to see Pep in the away dugout will be something very special.
"It could not have been any better and the whole club is buzzing already. I can't believe it and my phone has been red hot since the draw was made."
A pleasant surprise
 The Robins have enjoyed a fairly successful campaign in the third tier of English football so far.
Currently, Michael Duff's got his team in sixth place just three points from the top.
After narrowly escaping relegation in 2017/18 the Robins have been steadily progressing near the top of League Two.
Last season Duff's men were just five points away from a promotion finishing in fourth place.
A former Cheltenham player himself Duff's brought a vibrancy and enthusiasm to this side.
They'll need that same kind of exuberance to knock off a City side that's been virtually unbeatable of late.
Duff's brought an enjoyable brand of football to Cheltenham who are organised and look comfortable at the back.
They tend to build from there with long balls to their strikers Alfie May, George Lloyd, and Andy Williams.
Strong Mix
 The Robins have a good blend of youth and experience to their starting eleven.
Goalkeeper Joshua Griffiths is just 19-years-old but has the luxury of some experienced defenders.
Central defender Ben Tozer's only 30 but had a brief spell with Premier League side Newcastle United.
On his two flanks are William Boyle and Charlie Raglan who've made over 150 appearances for the Robins.
Traditionally they play a 3-5-2 as they aim to neutralize the oppositions attacking midfielders.
It's a strategy Pep Guardiola's side can expect to see when the teams do battle in a couple of weeks.
There's a lot of versatility in their midfield with Chris Hussey and Matty Blair often dropping deep to cover defensively down the wings.
Overall, they're not a terribly aging team but they also aren't exactly an inexperienced one.
Of the regular starting eleven, the youngest player is their goalkeeper Joshua Griffiths (19) while striker Andy Williams is the club's veteran (34).
Some of the newer recruits like Williams and Matty Blair have shown quality and strong leadership to this team.
They don't have much experience playing top-flight teams but Griffiths and midfielder Finn Azaz know what it takes to play and train in the Premier League.
Both players are currently on loan from West Brom.
Finding balance
Cheltenham hasn't exactly been lighting up League Two this season but they've been able to find a strong balance thus far.
In their 22 league games to date, their longest unbeaten run stands at six games while they've never lost consecutive games in League Two.
They never get too far up nor do they fall too far down.
Balance has been the name of the game for the Robins as 12 different players have scored for the team this season.
Williams leads the way with six goals while Chris Hussey leads in assists with four.
You have to think balance alone won't be enough for Cheltenham to create an upset against a dynamic City midfield starting to find its game.
Look for Matty Blair to play a big role in trying to shut down City's Raheem Sterling who's had his struggles of late in front of goal.
City's top goalscorer a season ago has just one goal in his last seven matches.
In the middle of the pitch newcomer, Finn Azaz and Ellis Chapman will be tasked with trying to neutralize perhaps the world's best playmaker today in Kevin De Bruyne.
Previous FA Cups
 In the recent past, the Robins enjoyed decent success in the FA Cup.
In 2012/13 they had one of their best runs losing to Premier League side Everton in the third round.
It's been quite some time since they've made it to this stage of the competition.
The last time they made the fourth round of the FA Cup was in 2005/06.
Their best-ever finish in this tournament came in 2001/02 when they lost out in the fifth round.
Great Expectations
Cheltenham chairman Andy Wilcox believes his team will relish the role of underdogs.
"I know Michael is overjoyed," Wilcox said. "That wasn't a bad birthday present for him.
"I expect City to field a strong side because of how seriously they take the FA Cup so I'll be looking forward to battles all over the pitch, like Matty Blair against Raheem Sterling."
The fourth-round match goes Saturday, January 23 at 5:30 pm from Jonny Rocks Stadium. (JSL).