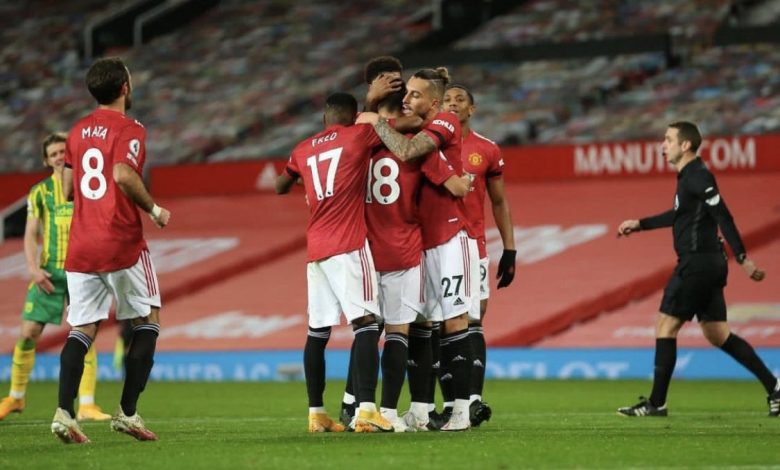 Manchester United secured its first win of the Premier League at Old Trafford Saturday beating West Bromwich Albion 1-0.
A Bruno Fernandes penalty was all the Reds would need to win their second consecutive EPL fixture.
Game Recap
 United looked the fresher side early on following the two-week international break.
Juan Mata's free-kick two minutes in was cleverly flicked on by Anthony Martial across goal.
Goalkeeper Sam Johnstone did well to push it aside.
A great low cross by Marcus Rashford in the 16th minute was touched on by Fernandes to Martial who got the first-time shot away in between two defenders.
Again, though Johnstone was there to make the save.
Four minutes later the Baggies came close after a great through ball from Romaine Sawyers found a streaking Karlan Grant.
The English striker had time to take a touch and fire it across goal but David de Gea did well to get his fingertips to it and deflect it wide.
In the 34th minute, Johnstone was alert once again.
Fernandes picked out Mata who chose to square it to Martial rather than shoot.
The pass was intercepted by Johnstone.
Into the second half, West Brom immediately had a glorious chance to take the lead.
Referee David Coote awarded the Baggies a penalty in the 46th minute after judging that Fernandes brought down Conor Gallagher in the box.
However, after taking a closer look at the VAR pitchside monitor Coote reversed the decision.
The plot thickened in the 53rd minute when Coote awarded United a spot-kick after Mata's cross struck the arm of Darnell Furlong in the box.
Fernandes stepped up to take it but Johnstone guessed correctly, palming it away from the bottom right corner.
The referee however reviewed the save and had the kick re-taken after video showed Johnstone was off his line before the kick was taken.
With a second chance, Fernandes fired his second spot-kick high into the left corner to put Man United ahead.
West Brom was unfortunate not to equalize in the 65th minute after Gallagher cut it back to Callum Robinson just inside the area.
His curling effort beat de Gea but thrashed against the crossbar.
Johnstone kept it tight with two great saves first off Rashford in the 67th minute before denying Harry Maguire's half-volley in the 71st.
United held strong from that point winning 1-0.
Firsts
 This is Manchester United's first win at Old Trafford in this domestic campaign.
That ends a six-match run in the Premier League without a win at home.
It's the first win for the Reds against the Baggies at Old Trafford since November 2015.
Fernandes' goal was the first home league goal for United in 324 minutes of football at Old Trafford.
The last home Premier League goal for the Reds was also a Fernandes penalty that ended up being the lone bright spot in a 6-1 hammering versus Tottenham.
Alex Telles played his first Premier League game for United after twice testing positive for COVID.
Man of the Match
 West Brom's Premier League struggles continue but Sam Johnstone nearly stole this one for his side.
A former Man United academy player, he was brilliant saving six of the seven shots he faced, many from point-blank range.
His only error in an otherwise outstanding night was moving a little too early on the first Reds penalty kick.
Saves on Martial in the first-half and his stop on Rashford in the second were high class.
Controversy
Referee David Coote was the subject of controversy for a pair of second-half decisions.
He overturned a penalty decision he initially made in favour of West Brom early in the second half.
Both managers Slaven Bilic and Ole Gunnar Solskjaer disagreed with the ref's decision on that play.
"I'm very disappointed with the decision," Bilic said. "I've watched it a few times now, for me, it's a penalty on Conor Gallagher, it's a clear penalty. I don't understand why he overturned it."
"In my head, it might be a penalty. Maybe here we're a tad lucky but none of them are given. Maybe the rules are different to how I interpret them," says Solskjaer.
West Brom will feel hard done by with the United penalty given in the 53rd minute off the arm of Furlong.
On the penalty for United Bilic said: "It's a handball. It's a bit unlucky but it's handball. Before that, it was a clear foul on Conor Gallagher. Instead of 1-0 for us, it's 1-0 for them. When you play against Manchester United away it's a huge difference."
Stats
 Since the start of last season, 16% of United's Premier League goals have come from the penalty spot.
That's the highest ratio of any EPL team during that time.
Half of the goals scored by Fernandes with United have come from the penalty spot (7 of 14).
Managers Thoughts
 United boss Ole Gunnar Solskjaer afterward said: "It's nice after the international break that you get a win. We needed that win at home."
He adds: "It's never comfortable against players of this quality"
"Tight margins decide games but the mood is decided by the results," says Solskjaer.
On the opposite side Slaven Bilic felt his team was unlucky to come away with nothing.
"We played well. We had a few chances to score. I told the guys I'm disappointed, I think we deserved something," says Bilic.
What it means
 The win moves Manchester United into 9th place with 13 points from eight matches.
The Baggies meanwhile remain in the relegation zone in 18th place with 3 points from 9 games.
Next Up
 United is back in action on Tuesday when they host Istanbul Basaksehir at 8 pm from Old Trafford.
Their next Premier League encounter takes place next Sunday at Southampton.
Solskjaer won't like the fact the kickoff is in the early afternoon at 2 pm. (JSL)