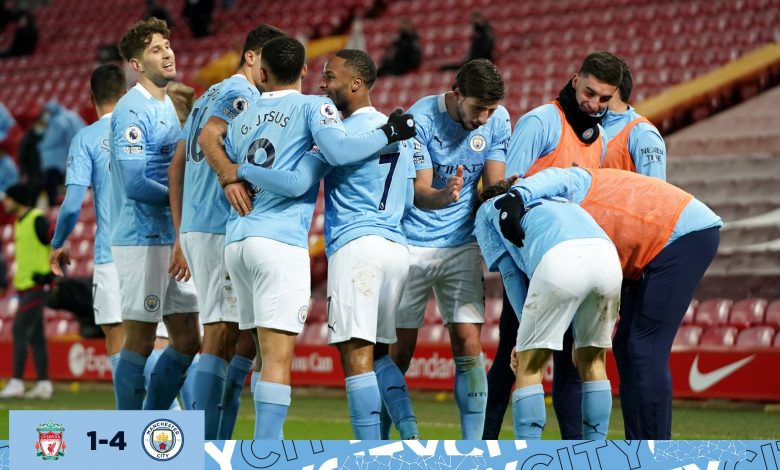 Breathing Room
Manchester City put a little distance between them and their Premier League rivals Sunday with a 4-1 win over Liverpool.
Ilkay Gundogan had another brilliant performance for the Sky Blues with two goals while Raheem Sterling and Phil Foden padded the lead for City.
Pep Guardiola's side now has a five-point cushion atop the standings over Manchester United.
The Reds meanwhile of Liverpool fall ten points behind the Sky Blues.
Game Story
Perhaps predictably the first-half was everything we've come to see from Man City and Liverpool recently.
Guardiola's side was patient and unwilling to take chances as they got their feet wet.

Liverpool meanwhile looked gun shy afraid of another defeat on their once sacred home soil.
Thirty-six minutes in and the first opportunity came from the penalty spot.
The trailing leg of Fabinho clipped Raheem Sterling as referee Michael Oliver pointed to the spot.
Ilkay Gundogan stepped up but got underneath the ball too much, and the kick sailed well over Alisson's crossbar.
In the second half, Gundogan came back with a vengeance, determined to make amends, and make amends he did.
In the 49th minute, Phil Foden did well to spot Raheem Sterling who got past Trent Alexander-Arnold before feeding Foden again.
Alisson saved the Englishman's shot from a tight angle, but Gundogan was Johnny-on-the-spot to poke in the rebound.
Liverpool levelled the score 13 minutes later following a rare mistake from Ruben Dias.
Mohamed Salah got the better of the Portuguese centre-back who tugged the Egyptian's sleeve as the referee called for another penalty.
Salah stepped up and made no mistake sending Ederson the wrong way.
Gundogan restored the lead 10 minutes later.
Alisson gave the ball away to Foden in a dangerous area.
 Foden took full advantage of the blunder getting beyond a group of defenders before feeding the Gundogan who finished from close range.
The Liverpool keeper made another glaring error three minutes later.
Alisson tried to play it out from his area but gave it away to Bernardo Silva.
Silva got to the byline lofting a perfect cross to Raheem Sterling who headed it into an empty net.
Phil Foden rounded out the scoring with a brilliant fourth goal.
The young superstar did well to cut in from the right before squaring up his marker and firing a left-footed rocket into the top-right corner to seal the victory.
Man of the Match
I'm inclined to give Alisson this award in the Liverpool goal but as dreadful as he was in the second half Phil Foden was anything but.

A world-class strike late in the match, while also setting up the game-winning goal Foden continues to impress for City.
He gave the wounded animal that is Liverpool all they could handle throughout the match.
Foden was heavily involved in virtually every goal-scoring opportunity.
His late strike puts him at ten goals in all competitions this season, a personal best.
At 20 years and 255 days, Foden is the second youngster player behind Dortmund's Erling Haaland (20 years 201 days) in the five major European leagues to score ten goals in all competitions this season.

Always a first time
They waited nearly 18 years, but it was worth it as City dominated Liverpool for their 10th straight Premier League victory.
Two wins in 65 years at Anfield but this one is vital as City seek a third Premier League crown in four seasons.
Raheem Sterling got a monkey off his back and scored for the first time against his former club.
Liverpool scored at home for the first time in their last four Premier League matches.
The Reds now has the dubious distinction of being the first defending champion to lose three straight home games the following season since Chelsea did it nearly 65 years ago.
The Goat
Lately, new age acronyms like G.O.A.T. (Greatest of All-Time) are terms of endearment expressing how good one is at their craft.
For Liverpool goalkeeper Alisson the old school meaning of goat seems appropriate given his second-half performance.
Pep Guardiola celebrated his 50th birthday 20 days ago, but apparently, the Brazilian keeper's gift to him came a little late.
Alisson was awful, two fatal errors in three minutes handed this game to Pep Guardiola's side on a silver platter.
The Brazilian's goalkeeping is some of the worst we've seen from a Reds shot-stopper since Loris Karius gift-wrapped the Champions League final to Real Madrid in 2018.
Record-setting night
It's City's 14th straight victory in all competitions putting them level with Arsenal and Preston for most all-time by a top-flight English side.
Missing their spot
If there's one thing Pep Guardiola's side needs to work on it could be penalties.
It's a bit of a head-scratcher as to why City's struggled from the spot this season.
One of the most technically gifted clubs in Europe hasn't had the best of luck from the spot.

Gundogan followed in Kevin De Bruyne's footsteps Sunday poorly missing his spot-kick just as the Belgian did in City's last meeting with Liverpool.
City's missed three penalties this season, and none of those misses even hit the target.
With some knockout matches upcoming they might want to fine-tune that part of their game.
 

Managers Words
After the match City manager, Pep Guardiola said his team got better as the game wore on.
"We started really well, especially with a lot of passes. We cannot play like they play, transitions. We have to play with a slower rhythm with more passes than usual because they are the best team in the world on transitions alongside Manchester United, but they have more years doing this.
"In the first half, we could not control the width of Robertson and Alexander-Arnold. In the second half, we adjusted a little bit our setup. After, the quality of the players did the rest."
On the other side, Liverpool's Jurgen Klopp says mistakes cost his side tonight.
The performance was good most of the time. Really, really good, on a high level. If we'd played more often like tonight, we would not be 10 points behind City. The goals we made massive mistakes. Against each team it is a problem, against City it's a killer. And that's why we lost the game."
Next Up
City's take on Swansea in the fifth round of the FA Cup on Wednesday at 5:30 pm from Liberty Stadium.

Their next Premier League action will be next Saturday at 5:30 pm from the Etihad against Tottenham. (JSL).