Business Directory
To Do
The Best Restaurants Manchester Has To Offer
If you are looking for a restaurant in Manchester, there are too many dishes await you.
You can find many different restaurants in almost every corner of the city. Chefs who immigrated to Manchester from all over the world offer us flavours from many countries. Our guide will show you the best restaurants in Manchester to explore their menu and read our reviews.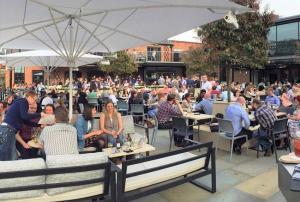 Dukes 92 – Bar & Restaurant
Grill restaurant and bars serving food, set in a former stable building with a balcony and terrace.
18 – 25 Castle St, Manchester M3 4LZ – 0161 839 8642
---
Fazenda
Brazilian rodizio dining room for all-you-can-eat steaks and skewered meats, carved at the table.
The Avenue, Manchester M3 3AP – 0161 207 1183
---
Gaucho
Designer furnishings and cowhide fabrics create a lavish backdrop for Argentine food and wine.
2A St Mary's St, Manchester M3 2LB – 0161 833 4333
---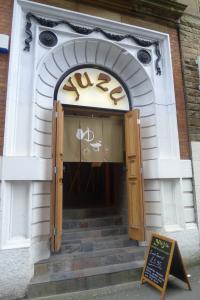 Yuzu
Japanese cuisine freshly made from mostly local meat, fish and vegetables, and a wide range of sake.
City Centre, 39 Faulkner St, Manchester M1 4EE – 0161 236 4159
---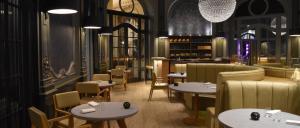 Adam Reid at the French
Using only the finest seasonal produce available, the food at The French is known across the city and beyond for its exquisite flavours. The menu of modern British cuisine showcases the creative culinary talents of Manchester's own Adam Reid, with a choice of four, six or nine courses.
16 Peter St, Manchester M60 2DS – 0161 235 4780
---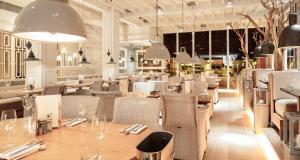 Australasia
Modern Australian food including Indonesian and Japanese influences served in a subterranean venue.
1 The Avenue, Deansgate, Manchester M3 3AP – 0161 831 0288
---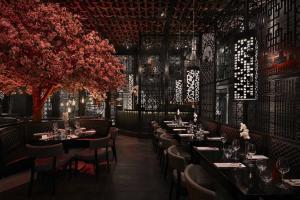 Tattu Restaurant and Bar
Modern Chinese cuisine and cocktails in sophisticated, dark wood bar/restaurant with carved screens.
3 Hardman Square, Gartside St, Manchester M3 3EB – 0161 819 2060
---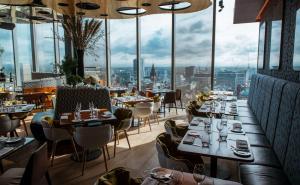 20 Stories
High-style destination in a shopping complex for modern British dining & cocktails & sweeping views.
NO. 1, 1 Hardman Square, Manchester M3 3EB – 0161 204 3333
---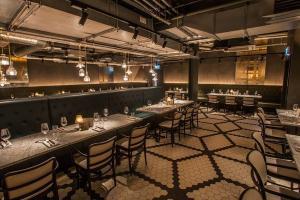 Alston Bar & Beef
Spot for select steaks & many gins in a fashionable, expansive space in the Corn Exchange building.
Cathedral St, Manchester M4 3TR
---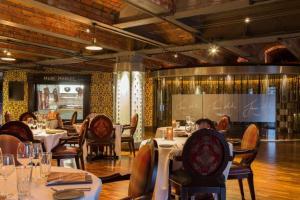 James Martin
Elegant, Modern British casino restaurant in a former industrial warehouse with a brick arch ceiling.
Great Northern, 2 Watson St, Manchester M3 4LP – 0161 828 0345
---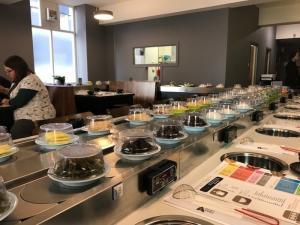 One Plus Chinese Restaurant
Low-key eatery with a 'sushi-style conveyor belt plus a noodle & rice bar with rotating menus.
42 Charles St, Manchester M1 7DB – 0161 273 2888
---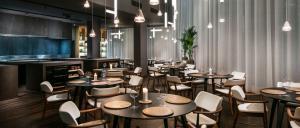 Mana
High-end, reservation-only British fixture with a locally sourced avant-garde menu & wine pairings.
42 Blossom St, Ancoats, Manchester M4 6BF – 0161 392 7294
---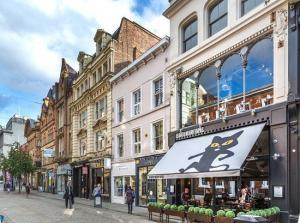 El Gato Negro Tapas
It opened in 2016. The ground floor has alfresco pavement dining and an evocative bar and dining space. The middle floor offers a mix of restaurant table and seating options, plus the chef's table for extra thrill and theatre by our open kitchen. The top floor features a stunning terrace with a retractable roof, plus a bar and tables for two or larger groups.
52 King St, Manchester M2 4LY – 0161 694 8585
---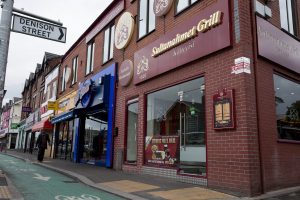 Sultanahmet Grill Köfte
Sultanahmet Grill is a unique Turkish restaurant. The restaurant features a seasonal menu of grilled meats and sides. Sultanahmet is combining an authentic atmosphere with good quality, healthy, fresh food.
91 Wilmslow Rd, Rusholme, Manchester M14 5SU – 0161 256 0368
---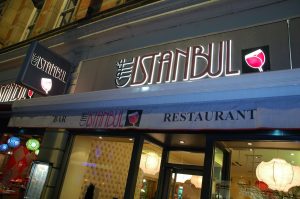 Cafe Istanbul
Colourful family-friendly dining space with outdoor seating, for Mediterranean dishes and cocktails
79-81 Bridge St, Manchester M3 2RH – 0161 833 9942
---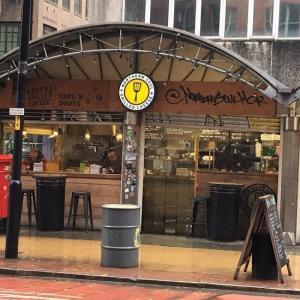 Northern Soul Deli Company
Lively, fast food-style joint known for its inventive, elevated grilled cheese sandwiches.
Unit 10, 11 Church St, Manchester M4 1PN – 0161 834 0107
---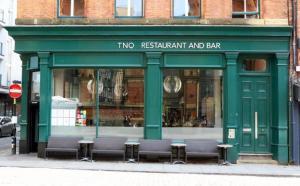 TNQ – The Northern Quarter Restaurant & Bar
Simple dining room with a relaxed vibe, for gourmet Modern British dishes and set-price lunches.
108 High St, Manchester M4 1HQ – 0161 832 7115
---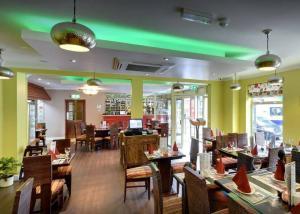 Arnero Restaurant
Mughlai and North Indian cooking are the specialities at this welcoming restaurant.
25, Sackville St, Manchester, Greater Manchester M1 3LZ – 0161 236 1364
---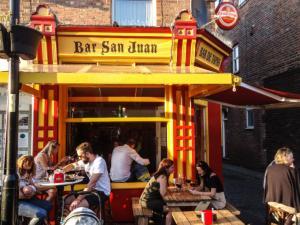 Bar San Juan
Tiled tapas bar with traditional decor, serving authentic dishes and imported beer and wine.
56 Beech Rd, Chorlton-cum-Hardy, Manchester M21 9EG – 0737 8693594
---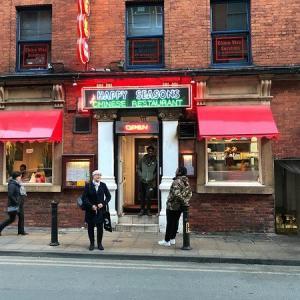 Happy Seasons Restaurant
Happy Seasons is a small, simple authentic Chinese restaurant in the heart of Chinatown, Manchester. Happy Seasons menu offers the best authentic Cantonese cuisine using locally sourced produces prepared by experienced chefs.
59 Faulkner St, Manchester M1 4FF – 0161 236 7189
---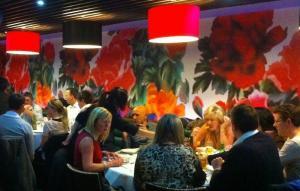 Hunan Restaurant
Bright venue serving regional Chinese cuisine, with a special emphasis on vegetarian/vegan dishes.
19-21 George St, Manchester M1 4HE – 0161 236 8889
---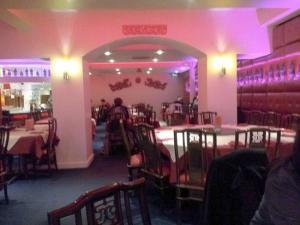 The Little Yang Sing
The smart decor and traditional Chinese regional cooking including dim sum and several banquet menus.
17 George St, Manchester M1 4HE – 0161 228 7722
---
Pearl City Restaurant
Long-established Chinatown restaurant serving a vast menu of Chinese dishes including dim sum.
33 George St, Manchester M1 4HQ – 0161 228 7683
---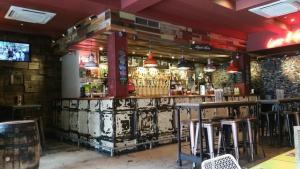 Cane & Grain
Hip New York-style style bar over three themed floors, for ribs, burgers and cocktails.
49, 51 Thomas St, Manchester M4 1NA – 0161 839 7033
---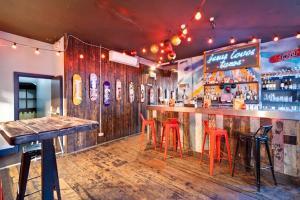 Luck Lust Liquor and Burn
North American road trip-inspired restaurant and bar serving food including tacos and burgers.
100-102 High St, Manchester M4 1HP – 0161 258 3330
---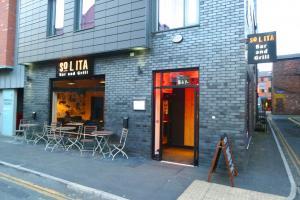 Solita NQ
Modern, US-style bar and restaurant with an indoor barbecue and charcoal oven plus outdoor seating.
Turner St, Manchester M4 1DW – 0161 839 2200
---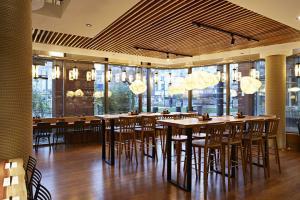 SHORYU RAMEN
If you want to celebrate your special days in a fabulous Japanese restaurant and get the best service, you're in the right place. A variety of delicious and exotic Japanese cuisine is offered.
1 Piccadilly, Manchester M1 1RG
---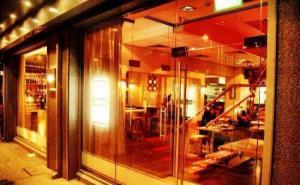 Ziya Asian Grill
Contemporary wood, glass and marble space for traditional Indian dishes, street food and cocktails.
65-67 Wilmslow Rd, Rusholme, Manchester M14 5TB – 0161 257 2010
---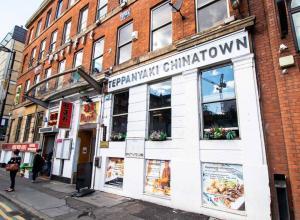 Teppanyaki Chinatown
Restaurant with kimono-clad staff, offering food prepared in front of guests on hot steel plates.
Connaught Bldg., 58-60 George St, Manchester M1 4HF – 0161 228 2219
---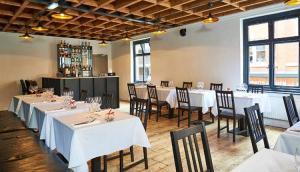 63 Degrees
Informal fine dining in a Parisian-style brasserie with a menu of innovative Modern French dishes.
104 High St, Manchester M4 1HQ – 0161 832 5438
---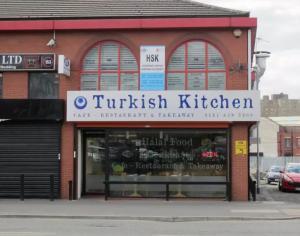 Turkish Kitchen
Cafe-restaurant serving meze along with kebabs, burgers and Turkish pizza in a simple setting.
153 Great Ducie St, Cheetham Hill, Manchester M3 1FB – 0161 832 0363
---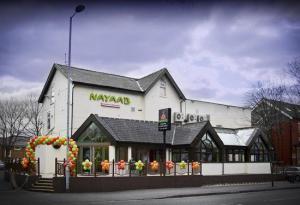 Nayaab Restaurant
Bright, modern restaurant with leather chairs for classic Indian and Pakistani dishes and buffet.
5-7 Wilbraham Rd, Fallow field, Manchester M14 6JZ – 0161 224 2443
---
Habesha Restaurant
East African stews and delicacies at an Ethiopian restaurant with colourful decor and artefacts.
29-31 Sackville St, Manchester M1 3LZ – 0161 228 7396
---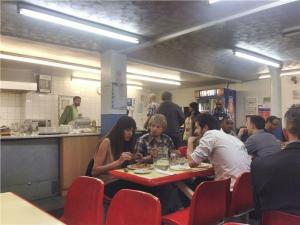 This & That
Longstanding family-run Indian dining room serving a classic menu of Indian curries.
3 Soap St, Manchester M4 1EW – 0161 832 4971
---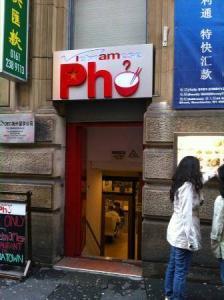 I Am Pho
Low-key Vietnamese spot offering a variety of pho, rice dishes & banh mi, plus wine & imported beer.
44 George St, Manchester M1 4HF – 0161 236 1230