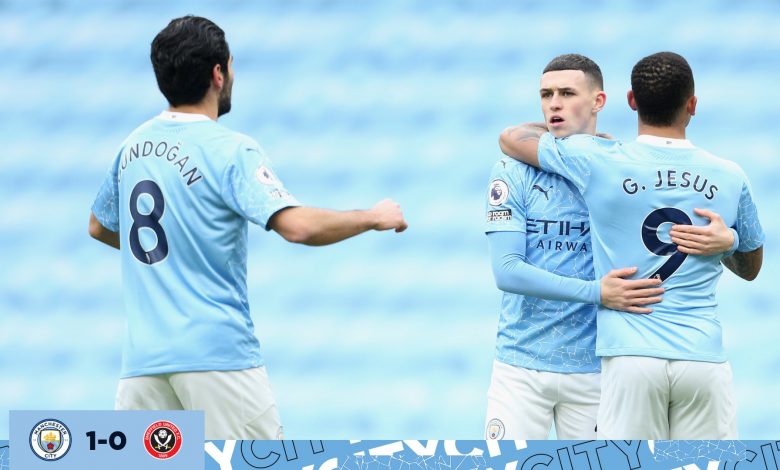 The streak continues
 Manchester City will remain top of the Premier League for at least another week after edging Sheffield United 1-0 Saturday.
In a defensive showcase, a Gabriel Jesus strike on nine minutes is all the Sky Blues would need to see off the pesky Blades.
Game Story
The lone weak moment for Sheffield is all City would need to come away with another victory.
Ferran Torres cut inside the box with some nifty work on the end line to get the better of a couple of Blades defenders before centering it for Jesus.
Incredibly there were no defenders near the Brazilian at the top of the six-yard box as he had time to sort his feet out and fire a close-range effort past Aaron Ramsdale.
Chances came few and far between throughout the 90 minutes.
On 71 minutes Phil Foden did well to drop his pass off to Oleksandr Zinchenko who fired a first-time effort across goal but it was well stopped by Ramsdale.
Sheffield's only real clear-cut opportunity came four minutes from stoppage time.
Sharp held off his marker chesting the ball down towards Fleck on the edge of the area.
His fierce drive screamed across goal and just wide.
Man of the Match
 In a match that was largely uneventful for fans to watch Fernandinho had a solid outing for his side.
His holding play in midfield allowed the attack-minded Foden and Ilkay Gundogan the freedom to counter down the flank and create scoring chances.
The Brazilian was all over the midfield ensuring the Blades rarely got any counter-attack opportunities themselves.
Soaring the new heights
 With today's win, Pep Guardiola's side set a couple of new records both for the club and in the league.
This is City's 12th consecutive victory in all competitions.
The official club record counts as 20 set between August 26 and December 3 2017 under Guardiola.
However, in that stretch City needed penalties to beat Wolves in a Carabao Cup tie.
Their current run of 12 straight wins is a new club record within 90 minutes of play excluding extra-time and penalties.
City's won an incredible nine games this month.
According to Opta stats, that's never been done in the history of English football.
The team itself along with Pep Guardiola also achieved some pretty impressive milestones.
Jesus' early goal was the club's 650th under Guardiola.
The win was also the Spaniards 500th as a manager.
That's quite the feat when you consider he's managed 673 matches in his career.
Since taking over City Guardiola has 197 wins in 265 outings.
Team Spark
 Three goals in the Premier League is hardly something to write home about but when Gabriel Jesus scores for City it usually means good things.
In 37 Premier League games where Jesus has scored City has won 35 times and drawn twice.
Not bad seeing as he's got just 44 Premier League goals all-time for City.
Only James Milner (54) and Darius Vassel (46) have gotten more goals in league play without losing.
Keeping the competition at bay
 When they struggle to score they make up for it by tightening up defensively.
That was the case again today for Guardiola's side.
City now has 20 clean sheets in all competitions this season, that's five more than any other team in the top five leagues in Europe.
The Blades continue to struggle against Man City having only scored once in their last 10 Premier League matches against them.
It's their eighth defeat by a 1-0 score, the most by a side at this stage of a top-flight season.
Back in the 1985-86 season Ipswich Town also lost eight 1-0 matches in their first 21 games.
Managers Words
 Following the game City boss, Pep Guardiola said his side fought like warriors out there.
"[It was] so difficult [to] win like we knew it [would be]. An incredible victory for us. It's amazing after this run of games for us, eight victories in a row, 12 in all competitions, still the players run and fight like animals.
"We conceded one action at the end that was dangerous. Every time we play against them we struggle a lot."
Sheffield United manager Chris Wilder says his side has nothing to be ashamed about.
"We've not been cut open or undone by an unbelievable bit of brilliance which, the players you're up against today can produce at any time, so we're a little bit disappointed. Today, the name of the game was to stay in the game as long as possible, which we did, try to open up late on, which we did."
Extending their lead
 With this win and Manchester United's draw City now holds a three-point lead over the Red Devils atop the Premier League table.
The Blades meanwhile are now 10 points behind Brighton to get out of relegation.
They remain dead last with eight points.
Next Up
City next travels to Burnley on Wednesday.
The kickoff from Turf Moor is at 6 pm. (JSL).