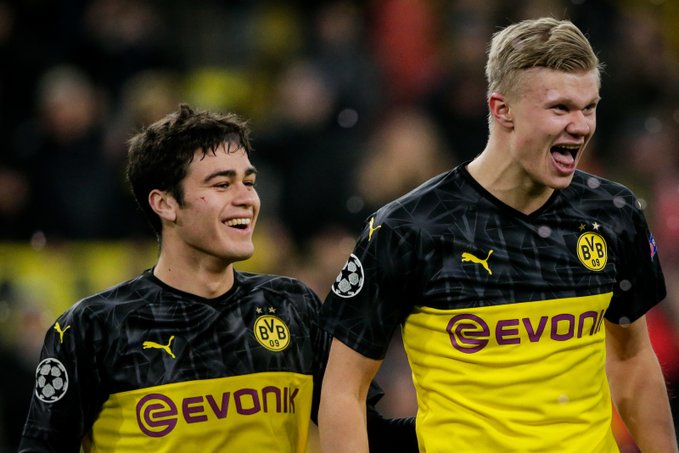 Making a Splash?
Manchester City could be making a significant play for a pair of attacking threats in Germany.
The current Premier League leaders are reportedly looking to sign Erling Haaland and Giovanni Reyna.
The Sky Blues could offer the Borussia Dortmund teammates up to $142 million.
Haaland is perhaps the most hotly pursued player in the upcoming transfer window. As many as ten clubs are reportedly in the mix for the Norwegian.
Reyna has shown the ability to contribute in several capacities with three goals and four assists in the league this season.
While City isn't having any trouble winning games, it's believed the club wants to upgrade the striker position.
A void's been missing most of the season at that position with the long-term absence of Sergio Aguero.
The club's record goalscorer will be 33 in June and on the market this summer.
Should the Citizens part company with Aguero, that could open the door for them to sign Haaland and Reyna.
Lethal combination
In a short time together, Reyna and Haaland have given opposing teams all they can handle.
Haaland currently has 17 in this Bundesliga campaign.
At 18, many see Reyna as one of the top young playmakers in Europe.
Earlier this season, Reyna got a hat-trick of assists in one match.
He's the first American to accomplish that feat in the top five European leagues since 2008.
His Norwegian teammate has 30 goals in 33 appearances at Dortmund.

They arrived at Dortmund around the same time and almost instantly took the Bundesliga by storm.
Sky Blues competitors
If the Citizens want to lure these two to the Etihad this summer, they'll have to fight off some stiff competition.

Haaland in particular is getting plenty of attention from big-name clubs.
Manchester United, Barcelona, Chelsea, Real Madrid, and Bayern Munich are a few of the clubs vying for the Norwegian's services.
Haaland has a connection with United boss Ole Gunnar Solskjaer, having played for him at Molde.

Like Father like son
One advantage City has is the family history of both attacking players with the Sky Blues.
Erling's father, Alfe-Inge Haaland, played for City between 2000 and 2003. Sadly his career got cut short because of a Roy Keane challenge in the 2001 Manchester Derby.
Just as Alfe-Inge's time at City was coming to an end Giovanni's dad Claudio was just beginning his career at City.
Claudio Reyna spent three-and-a-half years with the Citizens, making 87 appearances and scoring four times.
Escape clause
A deal for Haaland could be more likely than one for Reyna, given City's current makeup.
The Norwegian striker is under contract until 2024 at Dortmund but reportedly has an exit clause.
That clause is in the ballpark of over 75 million Euros.
For Reyna, signing with City might be a little more complicated.
The 18-year-old is currently under contract with the German side until 2025.
While Haaland would probably slot in immediately into the starting 11, earning a spot in the City lineup for Reyna will take some doing.
The American will have to unseat Phil Foden, Kevin De Bruyne, Bernardo Silva, Ilkay Gundogan and Riyad Mahrez.
They're a big reason why the club is currently at its very best.
Is Reyna willing to risk potentially spending some time on the bench?
A loan spell for Reyna may be a more realistic way of getting him in a Sky Blues jersey soon.
Getting either player won't be cheap, but spending money has never been a concern for City's management.
Last summer, the club spent over £120 million on Nathan Ake, Ruben Dias and Ferran Torres. (JSL).