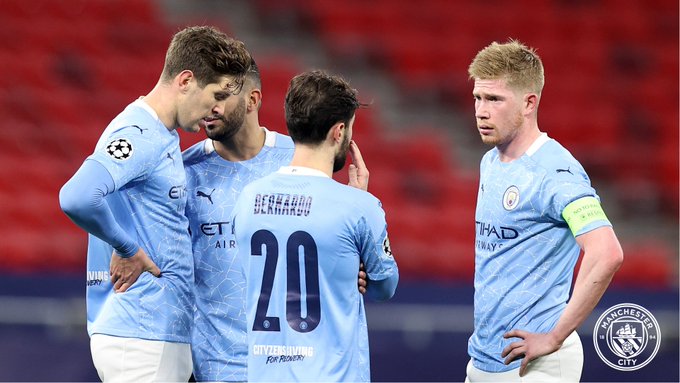 Die Fallen
The dream of a quadruple is still alive as Manchester City defeated Borussia Monchengladbach 2-0 in the second leg of their Champions League tie from Budapest.
It seemed like a formality that City would win from the very beginning of this match.
The Citizens were far superior, while Marco Rose's side looked like a wounded animal still shaken from old wounds.
Kevin De Bruyne and Ilkay Gundogan put Die Fohlen out of their misery with goals six minutes apart as City advanced to their fourth straight Champions League quarter-final.
Game Story
Despite having a two-goal advantage, City looked anything but complacent in this match.

A great pass over the top in the seventh minute from Joao Cancelo to Phil Foden, who stretched well to hit a first-time effort that Yann Sommer did well to get down and stop.
Gladbach had a half-chance a minute later.
Lars Stindl, laid a ball off to Breel Embolo, who's shot from a distance is hit into the ground before deflecting off John Stones, but Ederson was alert and tipped it wide of the post.
A moment of magic gave the Sky Blues the lead in the 12th minute.
Riyad Mahrez rolled an easy pass into the path of Kevin De Bruyne, who hit his shot first-time on his left foot from the edge of the area.
The ball screamed into the top corner leaving Sommer no chance.
Six minutes later, Ilkay Gundogan put the final nail in Die Fohlen's coffin.
Foden made a great run before laying it off to his German teammate.
The City midfielder timed his run perfectly, pulling away from a defender and firing it past the onrushing Sommer to double his team's advantage.
De Bruyne came close in the 35th minute.
A lovely free-kick from about 20 yards out, dipped nicely but Sommer followed it well and deflected in over the bar.
Four minutes from the end of the half, Gladbach had a chance to reduce the deficit
Marcus Thuram got away from three City defenders as the Frenchman touched it on nicely to Embolo inside the box. The angle was just a little too tight, though, as the shot went wide.
With City in complete control heading into the second half, the game turned into more of a training session, with Gladbach seemingly more interested in not embarrassing themselves any further.
The Germans had a corner in the 56th minute from Jonas Hofmann that Thuram got on the end of just inside the six-yard box, chesting it down towards Ramy Bensebaini. However, Ruben Dias put him under enough pressure as the Algerian's effort went just wide.
A couple of excellent saves from Sommer off Riyad Mahrez in the 66th and 68th minute kept the score at 2-0.
Nothing major to report in the final 22 minutes of the match as City came away with another victory.

Man of the Match
While the team excelled in his absence, they're still at their very best when Kevin De Bruyne is on the pitch.
The Belgian is peaking at the right time for his side with another impressive showing tonight.
His screaming left-footed drive 12 minutes in ended any hope Gladbach may have had of coming back.

De Bruyne's running and pinpoint accuracy were on full display once again.
Piling on the pain
Marco Rose isn't exactly leaving behind a lasting impression with Gladbach, at least in recent memory.
His team has now lost seven consecutive fixtures in all competitions, one shy of their worst-ever unbeaten run.
The silver lining for Rose is that if he's get sacked, he won't be unemployed for very long.
He'll be manager at Borussia Dortmund next season.
Century mark
Everyone keeps talking about City missing a natural goalscoring attacker, but you wouldn't believe it when you look at the stats.
Pep Guardiola's side has now scored 100+ goals in each of their last eight seasons in all competitions.
Only rivals Manchester United (from 2004-05 to 2012-13) have done it more.
Having their way
City is making mincemeat of their oppositions both in the Premier League and even more so in Europe.
The Sky Blues are now unbeaten in their last six matches against Gladbach. They've scored at least twice in four of those five wins.
An extended layoff against foreign opposition hasn't hampered Guardiola's defence, who continue to keep opposing attackers at bay.
The Citizens have now posted seven clean sheets in eight matches in this competition this season.
Put another way, they've not conceded a Champions League goal in 11 hours and 35 minutes of action. That's the second-longest run in this competition's history.
The Elite Eight
Now is where the competition gets interesting as the remaining eight clubs will be some of the best Europe has to offer.
Borussia Dortmund, PSG, Liverpool, Real Madrid and Porto are all safely through.
Defending champions Bayern Munich will likely advance tomorrow as they hold a comfortable 4-1 lead over Lazio.
Chelsea will look to be the third English side to advance as they lead La Liga's Atletico Madrid 1-0 after one leg.

In the past four seasons, Guardiola's side has crashed out at this stage of the competition.
We'll find out Friday who they'll face next when the Champions League draw occurs at noon CET from Nyon, Switzerland.
Managers Words
Following the match City manager, Pep Guardiola said he's proud of how his team took control of this game early on.
"It was a good performance; we controlled the game from the beginning. This competition is tricky, but after the two goals, everything was easier – everyone in their position moved the ball quick.
"A lot of players like Phil Foden, Bernando Silva, they have a lot of quality, they help us a lot, but everyone was so committed, and we are delighted to be in the next stage."
Next Up
The Sky Blues turn their attention to the FA Cup where they battle Everton in the quarter-finals.
The kickoff from Goodison Park on Saturday is at 5:30 pm. (JSL).