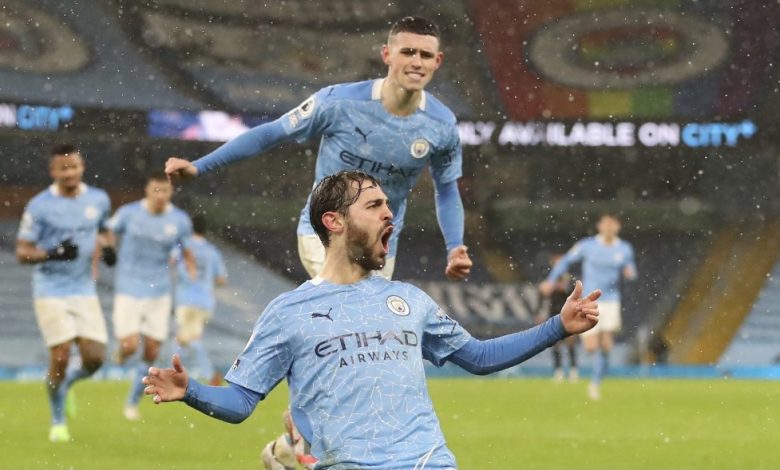 Better late than never
 Manchester City left it very late but came away with a 2-0 victory over a pesky Aston Villa side on Wednesday.
The Lions defence didn't budge until the 79th minute when Rodri dispossessed Tyrone Ming before laying it off to Bernardo Silva who took one touch inside and fired a left-footed drive into the top corner.
The goal was not without its controversy as Rodri claimed possession from an offside position.
The decision stood however as Silva scored his first Premier League goal of the season and his first at the Etihad since September 2019.
Dean Smith argued the play adamantly and got sent off by the official as a result.
City got a second in stoppage time when Matty Cash blocked a Gabriel Jesus header with his arm giving the Sky Blues a penalty.
Ilkay Gundogan fired it right down the middle to finish out the scoring.
Man of the Match
 Ilkay Gundogan is really starting to emerge as a wonderful creator who can score big goals.
The German scored the insurance marker late but if not for some terrific defending by Villa he could've had a hat-trick.
He had a magnificent game all over the pitch.
When De Bruyne came off in the 60th minute City didn't miss a beat and that's thanks in large part to Gundogan who commanded the midfield with surgical precision.
He's now got five goals in his last seven Premier League matches.
He's scored seven in all competitions this season, the most ever for him in a top-flight campaign.
Chipping Away
 For 79 minutes the only thing stopping City from scoring was a Villa backline that seemed to always be in the right place at the right time.
In total, the Lions had 10 blocks in the game, many from point-blank range against a City side that created plenty of grade-A chances.
Villa had its share of opportunities as well with some nice breaks down the wing by Jack Grealish.
Ederson also made some smart and tough saves off Ross Barkley, Traore, and Douglas Luiz.
In the end, it was about chipping away and staying patient for City before things finally went their way.
It was perhaps a stroke of fortune that Silva's goal wasn't called back for offside but in the end, City was the better side.
City's opening goal came on their 25th effort of the game.
Neat and Tidy
 They had some anxious moments in their own box today but City's defence maintained another shutout.
They now have 10 clean sheets in their 18 Premier League matches.
The only time they've reached that mark quicker came in 1976-77 when they did it in 17 games.
 Shots Fired
You wouldn't have known how exciting the game actually was given the score through much of the match.
The 36th shot fired between both sides finally produced a goal.
In total 39 shots were fired through 90 minutes (28 for City and 11 for Villa).
Man United and Leeds is the only other Premier League match that saw more shots taken this season.
Back in December, those two teams fired 43 shots in a 6-2 win for the Red Devils.
Sleepless Lions
Man City has now won 15 of their last 16 Premier League home matches with Aston Villa including each of their last 11 in a row.
Keeping it 100
With the win, City maintains a 100% record in 2021 winning six games and only conceding once.
Pep Guardiola's side is now unbeaten in their last 16 games in all competitions.
Managers Words
 After the match City manager Pep Guardiola said this was a hard-fought victory.
"It was a very good performance again, against a top side. They are very dangerous and just look at their results this season. A big victory.
"The most difficult thing is to score a goal, in the second half we were more aggressive."
What it all means
City held onto the top spot for a few hours before United's comeback win over Fulham.
That means Guardiola's side is in second place with a better goal difference than Leicester City.
They remain two points back of United for first but with a game in hand.
Next up
City now travels to Cheltenham on Saturday for their fourth-round FA Cup tie against League Two side Cheltenham Town FC.
The kickoff from The Jonny Rocks Stadium is at 5:30 pm.
Their next Premier League match is next Tuesday at West Bromwich Albion at 8:15 pm. (JSL).