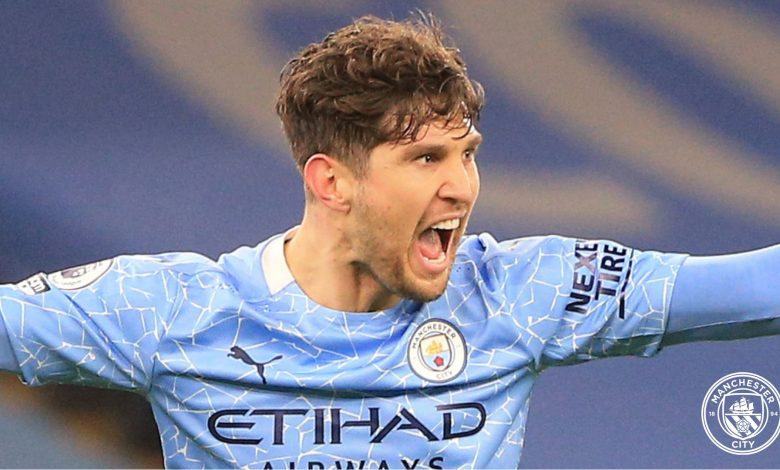 Closing in
 Manchester City is now a shade off the Premier League lead after beating Crystal Palace 4-0 on Sunday.
A pair of goals from John Stones helped the Sky Blues win their fifth consecutive EPL match.
Early Birthday gift
 A day before Pep Guardiola turns 50, the City boss got an early present from his team Sunday.
His team was strong, held the ball well, and dominated on all fronts.
Match Story
 A team that's not lost a Premier League fixture since November 21 had perhaps their finest 90-minute performance to date.
The opening 20 minutes were rather quiet as both sides looked to be feeling each other out.
Then a moment of magic came from an unlikely man in the 26th minute.
Raheem Sterling started the move with a nice crossfield ball to Kevin De Bruyne.
The Belgian had time to pick up the pass then curled the ball with the outside of his foot into the box towards John Stones who headed it superbly past Guaita for the opener.
City came out flying in the second-half determined to pad their lead.
They went up 2-0 in the 56th minutes when Townsend had his pocket picked by Ilkay Gundogan.
The German curled a brilliant effort into the top corner before the Palace defence could even react.
Stones got his second in the 68th minute.
A nice header by Ruben Dias was stopped by Guaita but it came to Stones who hammered in the rebound.
Sterling put the game on ice in the 88th minute.
His free-kick was placed perfectly into the top corner for his first goal in his last seven matches in all competitions.
Stepping Stones
 John Stones doesn't score a lot but he sure knows the right time to find the net.
His opening goal today seemed to light a spark in the Sky Blues after a slow opening 20 minutes for both sides.
Two shots on target today and two goals.
Just like his first against Man United in the League Cup, his goals were just as vital.
Stones helped to kickstart many of City's attacks today leading everyone in successful passes with 112 of 117 made for a rate of 95.7%.
He was the Man of the Match on a side that had many outstanding performances.
Milestone
 Kevin De Bruyne now has 100 assists for Manchester City after his brilliant outside foot cross was headed home by Stones in the first-half.
The Belgian was sublime once again today in the midfield.
He's now made 10+ assists in a league season on five occasions while playing in the top five European leagues.
The only player who's also accomplished that feat is Lionel Messi who's done it five times himself.
When you bear that in mind De Bruyne has a strong case to make to his employer as to why he deserves a salary boost in the same ballpark as Messi.
Impenetrable
 John Stones and Ruben Dias are quickly becoming the toughest defence to play against.
In 10 games now starting together in central defence they've conceded only one goal.
They're unbeaten in those 10 games together winning nine times.
They allowed only two shots on target today.
A Crystal Palace team out of sorts and without Wilfried Zaha were no match for Man City's blue wall.
In their sights
 Today's win makes City the first Premier League club this season to win five in a row while also remaining unbeaten in their last nine EPL fixtures.
In all competitions, they're unbeaten in their last 15 games.
More importantly, they are in the driver's seat in the Premier League at the moment.
They're two points back of Manchester United for first having played one less game.
Given how well Guardiola's men have been in the second-half of seasons this could be the opening they need to capture a third EPL title in four seasons.
Managers Words
 City boss Pep Guardiola outlined what he liked about his team's performance today.
"[The performance was] excellent, we didn't concede. We had to be patient, we cannot lose out spaces when we lose the ball because they defend really well. They also have the quality to punish you in the set pieces and counter-attacks, of course, they missed Zaha, who is an important player for them.
"But we were so stable and in the right moment, we scored the goals. It was an important victory after the last two seasons when we couldn't beat them [at home]."
Crystal Palace manager Roy Hodgson says his team seemed to struggle in the second half.
"I thought the first half, we did very well. Obviously, they had a lot of the ball, which we knew they would have, but they didn't create many chances and I thought we were holding our end up very well.
"But I'm afraid we made a couple of quite blatant mistakes in the second half, often playing the ball back to the goalkeeper too much as well and it cost us. The goals they scored were fantastic goals but even so, if we could have done what we did in the first half throughout the game, we could have made it that bit harder and we wouldn't have lost by such a big margin."
Next Up
Depending on how United does Guardiola's men could move into first place as early as Wednesday.
That's when they host Aston Villa from Etihad Stadium.
The kickoff goes at 6 pm. (JSL).