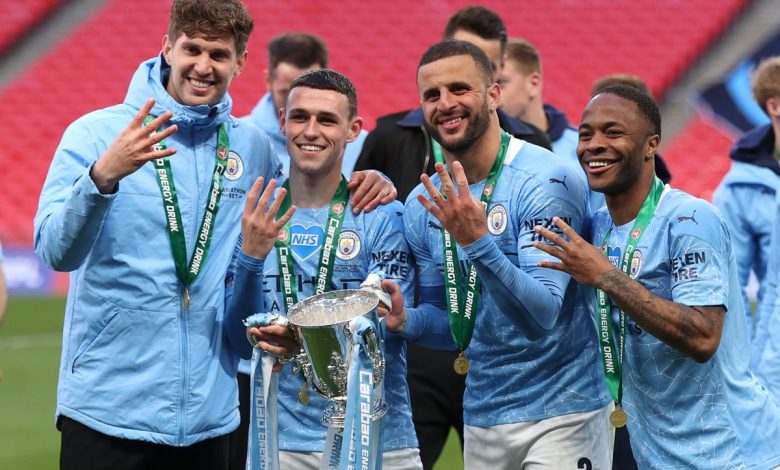 That Winning Feeling
Manchester City got their first of what they hope will be many more trophies this season, beating Tottenham 1-0 in the Carabao Cup Final on Sunday.
A late goal with less than 10 minutes to play from Aymeric Laporte gave Pep Guardiola's side their first trophy of the season.
Game Story
Heading into this game, City were seeking their fourth consecutive Carabao Cup while Spurs were hoping to claim their first trophy since 07-08 when they won this competition.
It was a reasonably cagey start for both sides through the first 10 minutes, with no one developing much of a rhythm.
The first chance came City's way in the 12th minute when Hugo Lloris tipped a Phil Foden corner away, but the Sky Blues recovered it and sent it out to Raheem Sterling but Tottenham closed him down quickly and cleared the danger.
Another City corner nearly produced a goal a few minutes later.
Kevin De Bruyne's corner went towards the goal, but Pierre-Emile Hojbjerg cleared it at the near post.
It took Tottenham a bit longer to get in the game as City did a great job limiting the dynamic duo of Son and Harry Kane.
Spurs had a good chance in the 21st minute off a lovely delivery from Son that Zack Steffen was able to tip away, but only as far as Toby Alderweireld, but his shot went just wide.
City continued pressing and were inches away from going ahead in the 26th minute.
A poor ball from Eric Dier was picked off by De Bruyne, who took off down the right, swinging in a beautiful cross that Alderweireld could not fully clear.
It eventually fell to Phil Foden, who fired it on goal as it deflected off Alderweireld and struck the post.
Spurs were under siege, and City nearly made them pay just past the half-hour mark.
A lovely ball in the box from Fernandinho that Raheem Sterling was able to get to, but his effort went just wide.
City were the more attack-minded side in the opening half, but Spurs managed to hold out as the match was scoreless through 45 minutes.
The Citizens looked by far the hungrier side as Spurs had only one touch in the City box in the opening half while top goalscorer Harry Kane had a mere two touches in the City half.
Ryan Mason's side came out firing early in the second half, showing a lot more energy.
In the 46th minute, Giovani Lo Celso picked up the ball from about 30 yards out.
He curled a long-range effort towards the bottom corner that Steffen could get to and tip away.
A Son corner minutes later nearly fell to Dier, but City got there before it could and cleared the danger.
In the 62nd minute, Tottenham nearly caught City on the counter.
Harry Kane burst forward before slipping a ball to Hojbjerg on the left.
The Dane in turn, tried to feed it to Sergio Reguilon, but he over-passed it out of play.
In the 72nd minute, a De Bruyne delivery found Fernandinho, one of the semi-final heroes for City but his header was well stopped by Lloris.
City got the break they needed in the 82nd minute.
A superb free-kick from De Bruyne was met brilliantly by Aymeric Laporte.
The Frenchman's powerful header found the bottom corner, and City were in front.
De Bruyne nearly doubled the lead a couple of minutes later.
The Belgian fired a low shot that Dier blocked superbly.
Tottenham had a decent chance to equalise in injury time.
Gareth Bale was looking for Son down the left, but the Welshman's ball was blocked.
That's as close as they would come as the Sky Blues hung on to capture their fourth straight Carabao Cup.
Man of the Match
Kevin De Bruyne doesn't seem to take long to get back into match form.
After missing the last game with an injury, the Belgian showed zero signs of rust or injury problems.
He took control of the midfield and created many of his team's chances.
De Bruyne was masterful in midfield and allowed City to set the pace early on.
He assisted on the winning goal and had several good scoring opportunities himself in the second half.
In Elite Company
This victory was not only their fourth straight Carabao Cup but also their eighth in club history.
That puts them even with Liverpool for most consecutive titles and most titles all-time.
Crushing the competition
This trophy has certainly been good to Manchester City in recent years.
Under Pep Guardiola, the Sky Blues have now won 19 of their 15 League Cup matches.
The Spaniard has a winning percentage in this competition of 76%, second only to Roy Evans.
Always a bridesmaid, never a bride
For Tottenham, the feeling of close but no cigar is all too familiar.
Since the turn of the century, Spurs have been runners-up in five of their six final appearances in all competitions and have failed to score in each of their last four finals.
Only Arsenal have lost more Cup finals than Spurs.
Managers Words
City manager Pep Guardiola says he couldn't have been happier with the effort his team put out on Sunday.
"It's much better, much better [with fans]. We play to score, that's what's important. Today we're incredible. Happy to win the first title. In the past 33 games, we won 30, that's incredible. We play with incredible personality, from the fit minute, to try to win the game. In general, we play a really good final."
Next Up
With one trophy won, City will look to move a step closer to a first Champions League title when they travel to the French capital to face PSG.
The kickoff from the Parc des Princes on Wednesday is at 8 pm. (JSL).