Football
Manchester City
Drive for Five
Man City seek fifth straight Premier League win Wednesday versus Aston Villa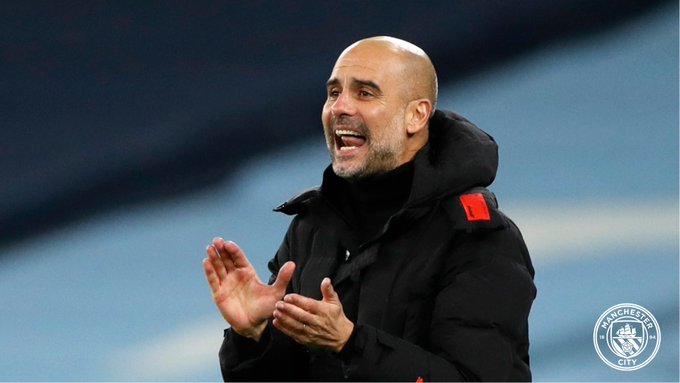 The Hunt is on
 Manchester City could soon be chartering back into familiar territory as they get set to host Aston Villa on Wednesday.
It's been nearly a year and a half (August 2019) since City were top of the table.
A win and some help from Fulham could give them that old familiar feeling the Sky Blues have had so often over the past few seasons winning two EPL titles in their last three campaigns.
City sits two points back of Manchester United for the Premier League lead but they do have a game in hand.
Lineup News
 Sergio Aguero could return after self-isolating due to being in close proximity with someone who was COVID positive.
The Argentine still needs to get a negative test before being available.
Aymeric Laporte's hamstring injury could be healed but it'd be a surprise to see him in the starting lineup.
The same could be said for Nathan Ake and Eric Garcia who are recovering from injuries themselves.
With so much at stake don't expect Guardiola to make drastic changes to the lineup especially given how well John Stones and Ruben Dias have been lately.
Combine that with the fact City plays a third-tier team in their upcoming FA Cup tie you're likely to see more changes this Saturday.
Dean Smith might have to wait till the game day to see who he'll have at his disposal.
Trezeguet will miss out while Wesley remains a long-term absentee.
An extended break might spell good news for Ross Barkley who's recovering from a thigh injury.
One player that Smith will be desperate to have back is Jack Grealish who missed their FA Cup loss to Liverpool.
Grealish has 12 goal involvements in the teams 15 Premier League games.
Starting to peak
 A new year is bringing new hope to a Man City fanbase that was awfully skeptical of its team's title hopes early on.
One wouldn't blame them for feeling that way given the lack of goals, and injuries to stars like Aguero and De Bruyne.
They were 15th at one point this season but boy how things have changed.
Since the clock struck midnight on 2020 Guardiola's side has come to life.
In 2021 they're a perfect 5-0 in all competitions.
From 15th place to now 15 in a row.
That's how many games the Sky Blues have gone without losing in all competitions.
That streaks enabled them to move right back in the thick of the title race.
In their five wins this year they've scored 13 goals and conceded just once.
Defensive Showcase
 If there's a Premier League team that can match City's seemingly impenetrable defence it may be Aston Villa.
Dean Smith's men have shown impeccable poise and timing in conceding just 16 goals all season to this point.
The only team who's conceded fewer is Man City at 13.
Given the money dished out, it's perhaps not a big surprise that City is making it a routine of shutting teams down.
For Villa though it's been quite the surprise given how new their back end is along with their age.
Traditionally the Lions operate Tyrone Mings and Ezri Konsa in central defence while Matt Targett and Matty Cash take the right and left-back spots respectively.
Experience and chemistry are highly sought after in defence but this Villa back four is proving that's not all it takes.
Their average age is 24.5 and none of those four have been at Villa longer than two seasons.
You wouldn't notice though given their composure and familiarity with one another.
In their last six EPL matches, they've conceded just three times.
The only team that's been more impressive is City who've conceded just twice in their last six EPL fixtures.
City's Ederson leads the league in clean sheets with nine.
Aston Villa's Emiliano Martinez is right behind him with eight.
Rest or Rust?
 This matchup will feature one side that's extremely well-rested and another that's played a lot since the new year.
Aston Villa has played the fewest Premier League games with just 15 to this point.
They'll be coming off a 10-day break when they face City on Wednesday.
The Sky Blues have played five games in all competitions this year with their longest break in between games being four days.
Will fatigue be an issue for Guardiola's side or will Smith's side struggle out of the blocks having been out of game action for so long?
Trouble at the Etihad
 Man City's home field has proven to be a nightmare for Villa in seasons past.
City's won 14 of their last 15 Premier League games at home to Aston Villa.
In those games, they've scored 33 goals while conceding just four.
This season though the Lions have won five of their eight road games in the league so far.
Match Info
Wednesday's match from Etihad Stadium kicks off at 6 pm. (JSL).