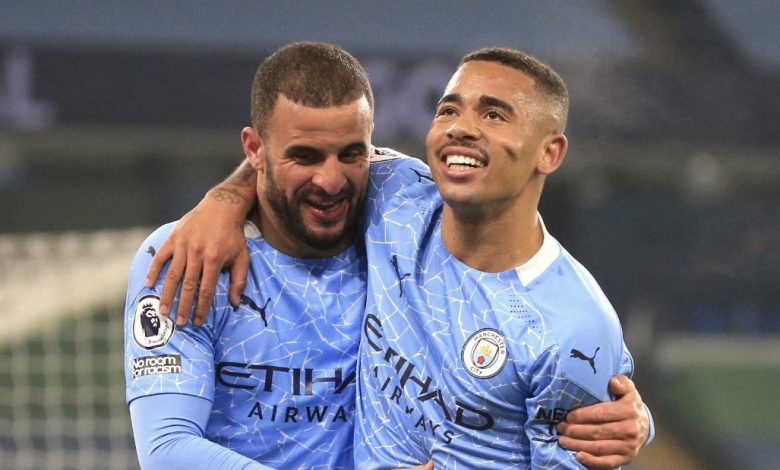 In a Premier League of their own
Manchester City has equalled a club record for the longest unbeaten run after beating Wolves 4-1 on Tuesday.
The match was very much in the balance until very late when City finally broke down a resilient opponent.
A pair of goals from Gabriel Jesus and one from Riyad Mahrez in the final ten minutes gave City its 21st consecutive win in all competitions.
Pep Guardiola's side is now 15 points above second-place Manchester United in the Premier League table.
Game Story
It was a bright start for City looking to secure a third Premier League double versus Wolves and a first since 2011-12.
Two minutes in, and Raheem Sterling forced a good save from Wolves goalkeeper Rui Patricio.
City went ahead just past the quarter-hour mark.
Riyad Mahrez did well to get in behind the Wanderers defence down the right side before firing a pass across goal.
Leander Dendoncker stepped in to block it from going to Sterling, but in doing so, he accidentally stabbed it into his own net to put City in front.
City thought they'd doubled the lead just before the half.
Mahrez again put a perfect cross in the box that Bernardo Silva flicked on to Aymeric Laporte, who just had to touch it in from close range.
The Frenchman, however, was ruled fractionally offside by the linesman.
Bernardo Silva came close just before the half after some mounting City pressure.
The ball squirted out to Silva, whose header was stopped by Patricio, and Silva fired the rebound over the bar.
Some heroics from Rui Patricio in the second half kept Nuno's side in the game.
A great low save from the Portuguese keeper denied Kevin De Bruyne in the 50th minute.
Then Patricio made another wonderful save off Riyad Mahrez four minutes later.
Those saves would prove vital later on.
Wolves levelled the match just past the hour mark.
A good ball into the box found Conor Coady, whose diving header found the far corner for his first-ever Premier League goal.
That seemed to spark Wolves temporarily, as they came close on 69 minutes off a nice counter.
Pedro Neto's effort in the area got blocked but returned to Adama Traore, who couldn't keep his shot down.
City was inches away in the 73rd minute off a Mahrez cross again as Raheem Sterling's deflected backheel went just wide.
Pep Guardiola's side took over from there, determined to keep their winning record intact.
Salvation came for City ten minutes from time.
Kyle Walker did well to race onto a Riyad Mahrez pass, placing a lovely ball across the six-yard box.
Gabriel Jesus was right there to finish it off and put City back in front.
They got an insurance goal after a lazy pass in the box from the Wolves defence in the 90th minute.
Ilkay Gundogan laid it off to Raheem Sterling, whose effort got blocked but came back nicely to Mahrez, who side-footed it beyond Rui Patricio's reach for City's third.
A fourth goal came on the final touch of the game in the 93rd minute.
Rui Patricio thwarted a brilliant Gundogan shot, but Gabriel Jesus poked home the rebound into an open goal for his second of the game.
Man of the Match
Riyad Mahrez had a brilliant outing for City once again.
The Algerian winger played a part in each of City's four goals including the winner from Jesus ten minutes from the end.

Just when you thought City's winning run would end, Mahrez found another gear and helped bring his side back.
He got a deserving third placing a perfect shot from inside the box beyond Rui Patricio's reach.
All night long, Mahrez threatened down the right side with precision passing to help increase the Sky Blues lead atop the Premier League table.
He's now got 30 goal involvements 38 appearances for City.
Famous First
It wasn't the result he'd hoped, but when he looks back, Conor Coady will remember his first Premier League shot.
It's hard to imagine any Premier League player not getting a shot on target in over 200 appearances, but when the Wolves centre-half finally had a chance on goal, he made the most of it.
One effort on target in his EPL career and one goal. Not a bad statistic to boast.

Elite Status

Today's victory puts Man City in the category of elite status, equalling another Premier League record.
Pep Guardiola's side is the first EPL team in a long time to go 19 straight matches without trailing.
Arsenal is the only other side to do so from December 1998 to May 1999.
City's run of 21 straight wins also puts them in a unique class of strong European sides to do so.
The Sky Blues are only the third team in all five major European leagues to win more than 20 games in a row.
Bayern Munich notched 23 straight last season, and Real Madrid had 22 consecutive wins in 2014.
Help at the back
A common trend we've seen at the Etihad lately is scoring by defenders.
Before City unloaded with three goals in the final ten minutes, the previous four goals scored at the Etihad in the past two games came from defending players. That includes the own-goal by Belgian defender Leander Dendocker tonight.
Managers Words
Despite leaving it late, City boss Pep Guardiola says he's happy with the resilience his team showed.
"We conceded a few actions to them. We created opportunities. An incredibly well-deserved victory. A big compliment for the guys. To finish 4-1 is nice for our confidence. Onto the next."
Next Up
City can beat their record of longest unbeaten run on Sunday when they host Man United.
The kickoff for the Manchester derby from the Etihad goes at 4:30 pm. (JSL).