Football
Manchester City
City inch closer to Premier League title with win against Leicester
Mendy strike lifts City to 2-0 win over the Foxes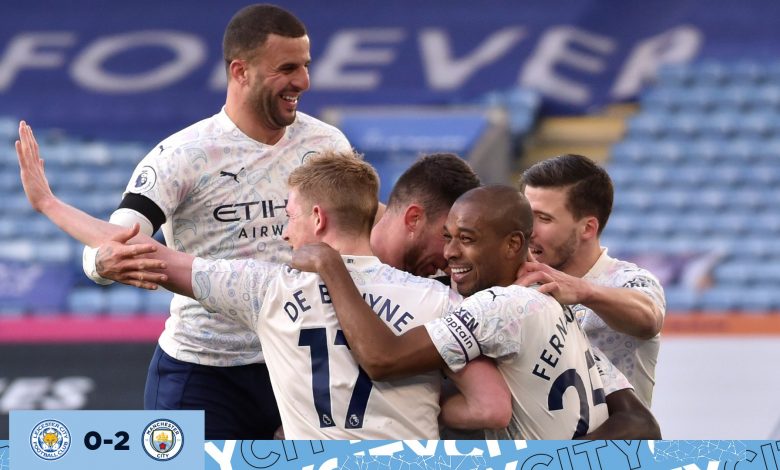 Closing in
Manchester City are a step closer to claiming their third Premier League title in the past four seasons after edging Leicester City 2-0 on Saturday.
Benjamin Mendy picked a great time to get just his second goal of the Premier League season,showing great composure to fire home the winning goal on his weaker right-foot just before the hour mark.
Gabriel Jesus settled the match with his fifth goal in his last six games against the Foxes.
Game Story
In a matchup of first versus third, there was an expectation we'd see plenty of attacking football tonight, and that's what we got early on.
Five minutes in, and City thought they had gone ahead.
Captain Fernandinho rifled a brilliant volley from about 25 yards out into the corner past Kasper Schmeichel; however, Sergio Aguero was in an offside position, and the goal was disallowed.
City came close again on 22 minutes.
Kevin De Bruyne bent a brilliant free-kick over the Leicester wall, but it struck the crossbar.
Into injury time in the first half, it was Leicester's turn to have a goal disallowed.
Ayoze Perez played a brilliant through-ball towards Jamie Vardy, who rounded Ederson and tapped it into the open goal only to see the flag raised against him for offside.
In the 58th minute, City got the breakthrough they were seeking.
A superb delivery from Rodri towards the back post found Benjamin Mendy.
The Frenchman showed incredible poise and patience to control the ball with his left foot and place it on his right foot before bending a shot into the far corner beyond the reach of Kasper Schmeichel.
With Leicester now forced to open up the game and search for an equaliser, there was more space for the Sky Blues to expose in the middle of the pitch.
The Citizens found another opening in the 74th minute.
 Kevin De Bruyne picked out Gabriel Jesus, who squared up a ball towards Raheem Sterling.
The English substitute squared it back to Jesus, who finished it off into the open goal.
Leicester had a couple of late chances in vain as James Maddison fired over the bar in the 83rd minute while Maddison scuffed his effort in the 86th minute directly at Ederson.
City saw off the Foxes in the final moments without any real danger as Pep Guardiola's side picked up their 17th Premier League clean sheet this season.
Man of the Match
Kevin De Bruyne showed once again tonight that he is the best passer in the game.
The Belgian was especially precise in the first half with pin-point accuracy, and the kind of vision City fans have become used to seeing from the number seventeen.
De Bruyne was unlucky not to score when his first-half free-kick struck the bar, but he made up for it in the second half.
His brilliant through-ball to pick out Jesus, iced the game for City.
Held in check
Man City continues to hold their opponents in check, which is no easy task considering the firepower of Leicester.

Tonight, the Sky Blues held the Foxes to zero shots in the first half.
That's the first time any side has done that to the Foxes in a Premier League match since Liverpool did it in December 2019.
One player who City contained, for the most part, tonight was Jamie Vardy.
After scoring a hat-trick the last time out against City, you can bet Pep Guardiola was going to key on him and try to limit his touches.
Vardy had a mere 14 touches tonight, which was 28 fewer than any other outfielder who played 90 minutes.
City has now kept 28 clean sheets in all competitions and conceded only 26 goals in all those matches.
No side in Europe's top five leagues has conceded fewer goals in all competitions this season than Man City.
King of the Road
Man City continues to impress on the road this season, where they have thrived of late.
The Sky Blues have now won 15 straight games away from home this season.
Moving Four ward
Another win means City are inching even closer to another Premier League crown as they temporarily move 17 points above Manchester United in the table.
Four more wins from their final seven games would assure City claims their third league title in their past four campaigns.
Three wins and a pair of draws would do the trick as well.
Managers Words
City boss Pep Guardiola said afterwards he's proud of what he saw from his team following the international break.

"They (Leicester City) are an incredible team; we suffered at home against them, but we are more patient, and it is a big step to winning the Premier League.
"You never know after an international break, but I trust my players. The players don't always believe me, but I like every one of them; today, I trust some of my players who haven't played for a while. When you are winning, winning, the guys who play know they have to play good to play again. There is good solidarity between the players."
Leicester boss Brendan Rodgers said his side technically just weren't good enough tonight.
"For large parts of the first half, we defended well; we had tiredness in our game. Technically we weren't as good as we normally are. We are disappointed with the goals; they came when we were starting to chase the game.
"Apart from that we had some chances, but the best team has won the game. We have no excuses."
Next Up
City's attention now turns to the Champions League as they get set to host Borussia Dortmund on Tuesday.
The first leg of that quarter-final match takes place at the Etihad at 8 pm.
The Sky Blues next Premier League match will be next Saturday when they host Leeds at 12:30 pm from the Etihad. (JSL).