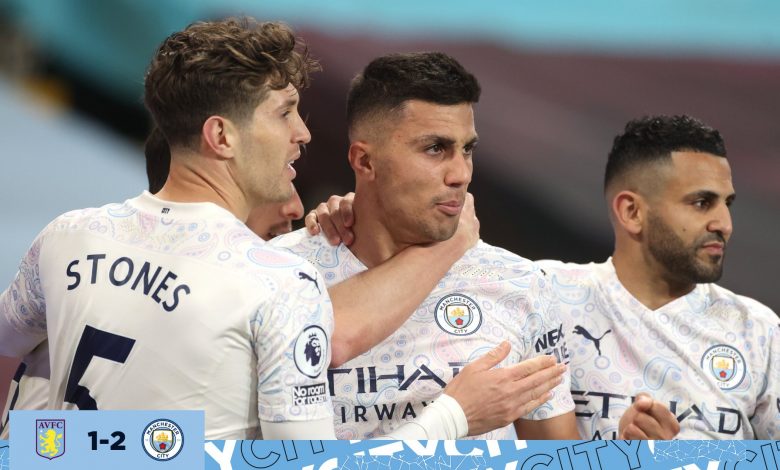 Turning it around
After hitting a temporary speed bump a couple of weeks ago, Manchester City's Premier League title hopes are back on the right foot after beating Aston Villa 2-1 on Wednesday.
Pep Guardiola's side overcame a quick start by Villa as Phil Foden and Rodri scored to cancel out John McGinn's opener and give City all three points.
City's lead in the table is now 11 points over Manchester United with just five games remaining for the Sky Blues.
Game Story
Before the game was even 30 seconds old, City found themselves a goal behind.
A long ball from Tyronne Mings found Ollie Watkins down the left as he quickly played it across to John McGinn, who fired it into the bottom corner past Ederson.
After being stunned early on, City came into the match and looked a lot livelier.
In the 20th minute, City had a chance to equalise.
The Sky Blues corner fell to Riyad Mahrez, who did well to cut inside the box and fire a left-footed drive that Emiliano Martinez stopped.
A couple of minutes later and City drew level.
It started on their end as Ederson played a brilliant ball towards Oleksandr Zinchenko, who did well to head it down into the path of Phil Foden.
The English winger crossed it towards Mahrez down the left as the Algerian flicked it on to Bernardo Silva, arriving on the overlap.
The Portuguese winger pulled it back from the byline to Foden, who only had to tap it into the open goal as City drew even.
Five minutes before injury time in the first half and City had their noses in front after some bad defending and poor goalkeeping from Villa.
The Lions failed to clear the danger as the ball went out wide to Bernardo Silva.
He chipped a lovely ball into the box, which Rodri could get to and with a glancing header got there before Martinez could get a touch, and City took the lead.
Near the end of the first half, Villa got a break they needed to get back into the game.
With Vila looking to counter, John Stones came in to clear the ball away from Jacob Ramsey on the halfway line.
Stones got there a little late though with a high and late challenge taking down the Villa midfielder.
Initially, Stones got a yellow card but the ref was told to look at the play again through VAR.
After reviewing the play, the ref reversed the decision as the challenge was high and wreckless, and Stones received a straight red card, the first of his career.
City was able to hang on until half time, though, with the lead.
Less than 15 minutes into the second half, however, and the odds evened out.
A rash challenge by Matty Cash on Phil Foden gave the referee no choice but to issue a caution which was his second of the game, and thus Villa was also down to 10 men.
That seemed to knock the stuffing out of Dean Smith's side as City had a relatively comfortable final half-hour.
The Sky Blues cruised to victory, with Ederson rarely bothered.
Man of the Match
It sounds like a broken record, but Phil Foden brought City back once again after they were stunned early on.
The Man City youngster got the equaliser and kept the Villa defence on their heels mainly in the first half.
He's developing quite the knack for scoring big goals when they need it most.
He's also making a solid case for why he deserves a lot more playing time.
With his goal today, Foden has been directly involved in 23 goals for City in all competitions; only Kevin De Bruyne has more for this club in this campaign with 24.
Lightning Strikes Twice
Tonight's victory put Man City in the history books in the Premier League yet again.
They are the first side in this competition to win 10 in a row on the road on two separate occasions.
City Woes
Villa manager Dean Smith will have nightmares after playing Manchester City.
Smith has lost all five games against the Sky Blues in his managerial career.
That's the most games he has managed and lost against a single opponent, yielding 100% of those games.
Can't beat the best
They say to be the man; you have to beat the man.
Lately, Aston Villa's failed to do just that, which explains why their promising campaign has sputtered.
Villa's lost nine of their last 11 encounters against teams leading the EPL by an aggregate score of 24-6.
More to do
This victory puts City back on course to capture a third Premier League crown in the past four seasons.
With an 11-point cushion at the moment, the Citizens need eight more points to win the title.

That is assuming Man United win their remaining six games.
It's entirely possible the Reds could slip up, making it easier for City to win it all.
It appears to be City's competition to lose at this stage.
Managers Words
After the game, City manager Pep Guardiola said he was proud of how his team overcame a lot of adversity tonight.
"We played so good. After 10 against 11 and after Cash was sent off, it was a really good performance. The Premier League is the most important title to win.
"We controlled the game when it was 10 against 10. It was late [John Stones' challenge], but the intention was no. Now because we have won, I am happy. If we had lost, I'd be unhappy.
"We did a good game. This guy [Phil Foden] is growing. His influence in our games is massive. He's becoming a serious player. Phil right now is becoming such an important player. His influence in the final third is so important."
Next Up
Man City can capture their first trophy of the season when they take on Tottenham Hotspur on Sunday in the Carabao Cup final.
The kickoff from Wembley Stadium is at 4:30 pm. (JSL).