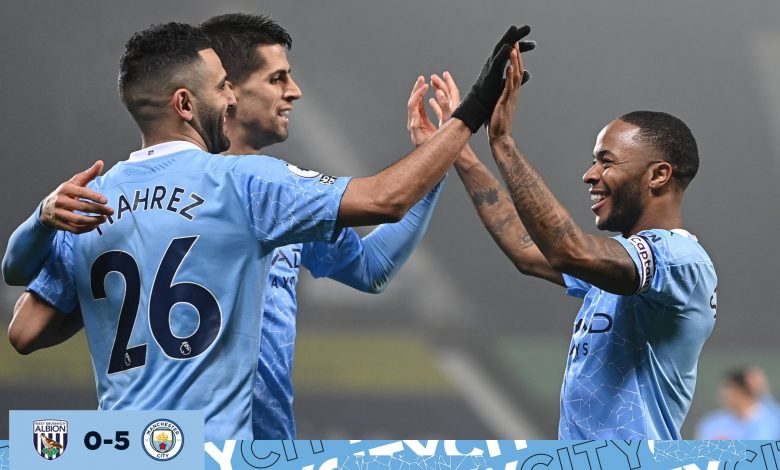 One-sided affair
 Manchester City is back at the top of the Premier League thanks to a 5-0 win over West Bromwich Albion.
It was a dominating performance for Pep Guardiola's side who did most of their damage in the first half.
Two goals from Ilkay Gundogan along with one from Joao Cancelo and Riyad Mahrez were more than enough for City on this day.
Raheem Sterling added insult to injury for West Brom when he got City's fifth in the second half.
In the first-half alone City had 74% of the possession and scored on four of their five shots on target.
For the match, City scored on five of its seven efforts on target and had 78% of the ball.
Man of the Match
 Ilkay Gundogan is becoming a major influencer in the City midfield.
With De Bruyne out for a few more weeks, the German looked stellar once again with two goals as he really commanded the middle of the pitch.
He's now got six goals in his last six Premier League fixtures
His eight goals in all competitions puts him even with Phil Foden for the team lead.
Holes at the back
 West Brom showed once again a vulnerability at the back tonight.
It's been an issue all season for the Baggies and could be the reason they are relegated to the Championship.
They've now conceded in their last 11 matches in all competitions.
In five of those matches, they've given up three or more goals all in the Premier League.
The Baggies have conceded 48 times this season, more than any top-flight side.
Finding their groove
City has really started to excel in every facet of the game.
We knew defensively how tough they were but lately, everything is starting to click.
They now have eight wins from eight fixtures this year and have scored two or more in all but one of those matches.
They're dominating possession as usual and they are getting goals from multiple sources.
12 different players have scored for City this season, with eight players having two or more so far.
They're now unbeaten in their last 18 competitive fixtures.
Things are going almost as well as possible for Guardiola's men.
Kevin Who?
 Losing Kevin De Bruyne is a devastating blow but City has shown they can step up when he's away.
The Sky Blues are undefeated this season when Kevin De Bruyne fails to feature.
The Belgian's missed nine games in all competitions but it hasn't hurt his side who have eight wins and a draw in his absence.
7-Eleven
 City had won seven straight Premier League matches and 11 in a row in all competitions.
That's the teams longest run of successive victories since an 11-match run from August to October 2017.
This is also their 11th clean sheet of the season in just 19 EPL matches.
The only time they've reached that mark quicker is back in 1976-77.
Managers Thoughts
 After the game City manager Pep Guardiola said this was one of his team's most complete performances.
"If you play good in attack and defence and do what we need to do then everyone is able to score.
"In general, we controlled it apart from the first few minutes and it was a good performance.
"The team in every game is there – now we rest and prepare for Sheffield United."
What it means
For the moment City is top of the table with 41 points as they hit the midway point of the season.
They hold a one-point lead over Man United with the Reds playing Sheffield United tomorrow.
West Brom remains in 19th place with 11 points, six points away from Premier League salvation.
Next Up
City is back at the Etihad Saturday to face Sheffield United.
The kickoff will be at 3 pm. (JSL).